The super sleek ponytail version is mermaid inspired. Pirates of the Caribbean 4, anyone? This hairstyle depicts the wet effect, like you've just stepped out from a dip in the sea.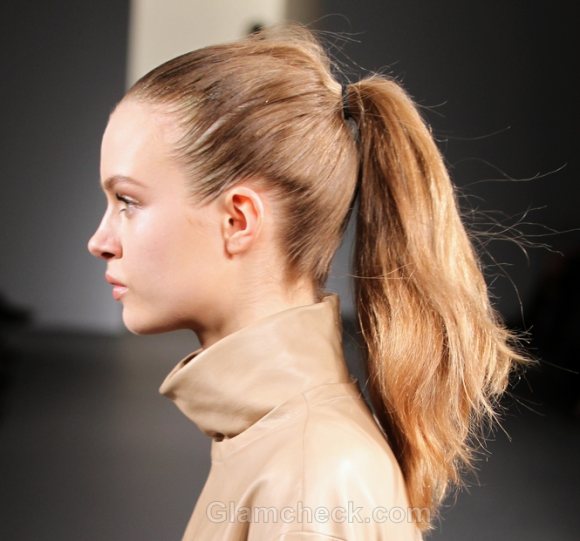 A variation of the slicked back hairstyle which was popular on the ramps of Thakoon's and Alexander Wang's fashion shows in winter 2010, the  super sleek ponytail version is more practical and can be worn on a daily basis. This hairstyle was first spotted at the Mercedes-Benz Fashion Week on New York during the Calvin Klein fall 2011 collection.
This hairstyle is edgy, youthful, fun and feminine. It's easy to maintain throughout the day, and will give you very little trouble to create.
Hairstyle How To : Create The Super Sleek Ponytail Version
Let's get right into how to create this sizzling hairstyle. We'll go over it step by step so you know exactly how to do it.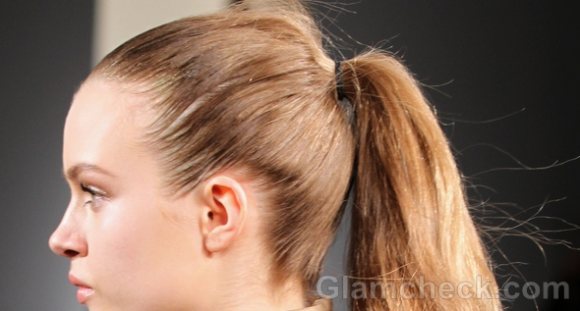 You have to prep your hair for any hairstyle that you are planning on. Wash, condition and blow dry your hair.
You want to give your hair that wet-looking texture. So apply some moisturizing hair gel all over your hair.
Use a wide-toothed comb to brush the hair back into a high ponytail. Secure this with a rubber band.
Put some hair gel on your palms and run your hands over the hairline – this means along your forehead, nape of the neck, and don't forget behind the ears too.
Make sure that you apply the gel just about 3 or 4 inches above the hairline so that it creates a slight mess on the top of your head and gives you a super-sleek front wet look at the same time.
Who Should Wear Super Sleek Ponytail Version
The super sleek ponytail version looks best on women with oval faces.
Where to Wear Super Sleek Ponytail Version
It can be worn to a casual get-together, girls night out, office or even if you're just setting out for a walk. This is also quite a practical hairstyle to wear at the gym. Might as well look your best there, never knowing who you will run into.
Image: Shutterstock