We've seen the messy buns, messy braids and other messy hairstyles grace some of the most beautiful faces on the ramp and the red carpet. Messy hairstyles are sexy and give the wearer an aura of approachability. Today we're going to look at another messy hairstyle – the messy looped under ponytail. It is very like the elegant looped in ponytail we posted about last week.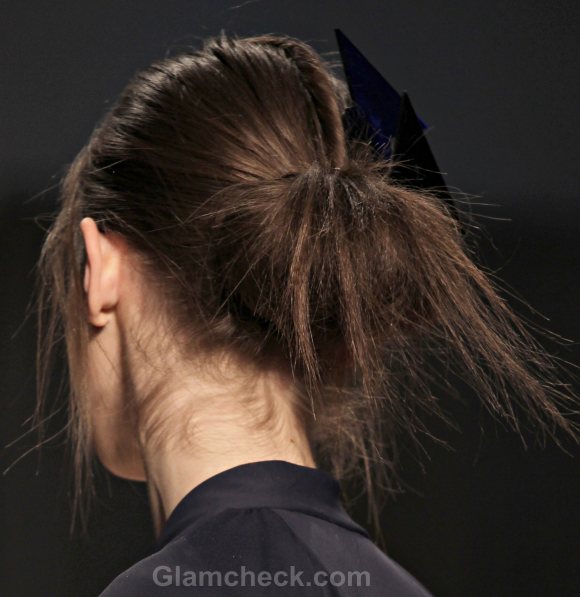 The messy looped under ponytail was seen on the ramp at the Cynthia Rowley Fall 2011 Collection presentation during the Mercedes-Benz Fashion Week on February 11, 2011 in New York City. The messy looped under ponytail is a more casual take on the elegant looped in ponytail. If you think the elegant version is too stern and straight but appreciate its practicality and style, and then you'll love the messy looped under ponytail which marries only those variables of the hairstyle that you like.
Who Looks Good In Messy Looped Under Ponytail
Like the elegant version of this hairstyle, the messy looped under ponytail looks good on women with proportionate faces. However, since it is messier, you have the option to style the 'messy' part of it to suit your face.
How To Create the Messy Looped Under Ponytail
All hairstyles begin with prepping your hair. So wash and condition, then blow dry your hair and comb normally. We'll split this how-to guide into two parts to make it easier to understand – styling the front and then styling the ponytail.
Styling the Front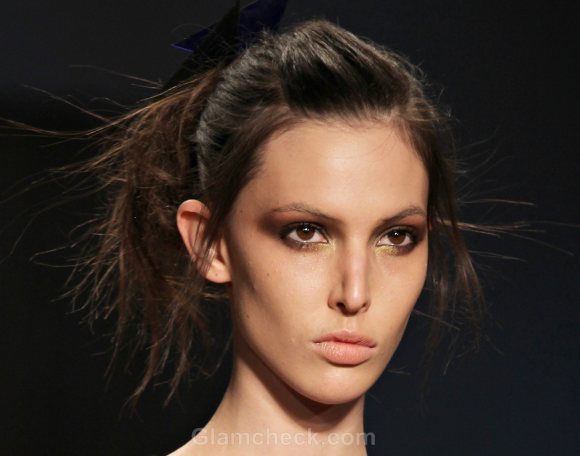 Pull your bangs back to the crown of your head. Secure them in place with bobby pins.
Now use your fingers or a fine-toothed comb to pull out a few strands of hair from behind your ears or the sides of your temple so that they frame your face.
Moving on to the Ponytail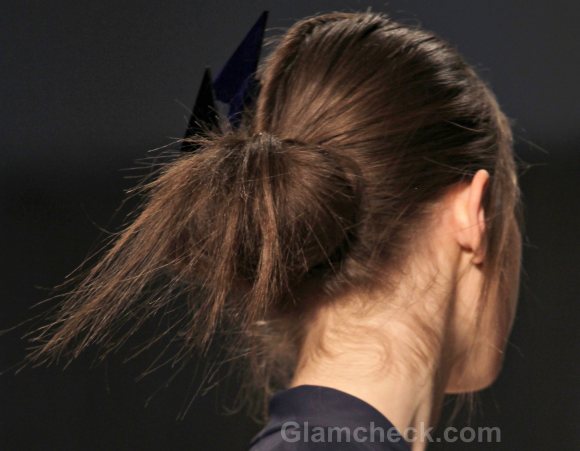 Pull your hair back into a ponytail which is about 3 inches below the crown. 
Loop the length of the ponytail and secure it in place with a rubber band.
You now have to create the messy feel to the ponytail. So use your comb to pull out some strands from the loop and apply some hair gel on them. Don't soak the hair in gel, you just need a little to add some texture.
Rub the gelled up strands of your hair to create more of a mess.
Remember those strands you pulled out when styling the front? Repeat the previous two steps with the hair gel on them as well.
When to Wear Messy Looped Under Ponytail
You may think that messy hairdos should be worn with casual outfits, but that is hardly true. Many messy hairstyles can be worn with very elegant clothes, and they look fabulous. The messy looped under ponytail will look good with casual as well as formal outfits.
Image: Shutterstock