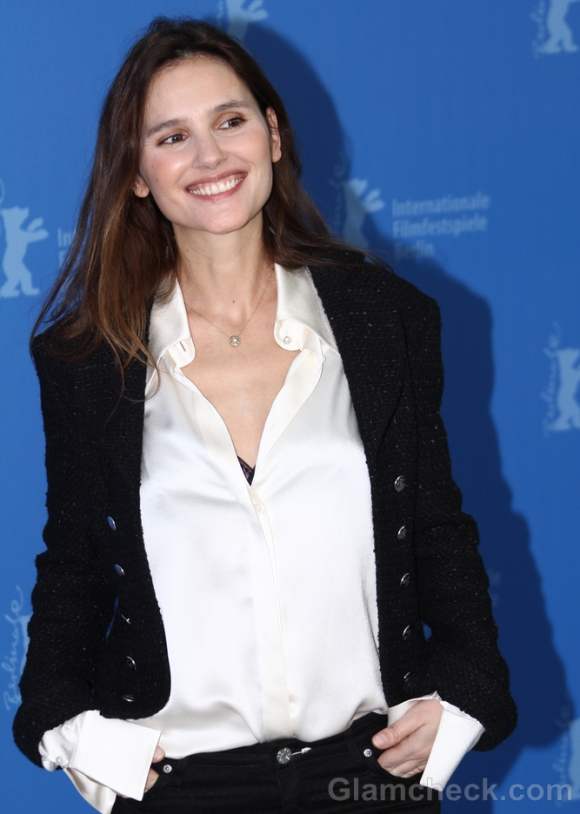 French actress Virginie Ledoyen looked charming in a spiffy androgynous outfit as she attended the photocall for Les Adieux De La Reine (Farewell, My Queen) at the Grand Hyatt in Berlin, Germany on February 9 as part of the 62nd Berlin Film Festival.
The 35-year-old stars alongside Diane Kruger in the French drama film  in which she plays Duchess companion to Kruger's Marie Antoinette.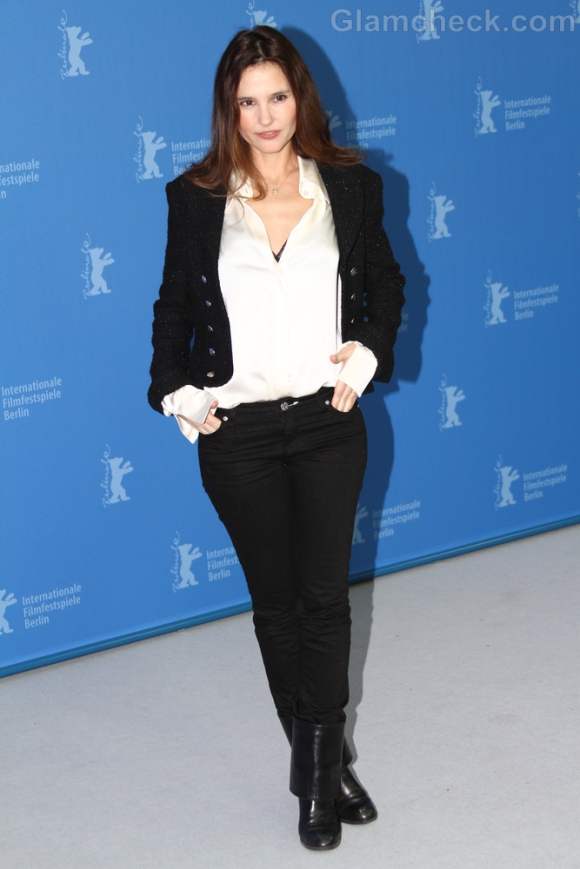 The pretty brunette wore a short and sassy wool jacket over a white, collared satin shirt with front buttons. The top button was undone to reveal her lacy black bra underneath. She paired the classy shirt with black pants and black boots, accessorizing with a delicate silver pendant. The macho pants and boots balance out perfectly the femininity of that gorgeous white shirt. The jacket does wonders in tying this look together perfectly.
Virginie wore the most lovely natural makeup we've seen in ages. It truly looked like she wasn't wearing any products on her face and even the blush looked like a part of her rosy cheeks while the deep pink lipstick just looked like healthy lips. Her long  brown hair was parted casually in the center and left loose with a very relaxed feel to it.
This wonderful androgynous look is a surefire success. It marries the ying and the yang beautifully. The towering beauty pulls it off with great panache.
Get The Look
The focus of this look is that smart jacket. You too can tie your androgynous look together with a well-selected jacket. Make sure that it is tailored and fits well to make your androgynous look a hit.
You can sport this look at work, while out shopping, when going to get a cup of coffee or to catch the latest flick at the cinema. Add some jewelry and you can wear it to dinners and formal events too.
Image: Shutterstock