Sugar scrubs can be defined as a treatment technique that can be applied to entire body to do away with dry skin as well as increase circulation. The main contents of sugar scrubs include oils, vitamins, sugar, and additional moisturizing ingredients. There are numerous sugar scrubs in market which are totally natural without any preservatives. Moreover, these can also be obtained in different fragrances as per your mood. Sugar scrubs can prove a great treatment to have once every month or during changing weathers at least as it is really important to remove the dead skin cells to make way for fresh skin cells.
Benefits of sugar scrubs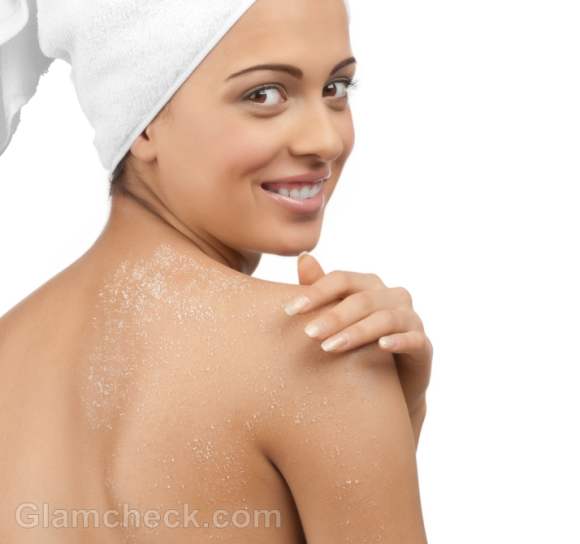 Sugar scrubs can be taken as the most innate way of softening, exfoliating, and freshening up your skin. This is because sugar is a sweetener by nature and can therefore be applied as a natural skin care regimen. The fine texture of sugar exfoliates your skin gently without imparting any harmful residue which can lead to clogging of pores. Also, it contains moisturizing qualities which prevent the skin from getting dry. A sugar scrub can be used even on the soft skin of children, for example, to heal chapped lips.
Above all, sugar scrubs are helpful in reversing the initial signs of growing older. The skin cells get damaged by exposure to dirt, pollution, and stress. This can make your skin dull and also develop aging signs such as patchy skin and fine lines. Sugar scrubs provide you an even skin tone by creating mild abrasion and thus removing the dead skin cells. Applying sugar scrubs in gentle circular motions also improves blood circulation. This further enhances the production of collagen thus avoiding wrinkles and similar aging signs.
Additionally, sugar scrubs are also helpful in preventing acne, breakouts, blackheads, whiteheads, and similar skin blemishes. Exfoliating the skin with sugar scrubs removes dead cells, excessive oil, and dirt without making your skin dry. It is difficult to cleanse the skin without affecting its natural moisture. This moisturizing effect of sugar scrubs reduces the possibility of skin ailments like psoriasis and eczema.
Adding more to the point, sugar scrubs can even soften hard skin. Used as a foot scrub, problems like cracked heels can be treated. Although gentle, sugar scrubs are equally abrasive to help in removal of calluses existing on feet soles and heels. It provides moisture to the heels thus keeping them soft and silky. Sugar scrubs also whiten dark elbows and knees. Exfoliating regularly with a sugar scrub can improve skin rejuvenation to soften and whiten the elbows and knees.
Therefore, sugar scrubs are efficient in maintaining the youth of your skin. these are helpful in toning and  tightening of the skin pores. This is because of the contained anti aging composite and alpha hydroxyl acids found in sugars. This balances the natural oils of your skin thus making way for new skin to come up. Thus, regular massaging with sugar scrubs enhances unremitting skin renewal thus developing young and healthy skin.
Usage
With growing age, there occurs a continuing decrease in the pace at which dead cells shed from the top layer of your skin. This further leads to appearance of dry aged skin. One of the most effective and fastest ways to obtain healthy and glowing skin is exfoliation that involves removing dead cells lying on the surface. The rough touch of sugar is efficient in peeling off the dead and dry skin thus bringing out the soft skin which is healthy as well. Some sugar scrubs also contain moisturizing ingredients which are helpful in retaining the moisture of your skin thus keeping it hydrated and soft. Moreover, sugar scrubs are also helpful in unclogging the pores thus increasing cell turnover.
The primary usage of sugar scrubs is that it helps improve the texture and appearance of the skin. A sugar scrub is applied to the entire body through the way of a massage. This massage and scrubbing is followed by a warm shower. The procedure is concluded with applying a moisturizing lotion. Moisturizing relieves the tired muscles thus making you feel really relaxed. The underlying reason to use a body sugar scrub is maintaining the health and softness of the skin. Moreover, exfoliation is quite essential for skin, especially during cold and dry weather when your body is more susceptible to losing moisture.
Constituents of an effective sugar scrub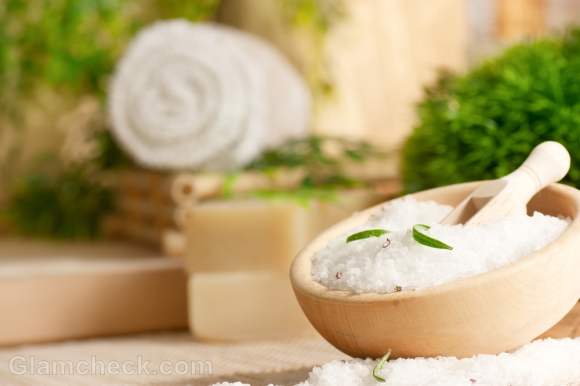 A grand comeback has been made by natural sugar scrub in last few years. It has been an enriching tradition to use sugarcane mixed with essential oils. This tradition has been conceded from one cohort to another. Besides, over passing years there has been a continuous addition to the ingredients. The art of skin care through the use of sugar scrubs had diminished with time as other products with similar usage had been introduced.
However, preparing a sugar scrub at home was confined to only some societies on various continents which still followed cultural traditions. There were many societies that turned scrubbing with chemically processed ingredients. These ingredients, although effective, are not pure at par with natural oils as well as the sugarcane brought into play in the traditional scrub formulas.
In present day, it is not practicable to use skin products that have a nice fragrance but no results. Moreover, the consumers are becoming aware about the fact that natural sugar scrubs perform effective cleansing by buffing away the dead skin as well as opening skin pores thus enabling it to absorb the essential vitamins and minerals contained in the scrub.
There hasn't been much change to what forms and effective sugar scrub. It has been found out by the researchers that sugar carries glycolic acid. This forms one of the natural alpha-hydroxyl acids which feature skin exfoliating capability.
Preparing sugar scrubs at home
Although there is a wide array of sugar scrubs available in the market but you can also try some homemade remedies to avoid the chemical factor. Moreover, these can be a little expensive. These homemade sugar scrubs are just as effective and show the same results. besides, homemade sugar scrubs exfoliate and polish the skin in a more gentle way in addition to being luxurious and containing delicious natural fragrances. These sugar scrubs can be applied to feet and body. If applied gently, you can also use them on your face.
It is not difficult to prepare an exfoliating sugar scrub at home. Let's have a look at some effective sugar scrub recipes.
Recipe for Exfoliating sugar scrub
Preparing an exfoliating homemade sugar scrub is quite an easy, quick, and affordable option. Besides, you can also alter the proportions as per your skin requirements. The key ingredients include:
8 ounces of Demerara or Turbinado sugar. This can be substituted with white, refined sugar
1 ounce of vegetable oil (cold pressed), preferably jojoba oil, watermelon seed oil, and fractioned coconut oil
An ounce of vegetable glycerin
An ounce of liquid castile soap
½ tsp of vitamin E oil
¼ tsp of essential oil
Put sugar in a mixing bowl. Further add glycerin, castile soap, and the oils and blend thoroughly using a fork. Then add essential oil and blend thoroughly. Your sugar scrub is ready to be applied.
It is advisable to go for safe essential oils. Besides, these should not contraindicate the existing health issues. Dark sugars containing molasses pass on the sweet aroma contained by them. This should be kept in mind while making a choice for the essential oils. A finer texture of sugar improves the level of exfoliation imparted to your skin. Also, vegetable glycerin works as natural humectants and moisturizer. This puts in moisture to your skin. This justifies lesser use of vegetable oil in the scrub. Excessive vegetable oil can make the skin too oily.
The use of wholesome vegetable glycerin and oils in the recipe are helpful in fortifying the skin that comes up after exfoliation. You can reduce the amount of vegetable oils added to the recipe if your skin is oily. Ensure sticking to light vegetable oils. Try avoiding olive oil for its color and aroma may not seem appealing in the recipe. Use of baby oil (mineral oil) should also be avoided as it leads to clogging of pores and may also prove harmful for your skin. if required, vitamin E oil can be avoided in the recipe. However, this oil nourishes the skin in addition to helping extend the scrub's shelf life.
This scrub can be applied to the entire body and the face as well. However, those with a sensitive skin or problems like eczema should avoid the use of this scrub. Also, application on cuts, wounds, damaged skin, or abrasions should be avoided. Take a little quantity of scrub and use your fingers to apply this scrub on wet skin. Use gentle circular motions to apply the scrub. The scrub shouldn't be grinded into the skin. Follow this scrubbing by rinsing off with water. Conclude the process by applying a natural moisturizer.
This recipe does not include any preservatives except the innate anti-oxidant properties contained by Vitamin E oil. The shelf life of this sugar scrub extends to almost a month. Any unused material after this time span should be discarded. Every time you extend your hand to take out the scrub, it gets contaminated by getting contacted with bacteria thus reducing its shelf life. It is, therefore, advisable to use a fresh utensil to withdraw the required amount and use it for the process. This will help in protecting the scrub from contamination.
Recipe for Lemon Lime Sugar Scrub
This is an excellent body scrub that is fresh and citrusy. This scrub makes your skin feel really soft and silky. It doesn't take much time to prepare this scrub. The key ingredients are:
1/3 cup of coconut oil
2 cups of sugar
3-5 drops of each of the essential oils mentioned ahead – lime, lemon, orange and bergamot
½ tsp of sprinkles of green sugar (optional)
½ cup olive oil
Take a large bowl and mix these ingredients well. Do not add olive oil initially. Go on adding it slowly to obtain the consistency desired. Your body sugar scrub is ready. Apply it onto the desired areas. The key areas that benefit from this scrub include harder areas like knees and elbows. Follow the scrubbing with a cold water rinse. You will feel really fresh with the fragrance of lime and lemon.
Recipe for Brown Sugar Scrub
Another quick and easy-to-make recipe that provides great exfoliation for sensitive skin is the brown sugar scrub. This scrub makes the skin really soft. The key ingredients include:
A cup of brown sugar
1tsp of vitamin E oil obtained by cut opening two Vitamin E capsules
½ cup of sweetened almond oil
1tsp of vanilla extract
Mix these ingredients in a bowl and your scrub is ready to use. Some substitutions and optional ingredients can also be added or avoided as per the skin type.
The quantity of almond oil used in the recipe depends upon the skin type plus your personal choices. To reach the perfect mix, you can experiment by increasing and decreasing t6he quantity in alternate applications. Almond oil can be substituted with untainted sesame oil. Other suitable oils include vegetable oil or olive oil, depending on your choice. also, you can include any of your favorite fragrance oil or essential oil to substitute vanilla extract. However, it can also be avoided completely for it is included just to add aroma. Including vitamin E in the recipe makes the scrub more nourishing and moisturizing. A little amount of honey can also be added for extra moisture if you have a dry skin.
Mix the ingredients of your choice form the aforementioned suggestions to make a viscous paste. Apply this mixture on damp face and scrub in gentle circular motions for about two minutes. Focus on the rough patches. Rinse off the scrub with lukewarm water and conclude the procedure with applying a moisturizer.
Recipe for Banana Body Scrub
Bananas form a natural ingredient for skin care. The creamy pulp of a banana provides a succulent and soothing effect. Moreover, it performs well as a hauler to other ingredients. Also, banana is quite moisturizing and nourishing and is perfect to be used as a gentle exfoliate. It also helps in skin-tightening. This recipe involves mixing sugar with bananas to get a magnificently aromatic and softly exfoliating scrub.
The ingredients required for this recipe include a ripe banana, 3tbsp of granulated sugar, and ¼ tsp of vanilla extract or any of your favorite essential oils.
Mix these ingredients altogether using a fork to make a thick paste. Make sure that the mixture is not over mixed or it may become watery. You can keep aside some amount of mashed banana without sugar to scrub your face.
While taking shower, slather the scrub and give a gentle massage to the body before turning on the water. When it comes to your face, scrub it with plain banana. Do not apply to areas surrounding your eyes. Then rinse away with lukewarm water.
Some other recipes :
Vanilla and Almond oil
The ingredients of this recipe include ½ cup brown sugar, ½ tsp vitamin E, ¼ cup of almond oil, ¼ tsp vanilla extract, and ¼ cup liquid hand soap (Ivory). All these ingredients are mixed together to prepare an excellent body sugar scrub.
Rosewood and lavender
This recipe involves mixing a cup of brown sugar, ½ tsp of vitamin E, ¼ cup of almond oil, 4 drops of lavender essential oil, and 6 drops of rosewood essential oil. This mixture is then applied to the body as exfoliate or body scrub.
Brown sugar and coffee
Take ¼ cup of white sugar, ¼ cp of brown sugar, 3 tablespoons of fresh coffee powder, 5 tsp of jojoba oil,5 tsp of almond oil, 2 tsp of honey, 1 tsp vanilla extract, and 1 tsp of Vitamin E. mix them altogether in a bowl and apply as a body exfoliate.
Tea
Mix together 2 cups of white sugar, 2tbsp of tea, a cup of honey, and 5 drops of vanilla extract to make an excellent body sugar scrub.
Yogurt
Mix 3 tablespoons of baby oil and 1 tablespoon yogurt with 1 tablespoon white sugar and apply onto the body as a scrub. Rinse off with water.
Green tea and sugar
Green tea, in addition to cleansing the face, helps in skin-tightening. The scrub prepared as a combination of green tea and sugar helps improve the skin texture. Add 1 cup of sugar to 6tsp olive oil, some drops of vanilla extract, and 1tbsp green tea. Blend these thoroughly and apply to your body and face.
Aloe Vera
The recipe includes mixing a cup of granulated sugar, a cup of olive oil, 8 drops of essential oil (any), and 2tbsp aloe vera gel and using it as an exfoliate or body scrub.
Although sugar scrubs are really beneficial but excess of anything is not good. The use of sugar scrubs for exfoliation should be limited to just once in a day or even lesser as over exfoliation may strip off the natural and essential body oils from your skin thus making it dry and flaky. Those having an oily skin can use body sugar scrubs once every day. Conversely, those with dry skin are suggested to limit the use to few times per week. Most importantly, exfoliating with sugar scrubs should be followed by applying a nourishing moisturizer or body lotion to retain the skin moisture and relieve the tired muscles. 
Image: Shutterstock