Summer is carefree, summer is fun, summer is all things delightful from ice cream, beaches, dips in the ocean, lake or pool, barbecues and cold beer to tall glasses of iced tea, flip flops, sun hats and lazing on the beach. But sometimes, your summer fun can be hampered by the havoc that the sun and heightened humidity wreak on your skin and hair. But don't let that put the brakes on your summer plans.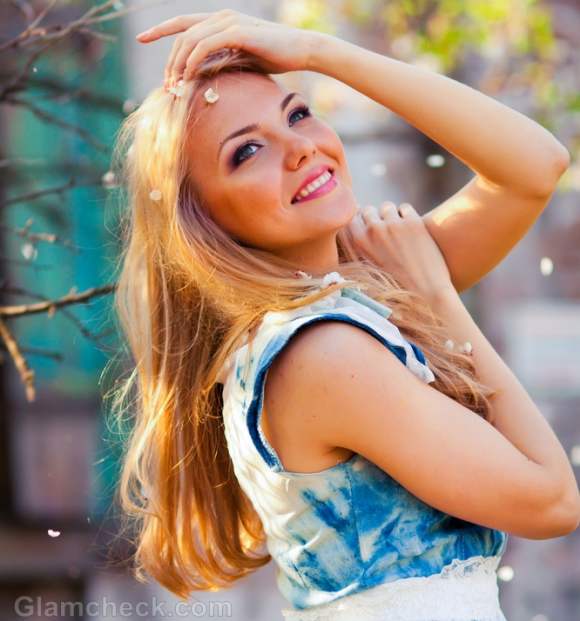 With a little specialized summer hair care routine, your hair will look just as great as it does the rest of the year.
What Messes Your Hair Up In The Summer?
If you understand the factors that are ruining your hair in the summer, you will have a clearer idea of how to formulate an effective summer hair care plan. The following factors are inter-related. Each affects the other and the vicious cycle will continue till you put an effective summer hair care routine into place.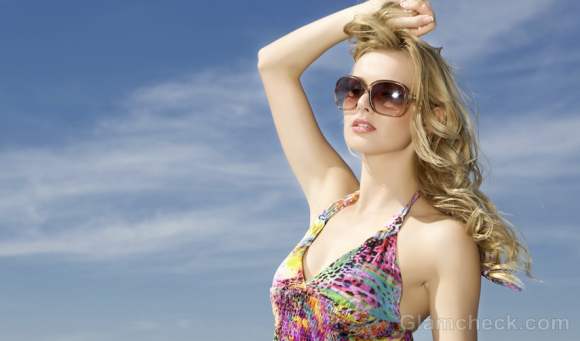 Heat
Duh. It's as hot as a furnace. You're thirsty all the time. You sweat a lot. The sun burns your skin and you want to spend the afternoons asleep in an air-conditioned room. Your hair feels exactly the same way. The heat quite literally sucks out the moisture from your hair and scalp through the process of evaporation. If you live in a dry climate, the drying out of hair and scalp can be exaggerated. Without summer hair care, your locks will be lifeless, rough and dull in the hotter months of the year.
Humidity
In some climates, summers are accompanied by higher levels of humidity in the atmosphere. This means more sweat, which is a magnet for dirt and extra oil production by the scalp. So you are likely to wash your hair more which leads to even more dryness because of the harsh chemicals in shampoos.
Oiliness
Your hair gets oilier in the summer than at other times of the year. The extreme heat sucks all the moisture out and makes your hair dry. So your scalp moves into overdrive to produce extra oil to hydrate the hair and scalp. Not to mention that the extra sweating because of the heat and humidity will cause your scalp to increase oil production as well. So when you feel all that extra oil, you feel icky so you shampoo frequently. Most shampoos contain harsh chemicals which dry out your hair even further. So as you can imagine, your scalp gets even oilier. Are you starting to see how it's all a vicious cycle?
Dehydration
Yes, it's hot in the summer. But how often do you sip on plain water? Do you increase your water intake? Or do you just go with iced coffees and teas, juice, alcohol or other summery beverages? While it's all well and good to enjoy yourself with these summer indulgences, what your body needs more than anything is plain water. Alcohol and the caffeine in tea and coffee are notorious for dehydrating the body. And your tall cool drinks are nothing more than sugary concoctions to satisfy your sweet tooth. Since most of us are not in the habit of drinking enough water, our bodies get extremely dehydrated in the summers and this has a negative impact on the hair.
Reduce the Heat on your Head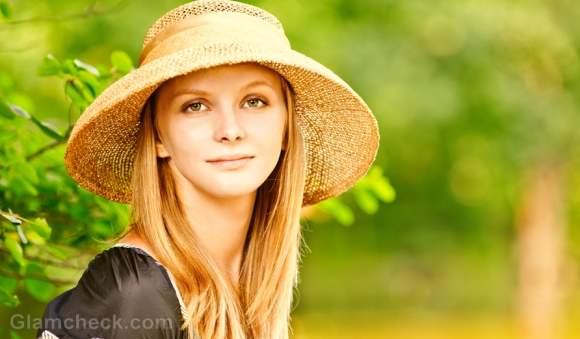 One of the main causes of damaged hair in the summer is the excessive heat. So your goal is to keep your head and hair as cool as you possibly can. There are several ways to do this.
The summer heat is harsh enough on your tresses. They do not need the additional stress of blow dryers, curling irons or flat irons. So try to limit their use during the hot months. If you must use these appliances on a regular basis, first apply leave in conditioner on your hair. This will prevent it from drying out too much.
Avoid washing your hair in very hot water. If you can tolerate it, wash your hair in cold water only. At the most the water should be lukewarm. If you are uncomfortable washing your hair in anything but hot water, then at least let your final rinse be in cold water. This will cool your head and your hair in addition to locking in the moisture from your conditioner.
You'll be stepping out in the sun a lot since the weather in the summer is too lovely to be staying indoors all the time. You know how your skin burns when it's exposed to the summer sun for even a short period of time? Well, your hair burns too, even though you may not feel it immediately. It will only be evident after a few hours when you touch your hair and feel the dryness. There are many ways to combat this. The easiest is with accessories. Wear a pretty sun hat that matches your clothes. Tie your hair up in a turban to look stylish and protect your locks from the sun at the same time. If your hair is short, you can do the same with a trendy bandana. By simply covering your head when you get out, you will be preventing your hair from sun damage.
If you prefer to expose your hair to the elements then make sure you are giving it adequate protection from the sun and humidity. Apply a leave in conditioner with built in sunscreen before you leave the house. Search for leave-in conditioners with Octyl Methyoxycinnamate. This ingredient is known to be a good hair sunscreen.
In an emergency, you can apply some regular sunscreen on your hair. But make sure to wash this off as soon as you return home.
Summer Hair Care When You Swim
The chlorine in swimming pools will damage your hair just as much as it damages your skin. Wet your hair liberally before your enter the pool. Your hair can only absorb a certain amount of water so the more you wet it, the less likely that it will absorb the chlorinated water. Always have a shower after a dip in the pool. And be generous with the conditioner.
How to Control Frizzy Summer Hair
The heat dries your hair out and the high levels of humidity give your hair extra volume. Yikes! You can imagine the result. Frizzy hair is a common problem in the summer; many folks look like they've just been electrocuted. Not a great hairdo with your pretty sun dresses, no?
Well, with a summer hair care routine, your hair should take on a more manageable texture. The frizziness may not go away completely, but it should be reduced enough that your hair will look stylishly messy rather than out of control.
Use conditioners which are replenishing. These provide more moisture than regular conditioners so it should help in making hair softer and thus less frizzy.
There are several hair care products that contain alcohol and formaldehyde. Avoid using these as they will just make the hair drier and make hair frizzier. Try to find products with natural ingredients instead. These are far gentler on the hair and are better for summer hair care than chemical-based products.
Trim your hair often in the summer. This should take care of the split ends and contribute to reducing frizziness.
Deep condition your hair at least once a week as part of your summer hair care program.
Another really simple way to control the frizziness of your hair is to wear your hair in a braid or bun. You may not like the hairstyle much, but it will do wonders in reducing frizz. You can keep your hair in a braid all day and unbraid when you have to go out. The hair will remain frizz-free for a few hours at least.
Deep-conditioning Hair Masque
Rather than buy a deep-conditioning product, you can make your own in your kitchen right now. Well, right now if you have the ingredients anyway.
What You'll Need
Yolk of 1 egg
Olive oil – 1 teaspoon
Honey – half a cup
An old shower cap or towel to wrap around your hair while you leave this recipe in your hair to work its magic
Method:
This is one messy summer hair care tip, but you'll be glad you tried it. It will deeply condition your hair, soothe your tired, heated scalp and stimulate the roots.
Mix the three ingredients together.
Dampen your hair.
Work mixture through your hair.
Wrap hair in towel so you don't go 'leaking' all over the place.
Let it sit for about 20 minutes. If you have super-dry hair, leave it in longer.
Now wash your hair normally with shampoo and conditioner.
Touch soft tresses and sigh in bliss.
Washing Hair in Summer
Since hair gets oilier than usual in the summer, it is natural to want to jump in the shower and shampoo off the greasiness every day. But doing this will only make your hair oilier. Cut down on using shampoo to once every two or three days. Shampooing everyday will strip your scalp of its natural oils. Since the heat is drying out your scalp even more, it will want to compensate by increasing oil production. So you can bet that if you shampoo your hair too much, you'll end up with an oily scalp within a few hours of your bath.
But hair can get pretty dirty and feel rather greasy. If you are tempted to wash your hair, try using a dry shampoo. Sprinkle a little baby powder in your hair and comb through with a fine comb. The powder will absorb the oiliness so you will be able to go longer periods without shampooing.
Another option is to use natural ingredients to wash your hair. For example, reetha and shikakai powder can be mixed with water and applied to wet scalp and hair. Then simply rinse off. These ingredients were used long before shampoos were available. They did a great job then and they do a great job now. You'll be cleaning your hair without drying it out and the strengthening and healing properties in these ingredients will be an added bonus. If you like washing your hair this way, don't restrict it to summer hair care; you can use the same all year round.
Finally, there is the ever-helpful baking soda. Simply mix some basic soda with water to form a paste and apply on dry or wet scalp only, not on your hair. Rinse off with cold water and condition normally. Voila. You'll have squeaky clean hair without any side effects. Remember not to scrub the baking soda into your hair as this is an abrasive ingredient and can scratch your scalp.
If none of these methods appeals to you and you absolutely must use shampoo every day, then apply it only on scalp. Another alternative is to use diluted shampoo. This will reduce the amount of chemicals that your hair has to deal with and you will get the satisfaction of washing your hair with shampoo. Choose a shampoo that is free of alcohol and sodium lauryl sulphate.
Other Summer Hair Care Tips
Drink enough water. There are few health care tips more important than this one. And it's a good summer hair care tip too. If you drink enough water, your cells are hydrated and they in turn can take better care of your skin and hair. When there isn't enough moisture in the cells, the body gets sluggish and only takes care of the vital organs, so you can be sure that your hair will be left out of the equation.
Your diet is important too when looking into summer hair care. Fruits and vegetables, fish, lean meat and dairy are all great for summer hair care. Avoid heavy meals and foods high in salt.
Try to avoid hair spa treatments like coloring, bleaching, perming or chemical straightening. These can cause much more damage in the summer than at other times of the year.
Here's a simple secret to taming summer hair madness. Wash your hair at night and let it air-dry while you sleep. You'll wake up with hair softer than you've ever felt it.
Image: Shutterstock