Katie Price's stupendously successful Katie's Boutique has a new product range that is all set to be a surefire hit. The ex-model and businesswoman has added a line of swimsuits to her label. She's been promoting it across the UK for awhile now, her most recent promotional duties being performed at Store 21 in Milton Keyes, Bucks on March 10.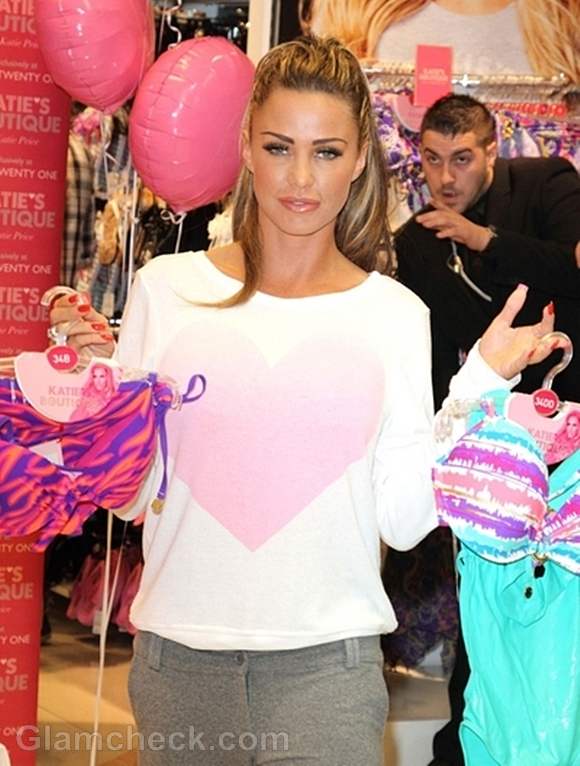 Katie was pretty dressed down for the event, sporting a white long-sleeved loose blouse with a pale pink heart on the front and pairing it with gray pants. White sneakers and a large diamond ring were her only accessories.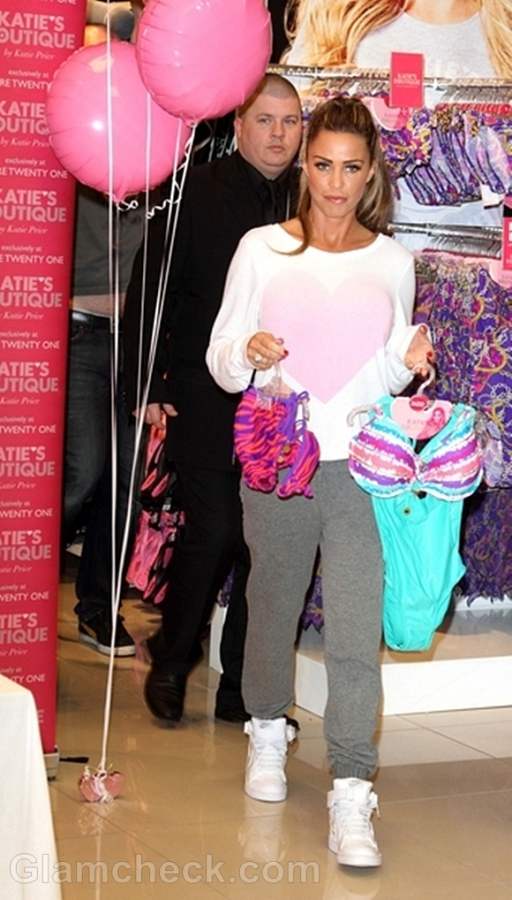 Her hair was amazing though. She slicked her highlighted tresses back with gel on the front from forehead to crown while the remaining hair was left loose and kinda wavy. It gave the impression of being a pinned-back hair-do or a high ponytail, but it was way sexier.
Katie retained her glamor model look with fake eyelashes, a liberal helping of mascara and glossy lips. Her long manicured red nails completed the fabulous picture.
Get The Look
You can dress down without looking dumpy in the least. Your most faded jeans and rattiest T-shirt will look like the latest trend if you take a little effort with your makeup. It doesn't have to be as dramatic as Katie's to work – dewy skin, volumizing mascara and a touch of color on the lips should do the trick. Make sure your eyebrows are shaped well. If you can do something wonderful with your nails you'll be adding another element of glamor to your casual outfit.
About The Swimwear Range:
This latest range from Katie's Boutique features swimwear that the mother-of-three diva would sport to flatter her stunning figure. From very low-cut one-piece suits to stringy bikini bottoms and flamboyant beach cover-ups, Katie's own personal style is richly imbued into every design.
The mood of the range is distinctly feminine and vivacious, just like Katie. They feature floral and abstract prints in rich colors, frills, sequins, clasps and cutaways. This swimwear launch includes four one-piece swimming suits, seven bikini tops and bottoms, plus a limited range of matching beach coverups. Prices start at just £ 4.99!
You can get your hands on swimwear from Katie's Boutique at only 50 of Store 21's shops, so make sure you give your nearest store a call beforehand to see if they stock the line. Or you can buy them online on the shop's website.
Katie Price launched Katie's Boutique in November 2011. Her idea was to offer a range of swimwear, lingerie and nightwear that is uber stylish but also reasonably priced. She said that being a model gave her an insight into the kind of clothes that look good and the kind that simply don't.
Her lingerie and nightwear range made their debut in November and the swimwear line is catching up now. Her nightwear was so popular that all stores were out of stock after just one week of the launch.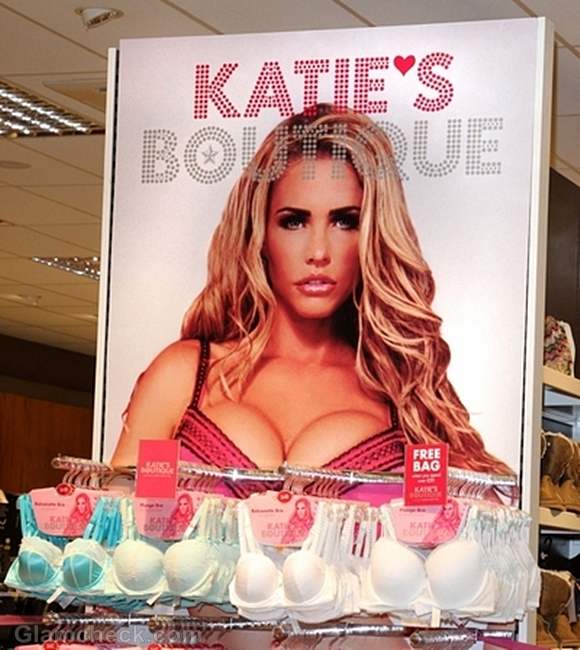 The lingerie line wasn't far behind. Katie's Boutique bras (available in sizes 34B to 38DD) in particular were quite a hit with their pretty floral patterns, ribbons, lace and embroidery in plunge, booster and balconette cuts – all of which give you admirable cleavage. Matching panties are available too, some of them with detachable suspenders in case you have a hot date that you want to impress.
Katie's Boutique is unique in that it offers the most affordable fashion range with a celebrity label. One look at the latest swimwear designs (and with such great prices!) tells us that this line will be grabbed off the shelves like hotcakes. Go get yours now!
Image: P R Photos