Brie Larsen was seen dressed up preppy at the world premiere of Columbia Pictures, "21 Jump Street" held at Graumans Chinese Theatre on March 13 2012 in Hollywood, Los Angeles, California. "21 Jump street" is an upcoming action cum comedy movie based on a TV series that was a hit during the late 80's and early 90's and features Brie playing the character of a high-school girl named "Molly".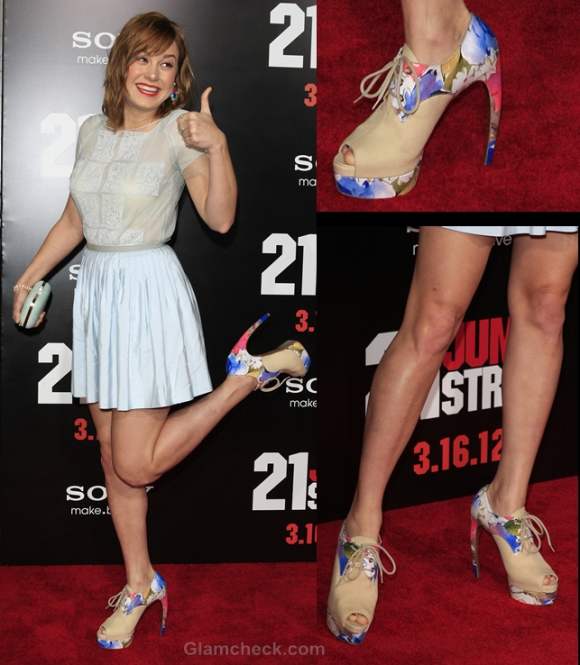 A red-carpet regular, Brie chose to go for subtle clothes, pairing up a white sheer top with a high-waist almost white school-girl skirt which complimented her medium layered hair cut. She showed her accessory fetish with multi-colored earrings, a stone studded bracelet, a hard-case clutch and the ultimate attention grabbing cut-out boots. These peep-toe heels were tower-height and made our 5'7" actress compete with the skyscrapers, well not literally.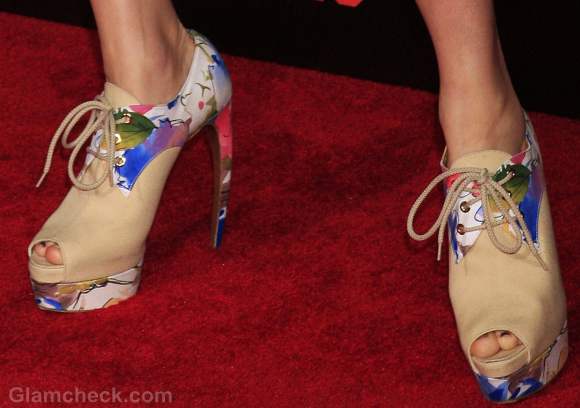 We wonder how comfortable they were, as they looked absolutely dashing and were the life of our actress cum singer's dull outfit. She cleverly combined the two hot trends this season- the nude look and the flower power and dipped herself in total style. The shoe was fancy and was a concoction of boots, pumps and peep-toes along with an add-on of laces. The upper part of shoe and the laces were in nude shade while the rest of the shoe had a multi-colored flower print on a white base.
The dash of color in the outfit came from the shoes, the earrings and her red coated lips. She dresses her age and loves to be seen in dresses, floral or anything spring-y. Brie loves to express herself through fashion and music, both the things her life revolves around. Brie Larson is quite the talk of the town and is moving ahead from just acting in indie movies and recording music.
A little bit of fashion advice in the words of Brie, "If you flip through a magazine and see something that rocks your socks then try to find it in a store or make it out of something you already own".
Image: Shutterstock