While dressing up for work or for party, we make sure that one thing is absolutely perfect and comfortable i.e. our footwear. Whatever we wear on a daily basis gives us a comfort zone as we work and run at the same time.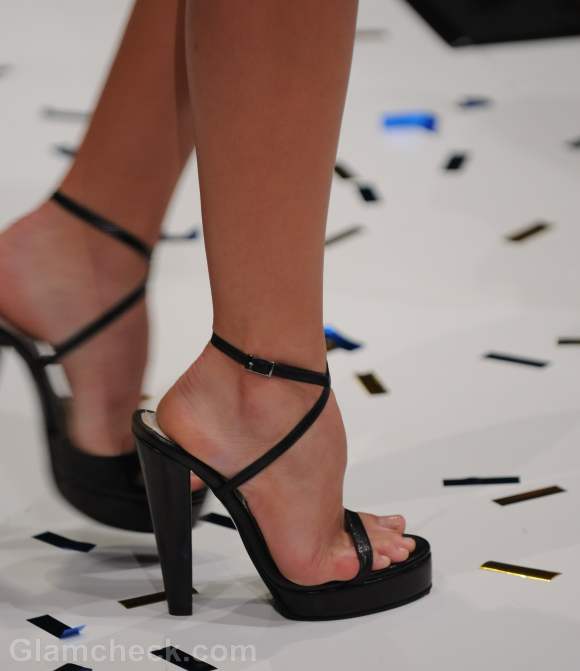 Like this Model walked the runway at the Viva Vox Collection for S-s 2012 during Volvo Fashion Week on October 24 2011 in Moscow Russia. Looking at the picture closely you can see how painful it must be to keep those feet in a tip toe position and walk.
So it makes me wonder, how the models manage to be in high heels all the time. While walking on the ramp or going for a party or meeting, most of the models feel comfortable with their high heels.  I was working as an assistant stylist for a style shoot where this model was wearing at least 5 inches heels and I eagerly asked her how she managed to be so comfortable in them. She said she is so used to them that wearing flats make her feel awkward at times but she shares the same level of ease with her flats as well.
Many other models would then prefer flats on a daily basis to give their strained feet a little rest. A lot of them agree that constant use of heels takes there back bones for a ride. No doubts that sexy heels in the market are to die for and they definitely mark a fashion statement. But the question is that what amount of ease and soothe do these women get after being in them all day. There would be numerous kinds of heels when it comes to the ramp walk, some being the classy pencil heels, or the retro wedges or some other newly invented or creative piece of a particular designer. While some of them are really uncomfortable and sometimes impossible to walk in, but the models take that in their stride and walk with total confidence and ease.
So I think it's a mix review of fashion, comfort and discomfort when it comes to footwear, especially heels. Some would be willing to run a mile in them and some would prefer sit back and enjoy the show. But the question is whether you chose style and fashion over comfort or just that the style is comfortable for you?
Image: Shutterstock