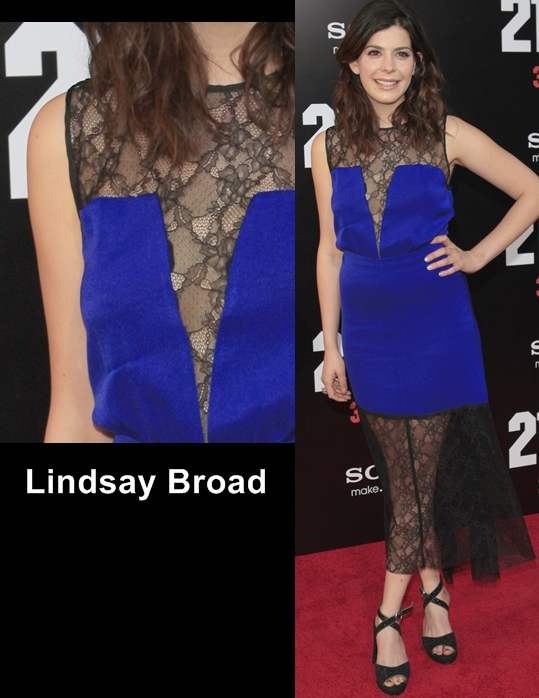 After the first glimpse itself, we could say it's an effort to keep up with fashion, put in the wrong direction. Our  bubbly actress got her facts right, about electric blue and lace, topping the fashion trend charts this season but chose to wear the most bizarre combo of the two together. We spotted her pretty face, at the premiere of Columbia Pictures '21 Jump Street" held at Grauman's Chinese Theatre on March 13, 2012 in Los Angeles California having her face value go down the drain with her disappointing outfit.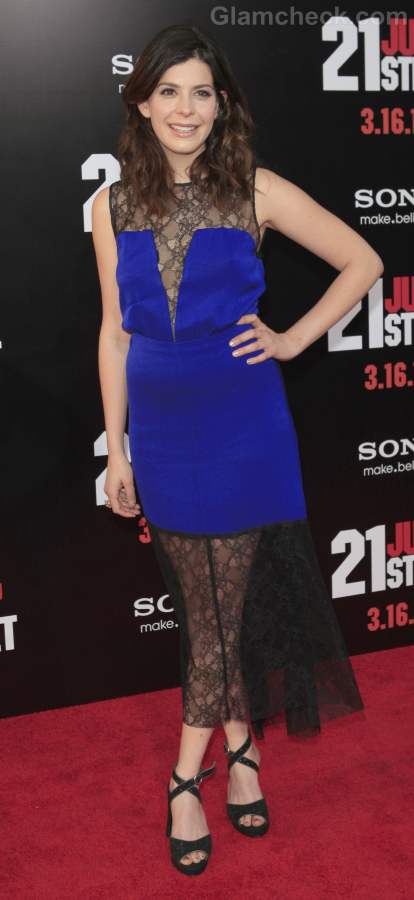 We wish she had a stylist-help while she was picking up this dress, which has a sweetheart neckline turned into a deep V neck which went up to the upper waist of the dress. The lower part of the dress was in the form of a fitted high-waist fabric skirt till the mid-thigh stretching down to a net tail attached till the mid-calf. As much as we like her pretty face and personality, we don't like this dress especially for a night she should have looked something close to great.
Known for her impressive act as Cathy Simm's in The Office, her dress looks like a concoction of net and electric blue fabric put together and stitched into a dress in the last 15 minutes before she finally made an appearance. She gave accessories a miss and even her shoes failed to lure us.
The top begins with a sleeveless netted basic, with two edgy fabric panels sewn together with the skirt, for the fabric enough to hide her assets. The cleavage is shown bare through the net but looks no attractive with the panels, seeming to be paper folds put there for draping. The fabric panels on the top look like they could fall and have been stuck temporarily to the net. The dress could save itself from being a prick or an eyesore, even if the net at the bottom could be left behind and the neckline could be a usual sweetheart neckline or a straight cut panel of fabric onto the net.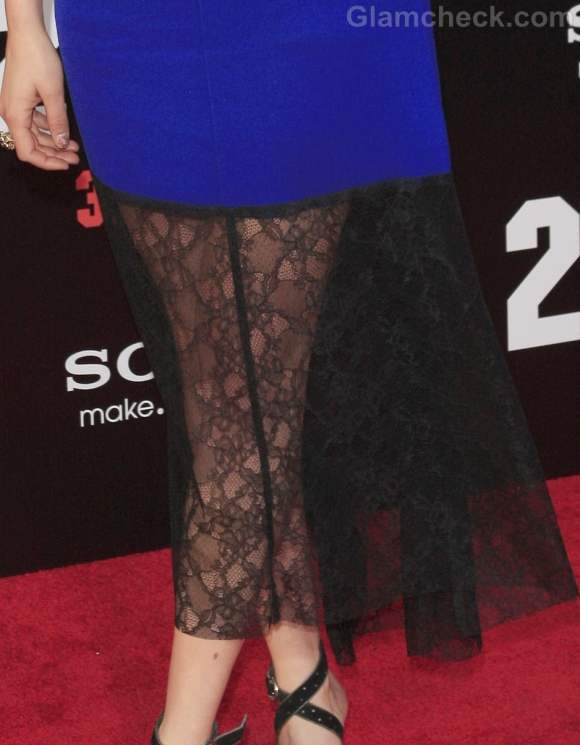 The length of the dress is a unique one, with it neither being a maxi-dress nor being a knee-length dress. Like the shape of the upper, it ends wherever it wants and there is no particular description that can be given to the silhouette, shape or style of this dress. Looks like this dress follows, no trend forecasts or designer interventions but has been carved out of fabric pieces as a result of sheer boredom.
We absolutely detest this dress, and hope that all of you would be on the same page with us on this.
Image: Shutterstock