We knew that nude/beige was going to be a popular color choice this year, especially after variations of the shade made their mind-blowing ramp debut during the Fall/Winter 2012 presentations. (Read: Color Trends Fall/Winter 2012: Beige/Nude color trend). As sure as the sun will rise in the east, the celebs are the first to get wind of coming trends and make haste to sport the latest fashions before we even have a chance to find out what they are.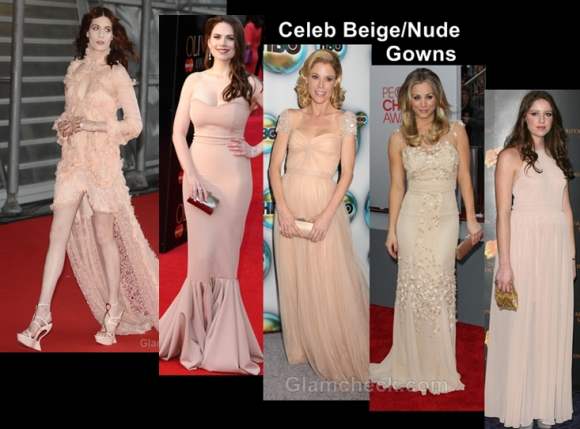 Across the red carpet in 2012, we've seen beige/nude gowns on some of the most breathtakingly beautiful women in Hollywood. Hues of beige/nude do wonders in highlighting the natural beauty of the women who wear them.
Florence Welch
Florence Welch looks like she's modeling for Victoria's secret in this frilly, flirty and very sexy nude outfit as she arrives for the Brit Awards 2012 at the O2 Arena in Greenwich, London on February 21.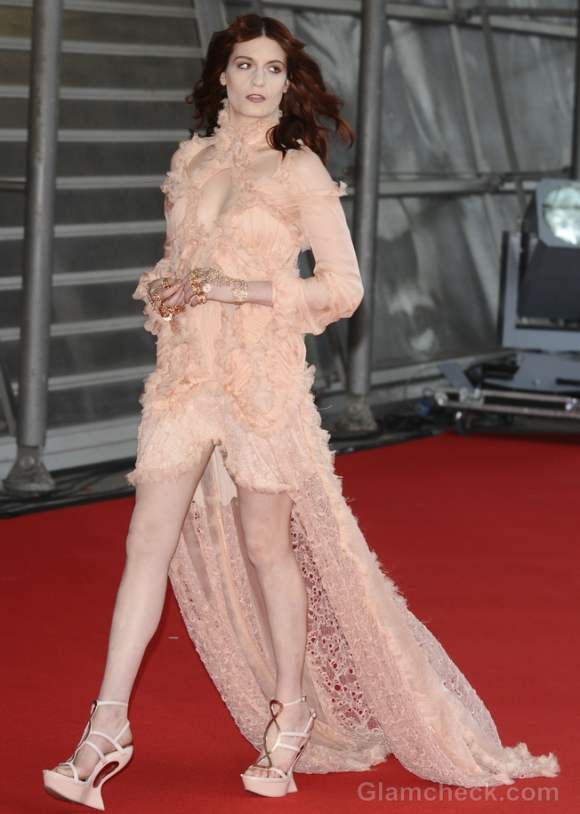 The shade she is sporting is so close to her skin tone that it makes you think the outfit is sheer when it isn't. We love the tie-up platform heels she's worn to accessorize her titillating dress. The train adds an element of naughtiness that makes you think this redhead is up to something.
Grace Cassidy
Grace Cassidy is oozing elegance in this simple but sophisticated nude gown that she wore to the RTS Awards in London on March 20.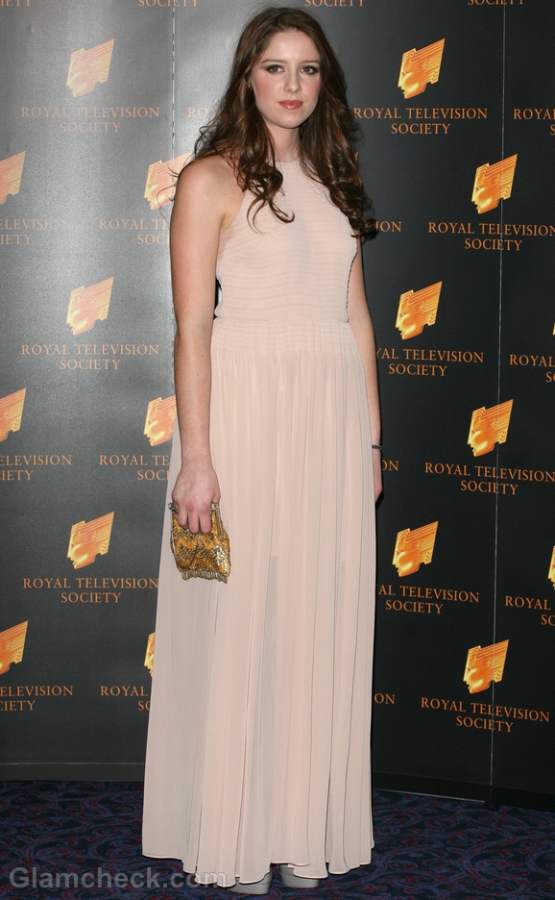 Fitted on the bodice with a pleated flowy skirt falling to the floor, Grace's clean cut red carpet gown embodies the very essence of her name.
Hayley Atwell
Hubba hubba! Hayley Atwell arrives for the Olivier Awards 2012 at the Royal Opera House in Covent Garden, London on April 15 in a jaw-dropping nude mermaid gown.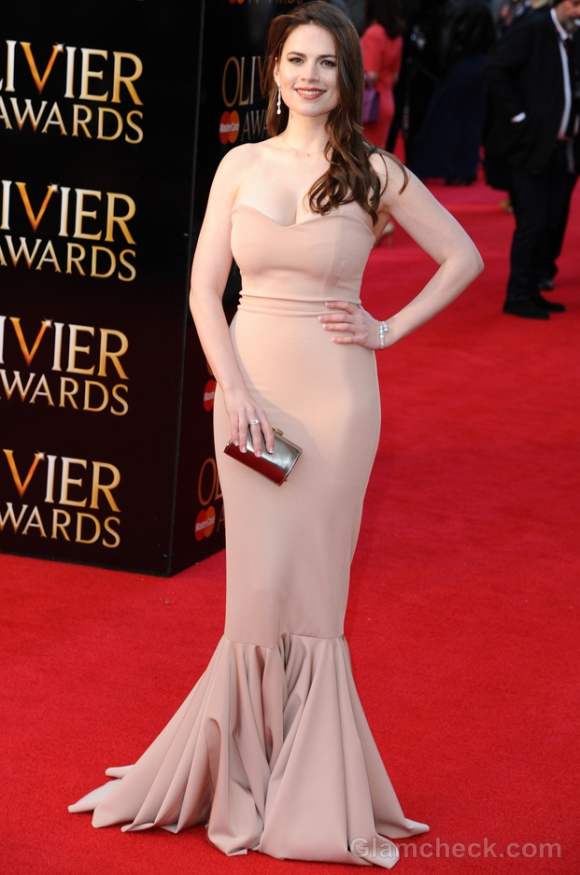 Strapless, low-cut and fitted on the buxom beauty's curvaceous form, the mermaid dress looks like a second skin on the brunette hottie because of the nude color.
Julie Bowen
You don't normally think 'feminine' when you think of Julie Bowen. Which is why we were surprised to see her in this uber-girlie nude gown as she arrived for the HBO 2012 Golden Globe Awards Post Party at the Beverly Hilton Hotel in Beverly Hills, California on January 15.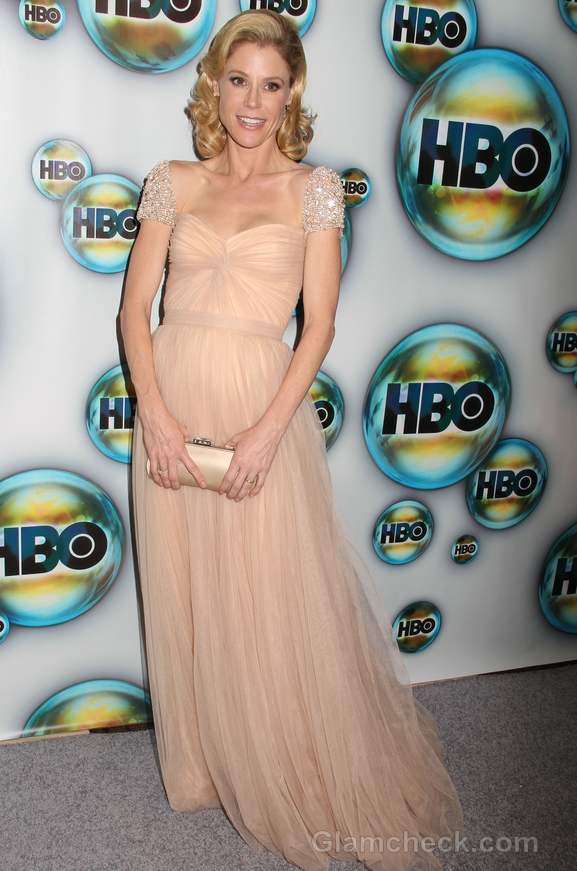 The low-cut fitted bodice still shows off her super-fit figure, but the gauze-like filminess of the floor-sweeping skirt shows us a side of her we did not expect to ever see on the red carpet. Check out the jeweled cap sleeves. Very glamorous!
Kaley Cuoco
Finally, we have pretty Kaley Cuoco at the 2012 Peoples Choice Awards at the Nokia Theatre in Los Angeles, California on January 1. The blonde beauty sported one of the prettiest nude gowns we've ever seen.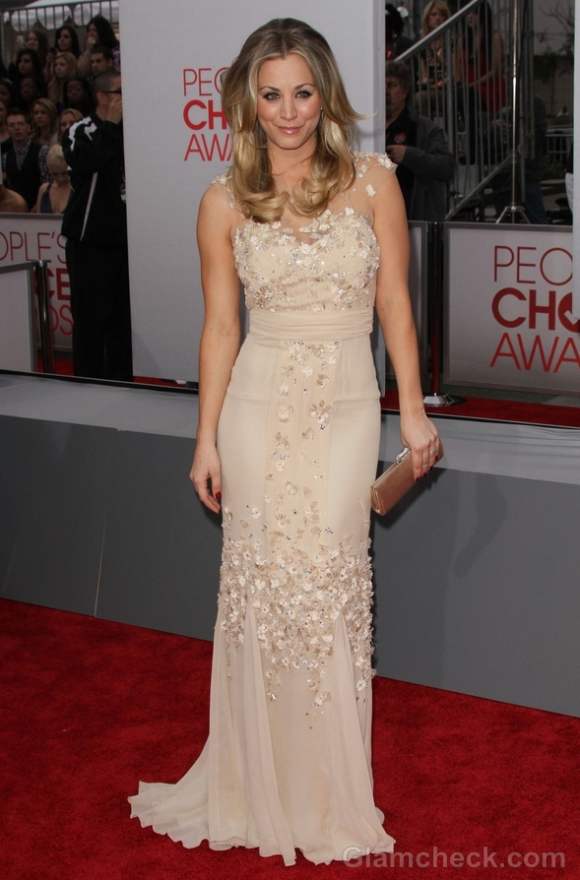 Flower embroidery is spattered across the sheer overlay of her full-length nude gown, adding texture and charm to the already feminine design.
Image: Shutterstock