Accessories add beauty and can brighten up even the most drab of ensembles. Our style pick of the day is the classic Agatha Ruíz de la Prada frames.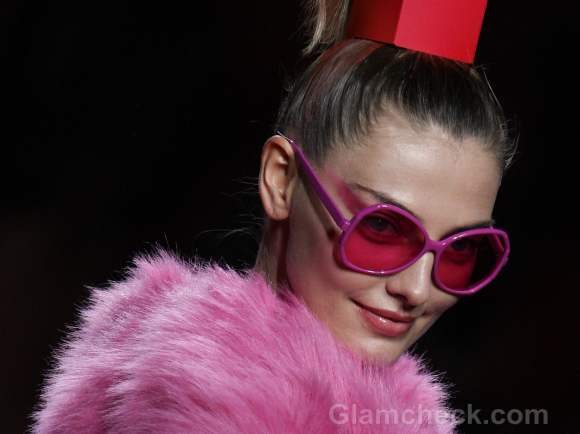 The frames designed by the rebellious Spanish designer for her fall/winter 2012 collection during the Mercedes Benz Madrid Fashion Week at the IFEMA earlier this year, are non conformist in every sense of the word – colorful, flirty, big and fresh.
How to wear your Playful Color Blocked Retro Frames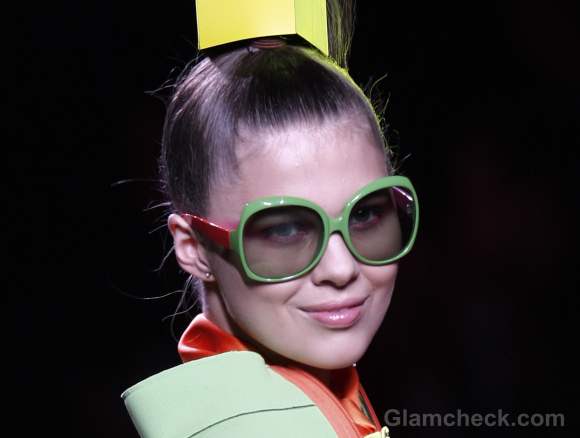 Large Color Blocked frames are Agatha's way of showing her free spirit. Inspired by the sixties, these frames look great on any kind of outfit. You could choose clothes from the classic, the retro, the hip-hop, modern or any other era, these frames will be a great accompaniment.
As in the catwalk, you could team these colorful frames with similar colored out fits or neutral colored. The color blocked frames is a great way of spicing up things in your wardrobe and a huge accessory trend predicted for the coming Fall/Winter 2012.
The glasses on these frames could be tinted in the same color as the frames too. These add more playfulness to the entire get up.
Having a pinned up hair style, will help keep the focus more on the spectacular frames.
Last but not the least, these frames add a lot of bling and color to your ensemble, so take care not to have too many colors in your make up and have a similar or a neutral color story in your other accessories to avoid the look being too busy and clashing.
Have fun with large rimmed colorful and flirty frames this winters and you are sure to be noticed!
Image: Shutterstock