Black has been the color of every age at every point, but little did we know we would emphasize our very delicate feature with the same. We know you are itching to try this, easy one-step towards being glamorous – The dark lip makeup trend. Just when we thought that this one was to be passé post fall, it makes an appearance to compliment and complete the bright neon look.  
Colors are for summer, and this summer is brighter than ever. To tone down and nullify the overdose of vibrancy in the colors, this trend is hitting the charts. A trend which can be followed and loved by anyone, it has one applying shades of black, dark brown, plum, burgundy and bourdon color on their lips and keeping the rest of the look nude. The trend is being adopted by fashionistas, models, makeup freaks and has, of course been witnessed on the runways.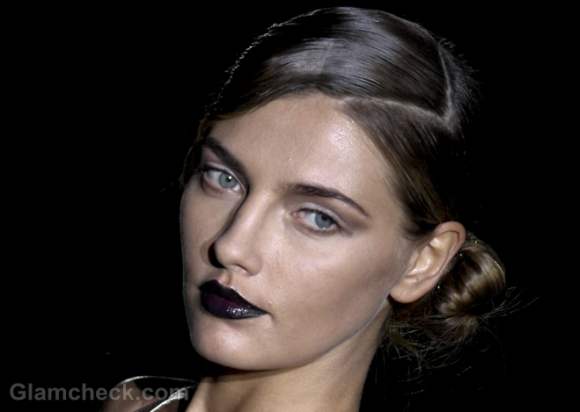 Hannibal Laguna, in his Fall-Winter 2012 collection during the Mercedes Benz Madrid Fashion Week had his garments show the perfect reflection of a Spanish woman, with a mix of sensuality and romance. Amidst the unusual waist-lines and micro shirts, lay the flavor of Goth meets Old school Spanish flamenco. The garments were all black and were well complimented with a no-makeup face except for the fiery black lipstick.
Kaelen Haworth's beautiful collection 'Kaelen' for  Fall-winter 2012 at Mercedes-Benz Fall week left us stunned and starry eyed. The designs had a strong Art Deco inspiration and the models were decked up with laced vintage dresses and tops, cut-out out sleeves, boxy trousers, gold accented blouses, skirts and printed pantsuits with bow ties.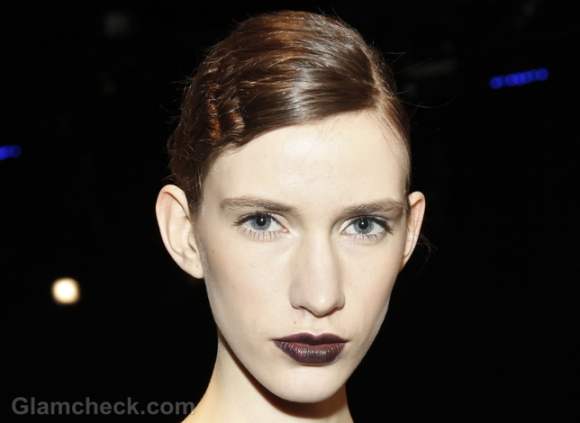 It was minimalism at its best, with the 20's aesthetic showing up with a mix of modernity in its revamped state. The makeup had nothing but the use of vampy hues on the lips for a mysterious yet striking effect.
We give you a little insight of how the simplest application of lipstick, can be learnt and done with precision. Follow these steps and be ready to rock this look.
STEP-BY-STEP Tutorial on how to get vampy dark lips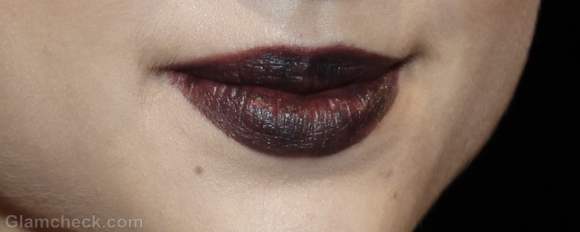 Once your face is clean and skin- well moisturized. Be ready to highlight the best feature of your face-the lips.
Matching your skin tone and hair color, choose a dark lipstick shade.
Now, keep your eye-makeup simple as we will be painting the lips with a bold black, plum or a darker shade of burgundy.
Check the lip-line. If you have a clear lip-line, you are lucky enough and if you don't you can use a matching lip-liner to give definition. One can also apply a liquid concealer around the lips, using a very thin brush.
Moisturize your lips by applying lip balm and keep rubbing it till the lip balm is absorbed.
Take a lip brush and check if it's clean and dry.
Run the brush onto the lipstick from side to side, so that it has the right amount and enough lipstick ready for application.
Now, start using the brush on the lips moving from the inside to the outside.  Outward movement helps have the right amount be at the right point on the lips.
If you want the lipstick to stay, blot the lips. The best way to blot your lips is to take a single ply tissue and place it on the lips. Apply powder on it. This might get the shade toned down a bit, but will make your lipstick stays for long.
Now, apply a second coat of lip color for uniformity and vibrancy.
Touch the lips to each other and your lipstick application is complete.
You can re-touch or re-apply the lip color after every few hours as and when required.
TIPS: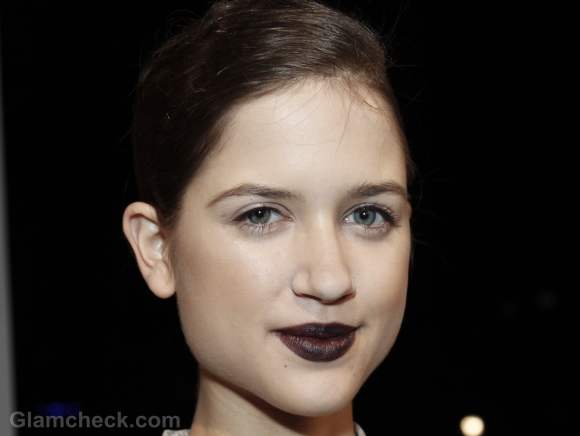 Find a lipstick shade that suits your skin tone and face cut the best.
For a finished look, apply a lip liner along with your dark shade. It makes the blending easier and the appearance more polished. This prevents rough edges and lipstick looks flawless.
If your shade is something very close to black, skip all the other makeup staples unless you want to be in the goth league.
For a precise application, use a lip brush to apply it.
At the beginning, the lips can even be primed with foundation or powder.
If you have some amount of lipstick, outside your lips few drops of makeup remover on a cotton swab is your best deal to remove the flaws.
Wear it to parties, or for your casual outings this one definitely speaks a lot about your bold and daring personality.
Image: Shutterstock