When it comes to the functionality of various accessories and their respective priorities, shoes occupy the top space as one can never really step out without those. Their value is much more than just style. Bags fit in the second to those as one can still manage without those. Jewellery one can do without completely if needed and you probably won't miss out on anything but then clothes and accessories are not just to serve mere needs anymore, are they?
So be it the drive to adorn accessories be aesthetics or functionality, every outfit it bland without these. Apparel trends grab our attention but accessories trends do the needful too. Most of the looks , off ramp or on the streets are never really complete without accessories. More often than not accessories have so much more depth to their existence and this season that depth is being added by great options of hand bags that were also a major part of various runway shows.
The "Hand" bag:
Handbags, today have become a very generic term and mostly, are used for any bag in our language. However, there is a definition attached to it. These are bags that have short straps because of which these are a more comfortable option when carried by hand than to make it hang on your shoulders.
The runway cues from Fall-Winter 2012 hint the hand bag translating into "the" bag option be it work or a casual affair: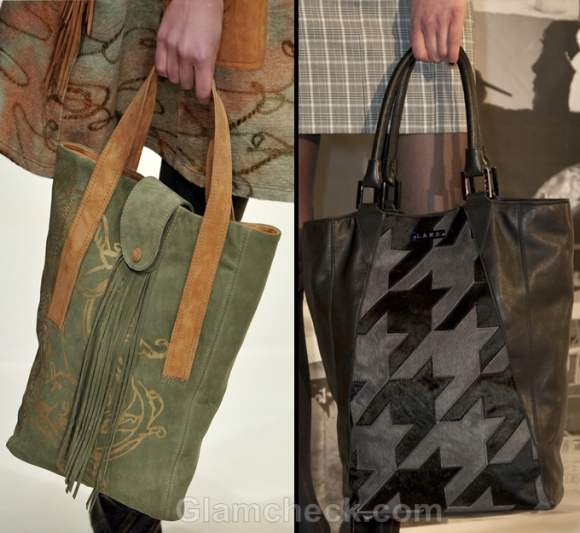 Although, the tote by definition is a relatively bigger size of a bag suiting women when they travel, work or go shopping and Fall/Winter 2012 shows us options with a size of a tote and short straps. Carry your world with you in style and to do so one can take inspiration from the bags showcased by Davidova Fall Winter 2012 at Mercedes Benz Fashion Week and LAMB collection. The muted colors will fit delightfully with the winter wardrobe.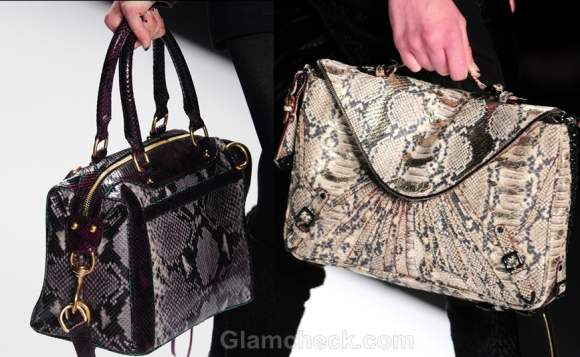 When it comes to fashion it seldom lacks an inspiration from the fauna kingdom. In some way or the other the their features have been a rage and a huge inspiration till we can trace back time. Animal skins and fur seem to be the perennial option making an appearance year after year. Bags of various patterns have adopted these as their skin too and seem to be a strong choice for Fall /Winter 2012 as well.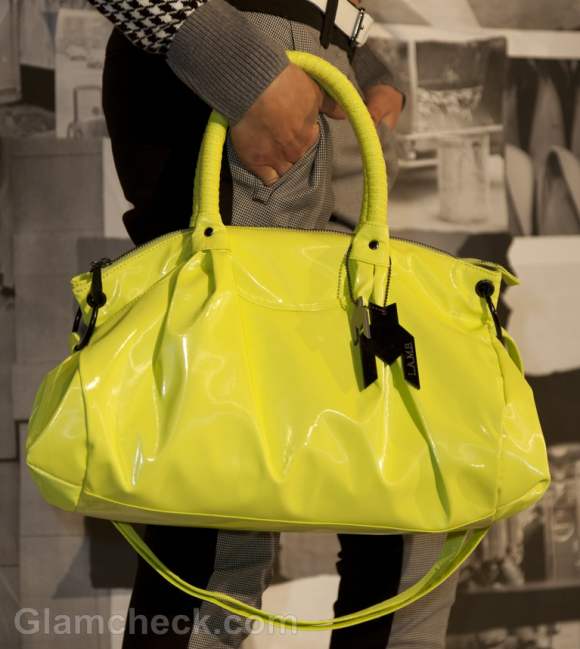 The bags relatively longer form edge to edge as compared to the dimension from top to bottom is what fits in this category. A highlight of the LAMB collection for the Fall /Winter 2012 that bag was spotted in the solid colors of black or bright canary yellow.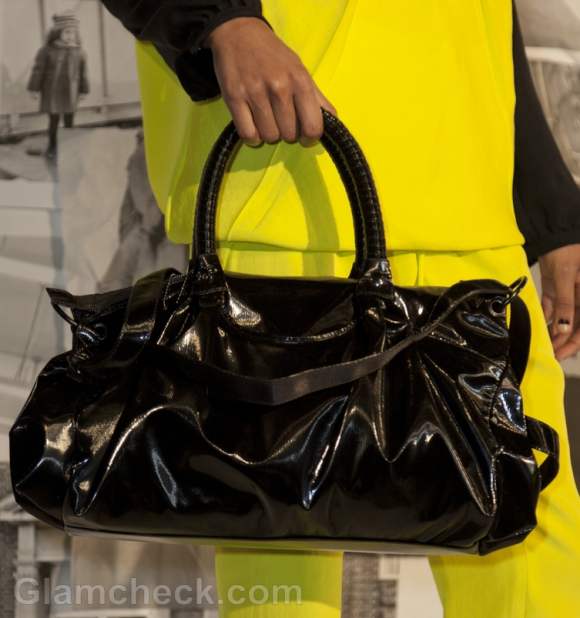 These often come with a sling option.
Serious "Structured" Delights: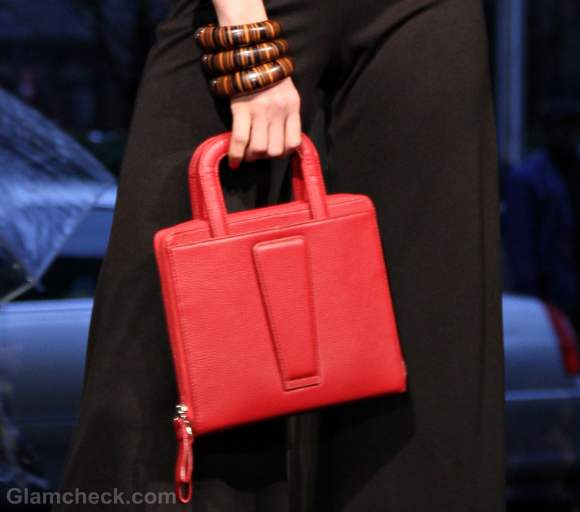 The smartest of the lot, the structured options not only fit in perfectly as a work option but drip of high fashion and make a great match for flowy attire as it does the balancing act. These definite structures helps in more organized storage and definitely are a rage for Fall/ Winter 2012.
Other Ways to Style the "Hand" bag
The way you take your bag matters a lot when comes to how it finally looks. Though holding it in the hand is the latest fad, sling and elbow are two other great ways to take the bags provided these work well for the outfit. After all beyond a point holding the bag by the hand can be a struggle so one does need options:
Sling it Up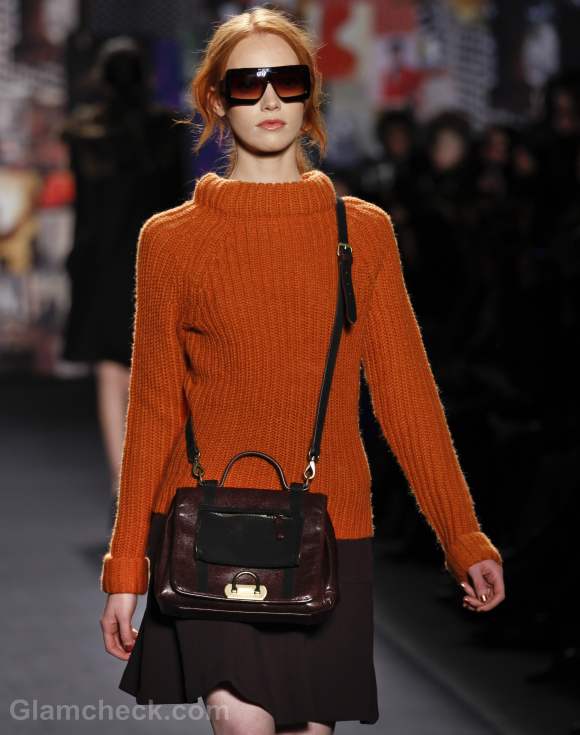 Most of these bags have a detachable sling , so the bag can be used to its optimum based on the mood and style you demand out of it.
The Elbow Style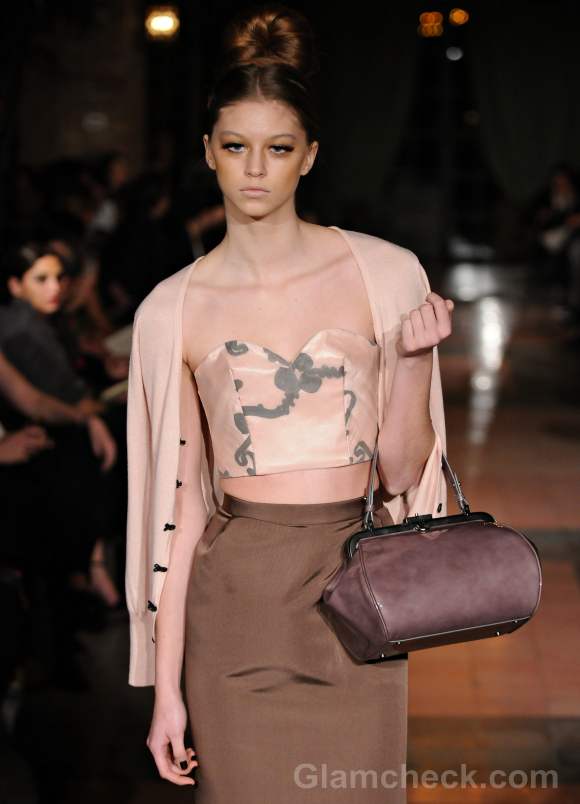 Though a tiring way but a style delight. The handbag when held at the inner elbow is of unmatched elegance and can really elevate the style points for anyone.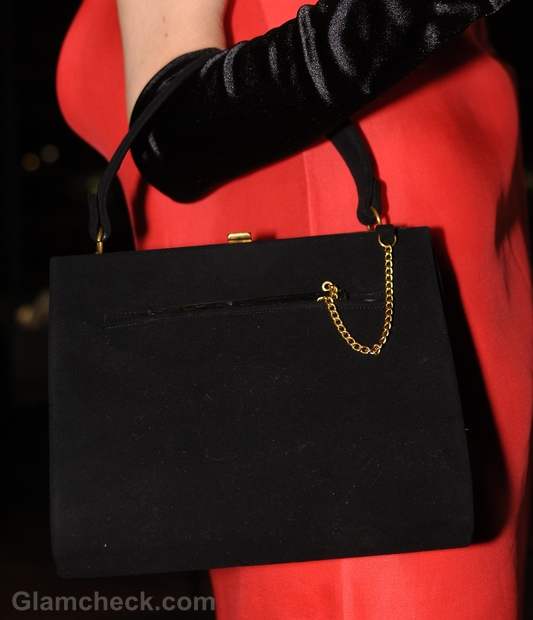 However, take care not carry too much weight around you in the bag as it can get very tiring.
Image: Shutterstock