A good fitting top is a cherished item in every girl's wardrobe. She can team it with her skirts, trousers, jeans and wear it over her dresses. No wonder then – that our style pick of the day is a top – but no ordinary one at that. A very feminine off white lace cropped top.
A must to have in your wardrobe, the style pick of the day is from the world famous designer Oscar De La Renta's Spring-Summer 2012 collection showcased during New York Fashion Week.
The Styling
The off-white cropped lace top is made from intricately patterned lace and has been worn over a red dress. The feminity of the see through lace top lies in the intricate leaves and floral pattern of the lace, the custom made fit and the length of the top – which is just right. Unlike some lace tops which are lined, this top is not lined and is to be worn over another piece of clothing, like in this case – a dress or a vest, a camisole or for the bolder – over just a bra.
How to make this style work for you?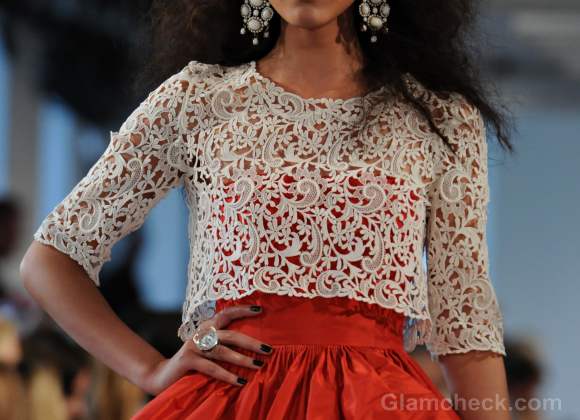 While lace cropped tops look gorgeous, and are very hot this season, it is important to know how to carry it off this look. One wrong step and you may end up looking from fab to trash. Here are some tips to help you make the style work for you.
For the unadventurous, try wearing a lace cropped top with something underneath. For the bolder lot, you could try out a denser pattern of lace and wear it over just a bra. Wearing a contrast color bra over a cropped lace top will further add to the bold feature.
Since a lace top looks ultra feminine, the best way is to team it with a dress or a skirt. Wearing an off white cropped lace top over a bright chiffon skirt is surely a way to win hearts.
For a more casual look and if you want to look younger – teaming a lace top over a casual chambray shirt will make the look casual – a great way to enhance your wardrobe.
Another way to dress down the cropped lace top and wear it to a casual outing or for a rock chic look, is to team it with skinny jeans or a pair of distressed shorts or denims and complete the look by layering and donning a short leather jacket.
You could choose colorful accessories and don bright make up to further add to the beauty of your off white cropped lace top. Remember that in order to carry off a bold color, try and have a speck of this color somewhere else too, maybe as a part of a print or embroidery on your skirt or dress or something as simple as rhinestones on your denims.
Lace tops can be an expensive buy, try and follow the above tips on how to change your look every time you wear it.
Image: Shutterstock