Actress Kristen Stewart made an appearance at the Los Angeles screening of her latest movie "Snow White and the Huntsman" at Westwood Village in Los Angeles, California on May 29. Honestly, we've seen Kristen in a lot of really gorgeous outfits that she pulls off to perfection but this is one of the rare times when we feel that she's had a hand in putting her outfit together herself which is what makes it look better on her somehow than all the couture we've seen her in. You'll see what we mean.
What she wore:
Skirt, shirt and blazer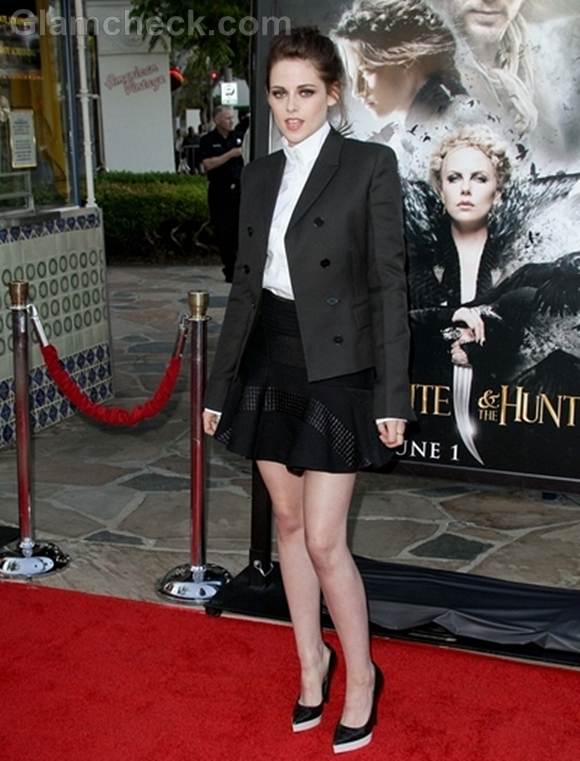 OK, it's not as boring as it sounds. It's actually quite chic. Kristen chose to dress in Stella McCartney from head to foot, which is actually a pretty good option for her as it beautifully complements her energy and her own personal taste.
She wore a black, pleated mini skirt with a white, collared, front-buttoned shirt, finishing it off with a well-tailored grey blazer. She accessorized the outfit with a ring by Melinda Maria and a pair of black pumps which had white platforms – faux-croc leather, by the way. The shoes are not something that would go with many outfits but it just fits right in with this one.
We've never seen Kristen so comfortable and so in her element. It feels like she's actually happy to be dressed in this ensemble rather than having to put it on just because she has to walk down the red carpet. We're not saying she doesn't like dressing up as the brunette beauty has often stated that she loves the couture ensembles that she has sported at several premieres and awards functions, but she has also admitted that she feels just a tad out of place in them and doesn't quite know how to handle herself in them.
Here, she looks cool, collected, confident and very in-charge. It looks like Kristen has found a look that she loves is at home with and is uber-stylish to boot, don't you think?
Hair and Makeup:
Braided updo; smoky eyes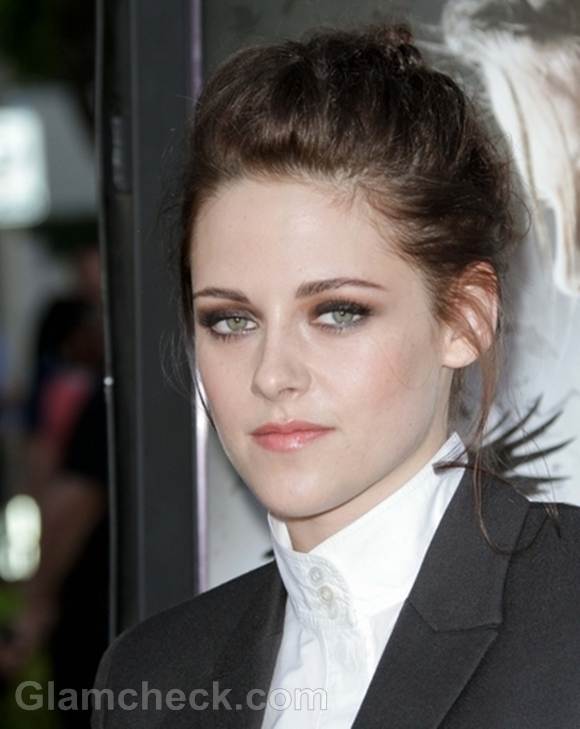 Kristen's red carpet look must include yummy eye makeup of some sort to highlight her piercing peepers. She went with a smoky look that truly highlighted that aspect of her face. The rest of her makeup was light hues of pink on her cheeks and lips which gave her a fresh, clean look.
We love the hairdo! Her brown hair is braided and done in an updo. While it's elegant, the messy bits of it allow Kristen's natural edginess to shine through.
She totally owns this look from top to toe. There's not a single thing you can criticize here.
Image: P R Photos