There was once a time when women and girls wearing glasses or spectacles were considered to be geeky, awkward and unstylish. Not so anymore. With more and more fashion icons from all the spheres of life wearing glasses in their public appearance, the humble eye glasses have reached the status of a fashion accessory. Today, a woman wearing spectacles no longer are considered as awkward or geeky, instead they are worn by women to portray a myriad of images – from the serious to fun loving to sexy.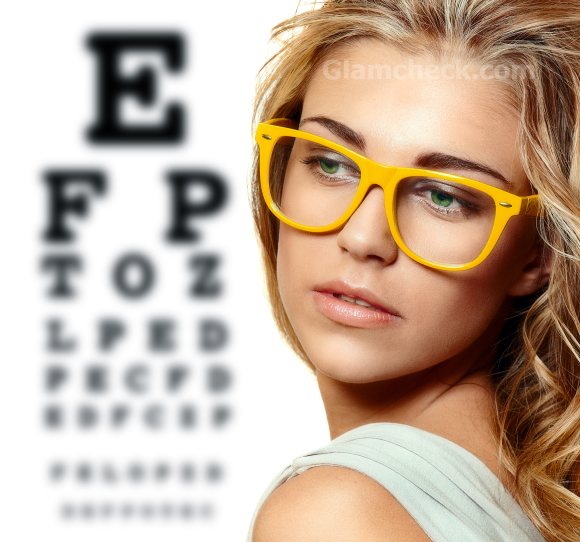 No wonder then, you would find frames designed by the best known fashion designers and optical companies stocking zero powered glasses in all kinds of frames and colours to meet the needs of people who are blessed with great eyesight yet want to wear a pair of zero power glasses to have an image makeover and look great.
Ever wondered, if you could carry off a pair of glasses, ever required help in finding the right pair in a colour and frame that suits your face cut? If yes, then this is the guide to all your queries on choosing the right pair of frames that will suit your face cut and in colours which are trendy.
How to choose eyeglass frames to suit your face
Keeping the cut of your face in mind is very important while choosing the shape of the frame. A clash between the two can mean disaster. A good frame should highlight the positives of your face while taking away the attention from your facial drawbacks.
Eyeglass frames for Round face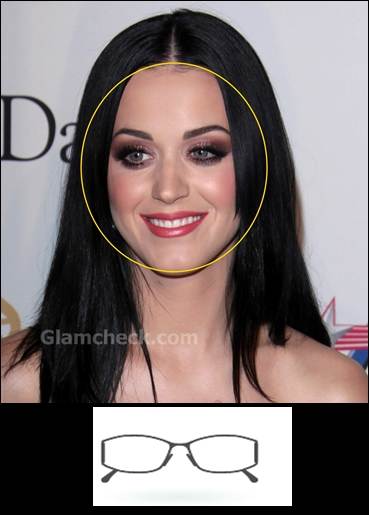 A round face is where the length and the width of the face are almost the same.  A sharp angular frame such as the rectangular frame tends to elongate the face. If you have a round face with puffed cheeks and want to hide this drawback, opt for thinner rectangular frames. Thicker or wider frames will add more bulk to the face.
Eyeglass frames for Rectangular or square face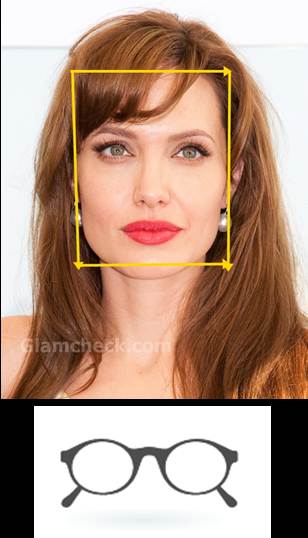 The opposite of the frames meant for the round face would look great on a face which is square. Choose round or oval frames rather than sharp angular frames, so that the curves of the frames offset your geometric features.
Eyeglass frames for Oval Face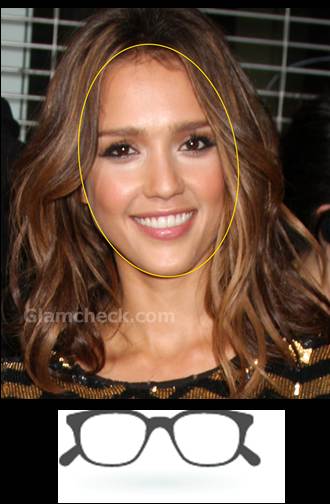 This is the best and most versatile face cut to have as almost all styles of frames gel well with this face cut. You could choose from round or rectangular or any of the other, more experimental shapes such as cats eye or butterfly. Frames which are wider generally suit an oval face more as they bring in a balance to the length of the face.
Eyeglass frames for Heart shape / Base -up Triangle shape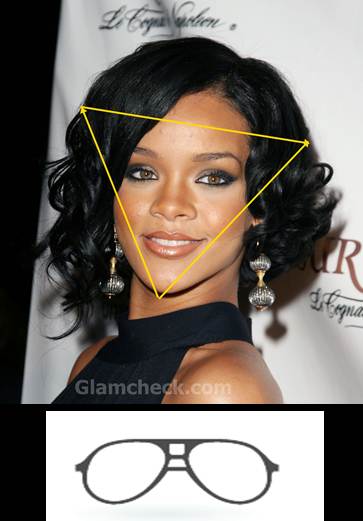 If your face has a broader forehead and a narrow jaw line and cheek, you have a heart shaped face. A heart shaped face can carry off angular frames. A general rule that should be followed is to have a frame that is broader or rectangular at the base and narrower and rounder at the top, to balance the narrow chin and broad forehead. Butterfly frames and cat-eye frames are some great shapes which a heart shape face can carry well.
Eyeglass frames for Oblong faces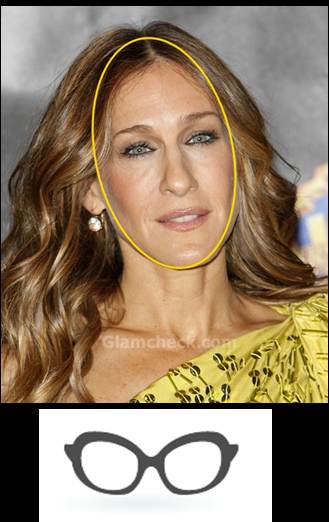 Oblong faces which are lean and long are oblong faces. In order for these to appear fuller and more proportionate and filled up, choose frames that can cover the center of the face and are wide and with decorative features. If you wish to shorten the face, try round, deep, or low-triangle frames.
Eyeglass frames for Diamond shape face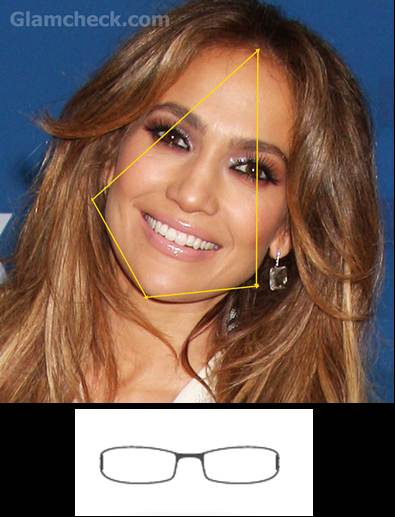 One of the rarest face shapes, this shape is marked with broad cheeks and narrow forehead and chin. The eyeline and the chin area are narrow whereas the cheeks are usually raised and very prominent. To emphasize the eyes, choose wider and bigger frames such as the cats eye or oval frames. The rimless ones will rock.
Eyeglass frames for Base-Down Triangle shaped face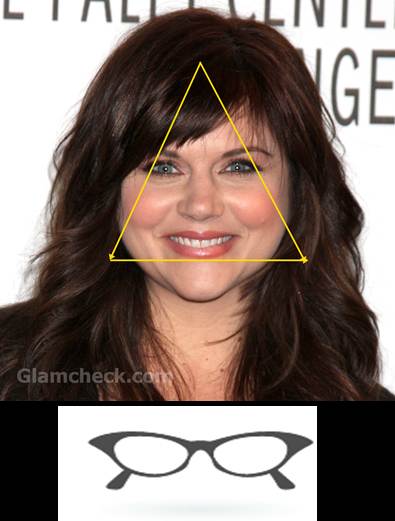 A Base-down triangular face is characterized with a narrow forehead that widens at the cheeks and chin area. Select frames that can add some width and emphasize the narrow, upper third of your face. Go for frames with some details on the top half.  Cat-eye frames help balance the bottom part of the face.
While choosing frames based on your facial cut, pay attention to your features as well. If you have sharp, delicate features opt for frames which are not too bulky. Likewise if you have strong features, you may be able to pull off more dramatic frames.
Eyeglass frames for different skin tones
While there is no thumb rule here and people prefer to wear colours that personally appeal to them, opticians suggest the following general guidelines:
Determine if your skin tone belongs to the warm skin tone or cool skin tone. Cool skin tone would be skin tones with a pinkish and bluish tone. Warmer skin tones would be closer to yellow or whites – so skin colours with undertones of yellows, peaches and creams.
Eyeglass frames for Cool skin tone
The cool skin tone or pinkish/ reddish and bluish skin colour undertones can carry darker tones such as black, navy, bright pinks and blues, brown frames.
Eyeglass frames for Warm skin tone
The warmer skin tones can carry frames which are lighter in colour for example, off white, peach, light orange, fire red, gold and copper.
Keep in mind your eye colour and hair colour too as these will also affect the total impact of the frame colour on your face. Take an honest feedback from a good friend of yours and choose what you feel is the best suited for you.
Make up and glasses
When you wear glasses, a lot of attention is brought to your eyes and the eye brows. Paying proper attention to the eyes , brows and the eye makeup therefore becomes even more important.
Pay attention that your brows are well made and do not have any unsightly untrimmed hair.
You could choose to use kohl or eyeliner to define the shape of your eyes. Use of eye shadows is a great way to ensure your eyes look great from beneath the glasses. Match the colour of the eye shadow to the main dress.
To bring attention to your eyes, a lot of women also prefer curling their eyelashes or using false eyelashes – go out and try these!
If you have a problem of under eye bags, puffy eyes or dark circles, remember to take care of these with good makeup or preventive care as the glasses will only highlight these problems.
Medical diagnosis of eyes before choosing a pair of glasses with power is a must. If you are buying glasses with zero power, ensure you buy it from a good optician so that you are guaranteed of good quality glasses.
Take care to find the perfect eye glasses for yourself – for some it may just be a style statement to be worn to create a serious image or a playful one; for the rest, it may be a necessity. Whatever may be the case, would you not invest in something that you would be wearing every day?
Image: Shutterstock