Have you seen the variety of nail polish colors today? It's mind-boggling and that's an understatement! Imagine a color, any color, and you can bet your rent money that there's a nail polish out there in the exact same hue. This is good news because now you can match your nails to your mood, your clothes, your car… basically, to anything you want. If only it were that easy.
A few lucky people are born with an innate color sense that allows them to tell immediately whether or not a nail polish color will look good on someone. The operative word here is "few". For most people, choosing the right nail polish color is actually quite a hassle. When there are 132 shades of red, how are you supposed to know which one is right for you? If you're wearing a blue dress, does your nail polish have to be blue even if you hate the color? You love baby pink, but will it look good against your dusky skin tone?
We're going to try today to widen your understanding of which nail polish color looks good on whom, with what and when. However, you will only develop the true skill after you have tried to choose the right nail polish color over and over. You will learn more from your successes and yes, indeed, mostly from your failures. This guide will help you get started on that journey of discovery.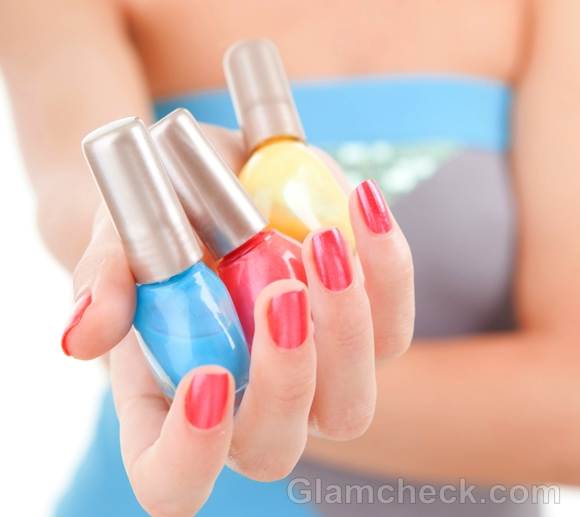 The nail polish colors that will look good on you will depend on several factors:
Your skin tone
Your ensemble
The rest of your makeup
The occasion
Current trends
Let's take a closer look at each factor one by one. This will help you to eliminate the colors that are simply not right and will also narrow down the color choices that you can get away with. Don't worry, no matter how much the choices are narrowed, you can be sure that the spectrum of nail polish colors you can choose from will be more than sufficient to keep you happy for a lifetime.
Choosing the Right Nail Polish Color Based on Your Skin Tone
Conventional wisdom states that lighter skin tones should wear light shades and the darker the skin the darker the nail polish shades should be. But this is a very simplistic rule of thumb and should only be applied when you really don't have the time of patience to experiment.
Fair Skin: Lucky you. You will be able to pull off most colors beautifully. The ones that will look best include deep shades of bright colors such as plum, burgundy, red, orange, royal purple, teal, navy blue as well as pastel shades such as light pink, peach, baby blue and pale green. Silver and white will look great with evening wear. Keep in mind that extremely dark shades like black can make your hands appear washed out.
Medium Skin: This is the shade of skin that is not quite fair but not quite dusky either. This means that some colors that look good on fair skin and some that look good on dusky skin will suit you too, but not all of them so you need to be careful. The colors that will really stand out against your unique skin tone include darker shades of brown, light as well as dark pink, gold, gray and key lime. Another go-to nail polish color that will work anytime is bright red. Avoid purples and blues. 
Dusky Skin (Wheatish Complexion): Very dark colors can drown out with dusky skin tones so it's the paler shades that look better such as white, nude, very light blue, very light purple, and nude shades with tinted pink. However, some darker shades of gold and earthy shades like russet can look good too.
Dark Skin: Rich colors look wonderful and dramatic against dark skin. Maroon, purple, very dark brown are awesome for everyday wear. Most warm shades will work against dark skin tones. For example, lighter shades of brown, gold and yellow will look lovely if you find the right hue.
Choosing the Right Nail Polish Based on Your Makeup
If you wear makeup regularly then you have probably got a color palette which you know looks good on you. This color palette will provide a pretty reliable guide of which nail polish colors will look good on you too. For example, if you have figured out which lipstick colors or eye shadow look best on you, then you'll notice that nail polish colors of the same shade are right for you. Don't tale this shortcut blindly though. Always try first.
Choosing the Right Nail Polish Based on Your Ensemble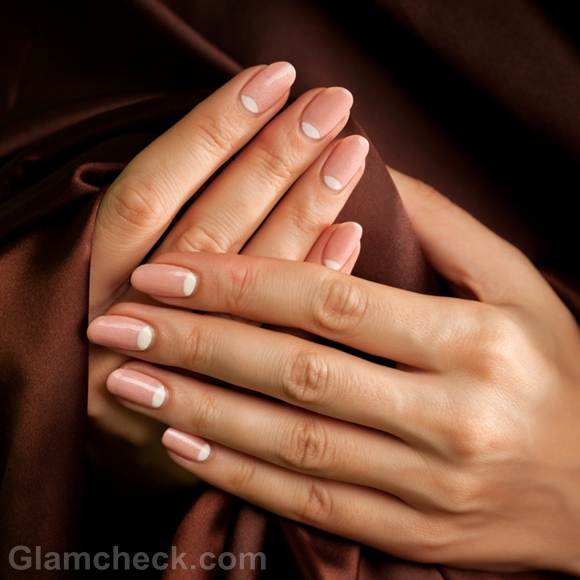 If you are a fashionista, then you obviously want your nails to go with the outfit you're planning on wearing. Now when we talk about an ensemble we don't just mean the clothes you'll don. We also mean the jewelry you'll accessorize with, the bag you'll carry and the shoes you'll slip into. These can be great inspiration for choosing the right nail polish color for a particular day. For example, you may wear an all white outfit and decide to add a sexy touch by wearing red. Red nail polish would give the angelic white another touch of sassy red. There will be two elements to your ensemble, two layers to your personality reflected in the outfit and you'll keep the mystery alive. All that with just nail polish? You bet!
The same goes for the jewelry you wear with an outfit. If you like chunky jewelry with large stones then maybe you can paint your nails the color of, say, the stone on one of your rings or neck pieces. Wearing gold jewelry? Paint your nails gold too for an all-round glam look.
If you're wearing a dress in just one color, you can choose a contrasting color as well as a lighter or darker shade of the dress for your nail polish. Or if you're sporting a spring-inspired colorful outfit, pick the dominant color in your clothes and paint your nails the same color.
So put your ensemble together beforehand, maybe lay it down on the bed or a chair the way you're going to wear it and look for inspiration in the colors of the different items of your clothing and the accessories.
Another thing you can do is to get an overview of your wardrobe. We all tend to wear a particular color more than most others. Pick nail polish colors based on dominant shade in your closet. Don't forget that contrasting shades work well too so don't leave those out.
Choosing the Right Nail Polish Color Based on the Occasion
You wouldn't really think of wearing bright yellow nail polish to a funeral or that funky orange to an important meeting. It's not that you can't, it's just not considered all that appropriate and it's a good idea to respect the decorum in certain environments. Your personal life in your home, parties and hanging out with your friends is your business and you can wear whichever nail polish you like. However, when it comes to work, a formal meeting, a solemn occasion, dinner with the mother-in-law-to-be, prudence is the need of the hour. Play it safe at such times.
Choose sober, lighter nail polish colors for day wear if you are working. Neutral, nude shades are best then as they make your nails look clean, well-tended and professional without drawing attention. However, if you're going shopping during the day or hanging out with friends, you can wear bright colors which will pop. Go dramatic when the sun sets with darker shades, metallic nail polish colors, neons and glitter.
Choosing the Right Nail Polish Color Based on Current Trends
Trends come and go so this should not be the dominating factor when choosing the right nail polish color. However, sometimes the current trends can give you some great ideas for a new nail polish look which you never tried before and which you may never even have thought of. You may discover a new nail polish color which looks great on you in the bargain too. So don't follow the trends blindly but do experiment to see if it works for you and also to look fashionable.
For example, tangerine tango is the Color of the Year 2012. This is not a color most people consider even in their clothes, but if you've taken a look at this color in the most recent collections on the ramp you'll see that the effect is dramatic. Sport the color on your nails for a trendy touch.
Even neon shades in clothes and makeup are quite a hit this year. Not for everyday wear but a great nail polish color for when you go clubbing.
Other Tips
The nail polish you choose will only look as good on you as its quality allows. Invest in some good quality nail polish for a smoother finish and an accurate rendition of the color on your nails. The cheaper nail polish will look different in the bottle and different on your nails. However, if it's in the initial stages and you are simply experimenting with colors, then it is economically more feasible to buy the cheaper brands till you've figured out the colors which you really like. You can then buy only the best colors in a reputable brand.
If possible, try nail polish colors before you buy them. Don't apply just a teensy bit on your nail-tip to try it. Apply two coats on your entire nail and wait for it to dry. This changes the color considerably and is a more accurate take on how the color will actually look.
The same color will look different with a matte finish and a pearly finish. So experiment with both to see which works best for you.
Don't want the hassle of choosing a nail polish color? Get a French manicure. It looks awesome with absolutely everything and you'll look sophisticated to boot.
Make regular visits to the beauty counter of your department store. There are often promotions when they have a new nail polish range (or when they're trying to get rid of an old one) when they'll offer fee nail polish samples as well as nail polish advice. It's worth the trip, especially if you're new to nail polish and need a little help initially deciding which colors to wear. The free samples let you try out new colors without spending money and the free customized advice is priceless.
No matter what nail polish color you choose, it's going to look yucky if you don't apply it well. Lumpy, uneven strokes will take the attention away from the prettiest color and just look childish. So learn to apply nail polish properly by practicing on your mom, sisters, friends and even you brother, boyfriend or husband if you can emotionally blackmail them into sitting still. If you're not yet confident of your nail polish applying skills and you have an event to attend, go to a saloon with your nail polish and let a professional do the job.
And finally, the most important tip when it comes to choosing the right nail polish color for you…
Trust Yourself
Don't be intimidated when it comes to nail polish colors. This 'how to choose the right nail polish' guide is meant to be just that – a guide. It is not the be all and end all of the colors you should or should not wear. Sometimes, you just have to throw caution to the winds and wear whatever you like because eventually, your opinion is the only one that matters. So trust your beauty instincts, even if they are rusty, and just go out there with your sassy new nail polish colors and have some fun with your life. After all, that's the point of fashion. Wear different colors on every nail, try a little funky nail art, and wear different shades of the same color progressively on the fingers of each hand. There's plenty you can do with nail polish so do not limit yourself to just a few colors. Pretty soon, you'll get the hang of it and people will be complimenting your look and approaching you for nail polish advice.
Image: Shutterstock