The Candy Retro look is perfect for a trip to the mall, the supermarket or casual hangouts. Let us look in detail at the fashion so that you can rock the look.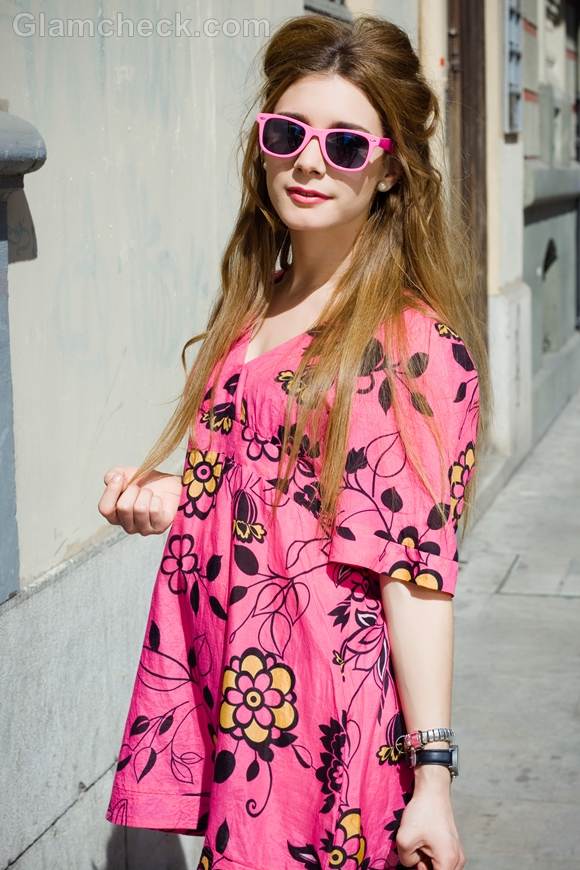 Rock the Fashion
Choose an empire-cut loose fitted dress or long top in a candy pink shade. Since the dress would be loose fitted, therefore an empire cut is a must for adding shape in the right way to the body, and for preventing a "ballooning effect". This usually happens when a dress is overtly loose. So, the key here is comfort but not at the risk of making you look shapeless. An empire cut outfit also has a slimming effect, making it a great option for those of you who feel slightly heavier. Since this particular candy retro look is more on the casual side and apt for summer day wear, try to choose an outfit which is cotton based. If you choose to wear a long top based on this design, instead of a dress, then pair it up with tights, jeggings or denim shorts. However, the last option will of course depend on the length of the top – if it is very long then denim shorts would not be the best option as it won't be visible. And, you don't want to give the impression of not wearing anything below the top! That would be a fashion no-no!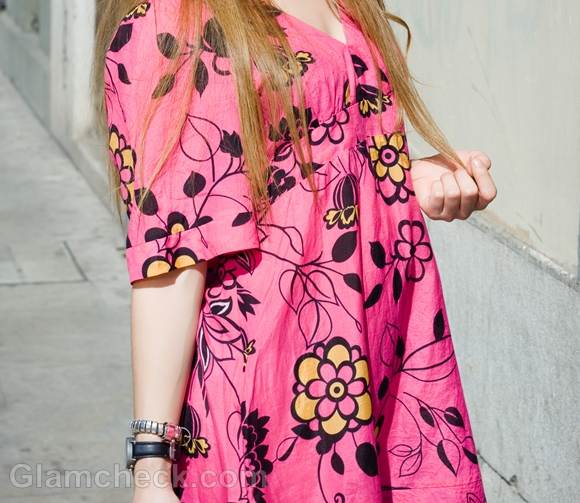 In case, you cannot find any outfit based either on this cut, color or pattern, then don't lose hope. Walk to the nearest fabric store and get the appropriate cloth. You can then either stitch it yourself or get a good tailor to do the job.
Select an outfit which has prints in contrast colors, to make the candy pink look more vibrant and retro. Do not choose a top that has no prints on it because that will look rather bland. Here we can see yellow and black flowers on a background of pink, prints in contrast colors like light blue or turquoise will also look good.
Rock the Beauty
The trick here is to look yummy. So keep the makeup light and girly. Light pink blush and a soft pink lip shade should be fine. Do not choose a dark pink shade – that will make you look less Candy Retro and more Candy Floss!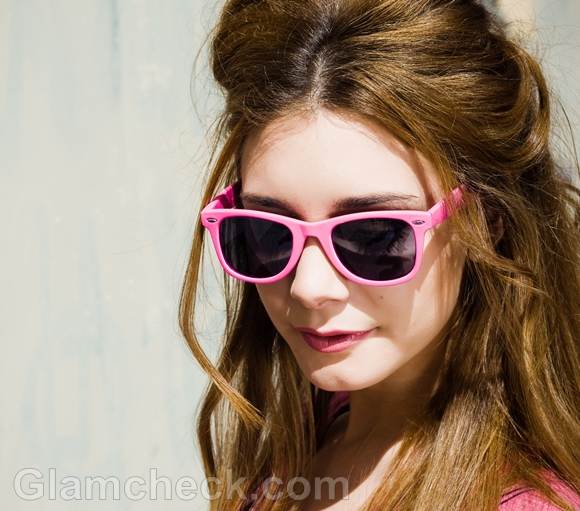 Create the illusion of slight waves in your hair. This can be done by applying 2 dollops of mousse in your hair and then making a tight bun, before you start to get dressed or apply your makeup. Once you open your hair, you will see natural subtle waves. If you have ramrod straight hair, then skip this step and use hair curling rollers instead for the same duration – i.e., while you are getting ready. You could use the blow drier if you feel this duration is too short to achieve waves. Once that is achieved, make a casual half updo by randomly taking thick sections of hair and pinning it up at the back. The trick here is to keep the hairstyle messy, therefore pull out a few thin strands of hair from the front side section of your hair – as you can see in this picture.
Rock the Style
A pair of retro pink glares will be the perfect finishing touch to this look. And, do not forget to add a watch and a wristlet.
Glamcheck's Rocking Tip
You can scrunch up your hair in a messy bouffant updo to make it look more retro. Wooden bangles in the same shade as the contrast prints will also add further jazz.
Image: Shutterstock