There are certain days when one cannot decide whether to dress up casually or in a glamorous fashion. This could be due to various reasons, such as a line up of many different types of events on the same day or just because one wants to look stylish but not go overboard. The casual glam look, as seen in the picture here, comes in handy on such days.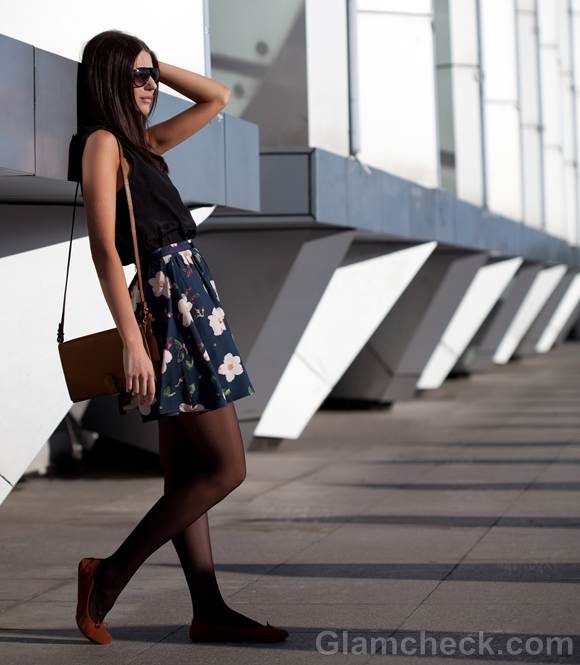 Rock The Look : Casual Glam
It is an "all-rounder" style that can be sported during the day as well as the night, for lunch with your folks, coffee with your friends or dinner with your man.  So, let's see how you can rock the look to its maximum potential.
Rock the Fashion: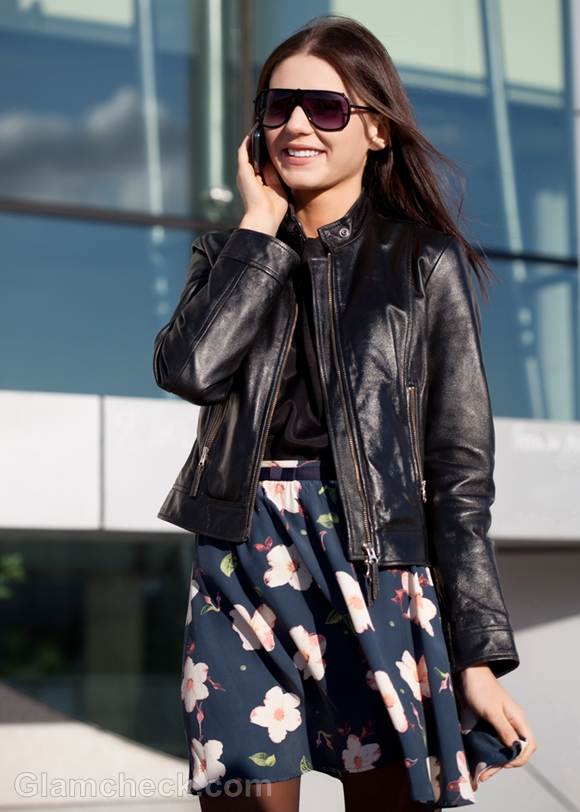 Wear a black sleeveless top with a floral printed short skirt. Here, we can see a navy blue floral printed-skirt, but you can also choose a dark green, dark grey or dark brown shade. Basically the idea is to keep the color palette slightly monochromatic. If you do not want to wear a floral printed skirt, then you could also opt for one that has cute prints on it. Play around with the fabrics, mix and match them. A leather jacket completes the look here; however you can also opt for a summer jacket made of linen or cotton, to make the look more summer friendly. However, if it is the biker vintage look that you want then nothing can be a substitute for leather!
Rock the Beauty: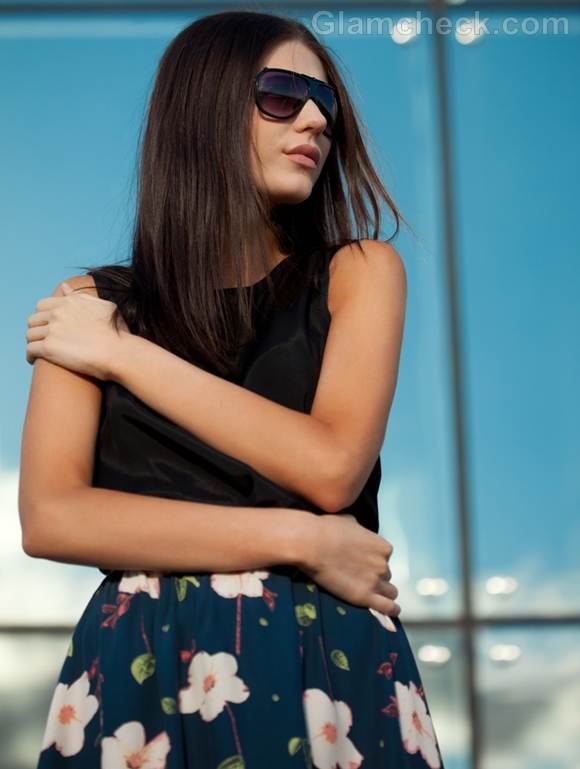 The makeup should be kept light, especially if you are stepping out during the day. A thin layer of foundation, preferably one with a high concentration of SPF, will help in making the skin look flawless. Coat some mascara on your eyelashes, and apply the slightest touch of pale pink blush on your cheeks.  Apply a matte based lipstick in nude. If you want to give a dressier look, as the day progresses into evening – apply a rosy or a fuchsia pink lipper, whichever suits you more. You can use a classy red color to look completely glam once the night approaches. If you are not too comfortable with red, select a high shine gloss in a more muted tone.
Keep the hairstyle natural and leave it open. A high ponytail can also give a nice appearance, and would be more suited during those parts of the day when you want some air on your neck.
Rock the Style: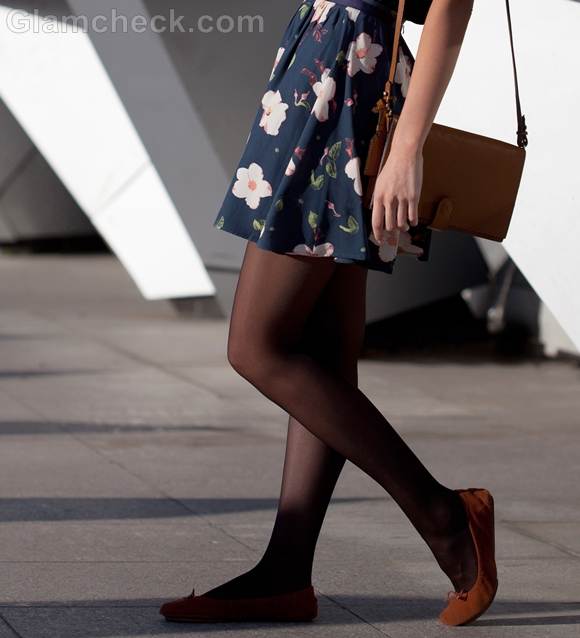 As seen in the picture, a pair of black stockings adds more style to the look. Choose flat ballerina pumps because it will be easier to move around in them, especially if you have to be on your feet the whole day. Carry a long strap handbag, and try to keep the color of the handbag and the shoes in the same family. You can also choose a brighter color such as pink or yellow if you want to play up the look. But, if it is classy you are looking for – then keep it subtle like seen on the model here. Also, choose a color that is different from the clothes in order to give more variety to the outfit. Complete the ensemble with a good pair of sunglasses, in fact you can choose aviators to look even more stylish.
Glamcheck's Rocking Tip:
You can add some wrist accessories – such a watch or bracelet to give it more jazz. Dainty earrings can also make the style quotient go higher.
Image: Shutterstock