Several items in your makeup kit can actually be used for makeup tasks other than what each was originally designed to do. Eye liner can be used as eye shadow, as a lip liner and even to fill in the lips completely like lipstick. Concealer can double as foundation. Blush can be used as eye shadow and vice versa. Lipstick can be worn as a blusher. We'll be looking at this last one today.
We will at some point tend to buy a shade of lipstick which we later realize we cannot really pull off and we know we won't wear much. Many of us also have the habit to impulse shop pretty regularly so we're stuck with a stash of dozens of shades of lipstick that just lie around. Sometimes, we buy a shade of lipstick that we're crazy about but wish it was a blusher instead. Maybe you've run out of blusher. In all these cases, instead of letting the lipstick go to waste, you can indeed go ahead and use the lipstick or lipsticks as blushers. Don't know how to do it? No problem. It's actually as easy as pie and we're going to show you how.We'll also cover some precautions you should keep in mind when wearing lipstick as blusher and also what to do if you put on too much of it.
Advantages of Wearing Lipstick as Blusher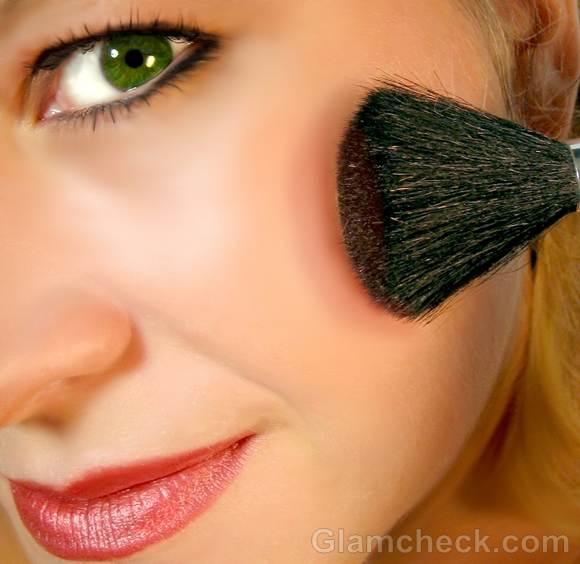 Tips on How to Wear Lipstick as Blusher
The first advantage is obvious. There is a greater variety of lipstick shades than blush shades. If you can wear lipstick as blusher, you have a whole new range of color palettes to work with. You can mess around and discover that a shade of lipstick you didn't think would work for anything gives your cheeks a fantastic color which no available blusher does.
Life can get hectic and you may not realize you are out of blusher until you're scraping at the bottom of the pot for whatever tiny bit you can find. Murphy's law dictates that this will happen on a day when you most need to look your best and when you do not have any time to run to out to buy more or maybe there just aren't any stores open when you find out. Of course, panic will set in and you'll worry yourself into frenzy. If you can learn to use lipstick as blusher, you can avoid all the drama. Simply unscrew the shade of lipstick you think will go best with your skin tone and outfit and use that as your blusher instead.
Using lipstick as blusher is a great way to recycle your cosmetics. If you have too many lipsticks, if your lipstick is just a stub and you're planning on throwing it away, you can easily use what you have as blusher.
If you find that lipstick works well for you as a blusher, you may end up saving money since you now do not have to buy a blusher.
Your vanity case will be less bulky. Well, not by much, but considering how many other things we'd like to put in there every little extra bit of space counts. If you wear lipstick as blusher for just an evening, it means you have fewer makeup items to carry with you in your purse for touch-ups later. A good scenario when you have to carry a tiny clutch purse that can only hold the bare essentials.
How to Wear Lipstick as Blusher
When you wear a lipstick as a blusher, do not expect it to give you the same results as crème or powdered blush. It won't have the fluidity that allows you to move it around your cheek bones to your liking. You may be able to achieve the same effect as regular blusher if you practice a lot but do not expect miracles. Application may be uneven if you are not careful.
Wash your hands first as you will be needing your fingers to apply the lipstick as a blusher.
Use your index finger to swipe your lipstick a couple of times. An alternative to this is to dab lipstick directly on to your cheek bones.
Dab your cheek bones with the lipstick on your finger in three dots in the shape of a triangle. If you don't know where your cheek bones are, smile. The bits of your cheeks that jut out are where you should be dabbing.
With your fingers, start blending in outwards strokes toward your hairline. As you keep blending, the jarring colors of the lipstick will fade and your face will take on a healthy glow. Blending the lipstick as blusher with your fingers allows you to use the heat of your body to emulsify the lipstick which helps it to better blend into your skin. This is the secret which makes lipstick indistinguishable from blusher when you use the former on your cheeks.
The lipstick blusher may not look that good immediately it is applied. In a few minutes, it will properly blend into your skin and look like ordinary blusher. If it does not look good after about ten minutes then you haven't done it properly. Remove and try again. We describe next how you can remove lipstick-blush if you end up applying way more than you wanted or if your first attempt looks awful.
What to Do If You Apply Too Much Lipstick As Blusher
It is a common makeup mistake to put on too much blusher. When using lipstick as blusher, it is even more probable that you will miscalculate the amount of lipstick you need to get the cover you want and thus end up using too much of it, especially if it is your first attempt. Sometimes, you may end up applying more lipstick-blusher on one cheek than the other – a common problem since you have no way of accurately measuring how much lipstick you'll need at the time of application as a blusher. Don't be embarrassed, even the pros make this mistake from time to time.
Conventional wisdom says to reach for the makeup remover to get rid of the excess blusher. However, this is not always the most viable route since the makeup remover will remove your foundation as well, which means you have to start your makeup routine all over again. Who has time for that? Plus, the remover can bleed into the rest of your makeup and cause streaking. More hassle, which again we simply do not have the time or patience for.
There's an easier way to deal with the situation. All you need is some loose powder and either a cotton ball or tissue paper. Cotton is a better option though because tissue can be a little harsh on the skin. However, tissue can give you more precision. The decision eventually lies with whatever you are more comfortable with.
Now simply take that cotton ball or tissue and do a few gentle sweeps across your cheek bones. The cotton/tissue will pick up the particles of lipstick. Do this as much as you need to until the blush has toned down and you have the amount you actually want. All that's left to do then is to use a fluffy makeup brush to apply a layer of loose powder and you're done.
Facts, Precautions and Tips about Wearing Lipstick as Blusher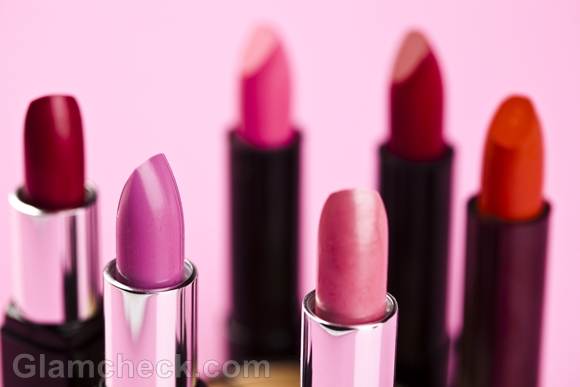 For a successful lipstick-blusher look, do not go with a very zany color. The basic reds, pinks and peaches work best with this makeup tip if you have a light skin tone. Purples and browns don't. Purple is, however, a good shade for those with darker skin tones.
A bronze shade of lipstick worn as blusher will give you a glowy sun-kissed look.
Some women find that instead of dabbing lipstick onto cheeks first they prefer instead to just give their makeup brush a twirl over the lipstick and apply on cheeks in the same way they would with a powdered blusher. You can try this too if you've been working with makeup brushes and know what you are doing. An alternative is to scrape away a few bits of the lipstick first, place them on the palm of your hand and then use a blush brush to apply the lipstick as blusher. Be careful that solid bits of lipstick do not get caught in to brush as this will cause streaks during application and you will then have to use your fingers to blend in the extra stuff.
When blending lipstick into your skin as a blusher, be gentle in your movements and don't apply too much pressure as this can push the lipstick into the skin. Remember that lipstick has chemicals not meant for use on skin and rubbing too hard can push them into your pores, thus causing problems later.
Those with dry or normal skin will have the best results when they use lipstick as a blusher. The lipstick gives their skin a kind of dewiness that looks luscious and natural. So if you have normal or dry skin, lucky you. You can get away with this beauty tip more easily than those with oily or combination skin. Some people with normal skin report that their lipstick works much better as a blusher than the actual blusher itself. It stays on longer without getting greasy and it looks better too.
If you have oily skin, then it is better to avoid using lipstick as blusher as lipstick will just make your cheeks look greasy and feel heavy. However, you can still try it if you are curious and see if it works for you. The results will vary from person to person.
Is your skin prone to breakouts and rashes? If yes, then use actual blusher and not lipstick. Lipstick is mainly designed for use on your lips and not on your skin. There may be chemicals in your lipstick which are not compatible for use on your skin. If you anyway have the type of skin which is conducive to reacting badly, which is the case with oily skin, then you should not be using lipstick as blusher. Here too you can take a chance if you wish to try it out as some lipsticks are made of better quality ingredients than others and you may not have an adverse reaction. Just make sure you don't have any big events planned in the next few days in case your skin does indeed break out after application.
A matte shade of lipstick works better as a blusher than a shiny lipstick. However, if you want a bit of a glamorous shine then go ahead and use shiny lipstick. Avoid using lip gloss as blusher altogether. The composition is not right for a blush and your cheeks will just get sticky and oily.
To make your lipstick blush a little creamier, you can blend a tiny bit of broken-off lipstick with some liquid or crème concealer. This will give it a consistency which makes for easier application.
For the sake of good hygiene, use only your own lipstick as blusher and do not lend out your lipstick for others to use as blusher.
Lipstick can be used as a base for powder blush. Dab on a very thin layer of lipstick as instructed above and then apply your matching powder blush. This will help your powder blusher to set better as well as add a luminous glow to your cheeks.
You can also use your lipstick as eye-shadow in the same way you use it as blush, just apply dabs of it to your eye lids and blend in with your fingers.
How long the lipstick will remain as blusher on your cheeks will vary greatly just as it does with any makeup. The staying power can be improved by setting the lipstick-blusher with translucent powder after application.
Make sure that the lipstick you are using as a blusher has not expired. A rule of thumb is to discard all makeup products within three years of the manufacturing date. Don't risk using expired cosmetics on your skin, especially your face. The price to pay is simple too great to be worth it.
Don't be afraid to wear lipstick as blusher. There are so many benefits that it would be a shame not to at least give it a try to see if it works well for your skin. The first time you wear lipstick as blusher, try it when you are not going out or are not in a big rush to get someplace so that you can comfortably experiment without mental pressure.
Image: Shutterstock.com