Who doesn't want to look wonderful with a wonderful skin without blemishes while being perennially lumbered with flecked and tanned skin? Every woman encounters numerous skin disorders resulting from alterations in lifestyle as well as environmental issues. The most common problems include dark spots, age spots, acne, and hyper pigmentation. These problems result in loss of beauty thus making your skin appear darker than its actual tone. One of the most common ways used by maximum number of women to lighten the skin tone is bleaching.
Actually, the skin color is largely affected by the melanin content contained by your skin cells. Higher melanin content reflects darker complexion. The melanin is, however, of two kinds – pheo-melanin (reflecting lighter complexions) and eumelanin (reflecting darker complexion). The main function performed by skin bleaching creams is reducing the melanin content from the skin thus lightening the skin tone.
There is an assortment of skin bleaching creams available in the market to do away with these problems. It is a general tendency to get swayed by the beauty of these models in the commercial ads of these products, in-spite of being aware about the fact that the product has not been used by the model.
Some useful tips to choose a bleaching cream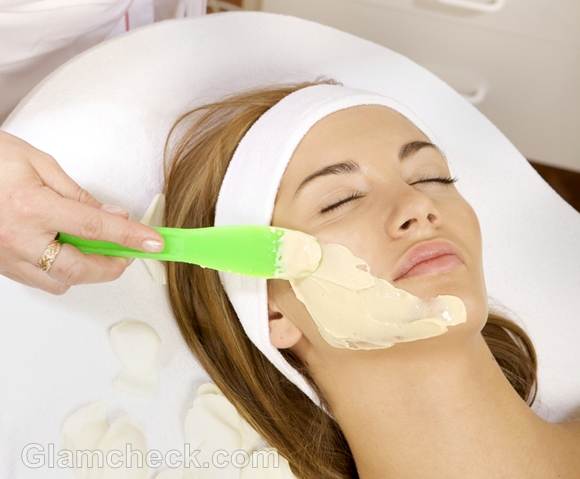 It is quite easy to select the apt bleaching cream for your skin type. The main objective while making a choice should be to choose a product which is effective in addition to being safe. Below are some useful tips that may help you select a bleaching cream to suit your skin type. Just have a look!
Primarily, it is important to know about your skin type. However, if you are not aware about your skin type, you can consult a dermatologist. It is quite essential to chose beauty products which suit the skin type or they might harm the skin. Great level of care is required for sensitive skin.
Secondly, check the ingredients contained in the bleaching cream. Try staying away from the ones which do not reveal their ingredients well. There are numerous bleaching creams which contain certain chemicals which might prove harmful for skin in the long run. Therefore, check the complete list thoroughly.
It is however better to go for a bleaching cream that contains natural ingredients. A bleaching cream with natural ingredients would be safe and also help in avoiding any side effects as compared to those containing artificial ingredients.
One of the most common ingredients found in almost all bleaching creams is hydroquinone. This ingredient reduces the melanin thus lightening the skin tone. Some equivalents of this ingredient include kojic acid, azelic acid, niacinamide, and glycolic acid. These ingredients have been proved to show adverse effects on the skin. For instance, hydroquinone is believed to be a cause of leukemia as well as skin irritation in certain skin types. Some other side effects include skin darkening and pink patches resulting from hyper-pigmentation. Adding further, excessive use of the ingredient can even cause skin cancer.
Furthermore, the ingredients contained in the cream, natural or artificial, should be tested for results provided. It is very obvious for the manufacturer to claim that the results of their products are verified to provide the best solution. But, it is actually important to check if the manufacturer provides guarantees before the product is purchased. This can be checked by having a look at the testimonials related to the bleaching product manufacturer's customer service. Check if they support the guarantee actively.
Before you try any new beauty product, it is wise to consult your physician.
Check out all the options available. Additionally, check the price level of the possible choices. This can be done by checking out users' blogs, reviews, and comments accessible online. This would also help in selecting the appropriate bleaching cream suiting your skin type. But, it is noteworthy that reviews which mention a product to be completely ideal or worthless should be studied with a grain of salt as these might be the rare cases where the product has shown ether no or the best results. However, generally, the bleaching creams show variations in the level of effects.
Most importantly, opt for a bleaching cream which contains approval by medical experts as well as has been in use by a large population for a long time.
These days, science and technology has made it possible to provide bleaching creams designed especially for sensitive skin. By choosing these types of creams, unwanted side effects, like dryness, can be avoided. In the similar manner, a product designed for normal skin show good results if used in combination with an effective moisturizer.
Not to forget, it is really important to follow the direction lines given by the manufacturer. It is a common misconception that using the cream more frequently and in larger quantities would give better and faster results. Frequent use of any bleaching cream or in larger quantities can result in irritation as well as damage to the skin in addition to some general health problems.
Another important consideration while making a choice for the bleaching cream to understand the reaction of the bleaching cream on your skin. a large number of products restrain melanin production. However, there are certain products which also proffer exfoliation thus being a little harder and aggressive on the skin. This is the reason that these products call for milder and perhaps more careful usage.
While making a choice for any bleaching product, do remember the requirement of your skin. For instance, do you need a product that provides skin lightening treatment or the one that also offers benefits like anti aging. What happens in most of the cases is that whenever we go to buy a bleaching cream, we see so many similar products in line that we forget the focus requirement and usually make a wrong choice. Therefore, identify your needs properly before making a choice.
Bleaching cream plays a vital role in regaining the beauty of your skin. But, it is really important to consult a dermatologist or doctor making a choice. This would help you in easy selection as well as safe use of apposite bleaching cream according to the type of skin and its condition.
Image: Shutterstock.com