The combination of a funky cropped Kaftan top and a mini skirt can be ideal for a party or a date. It is the right blend of trendy and glamorous, and can be pulled off with ease if you know how to style the ensemble according to your own particular preferences. Let us help you rock the look.
Rock the Fashion: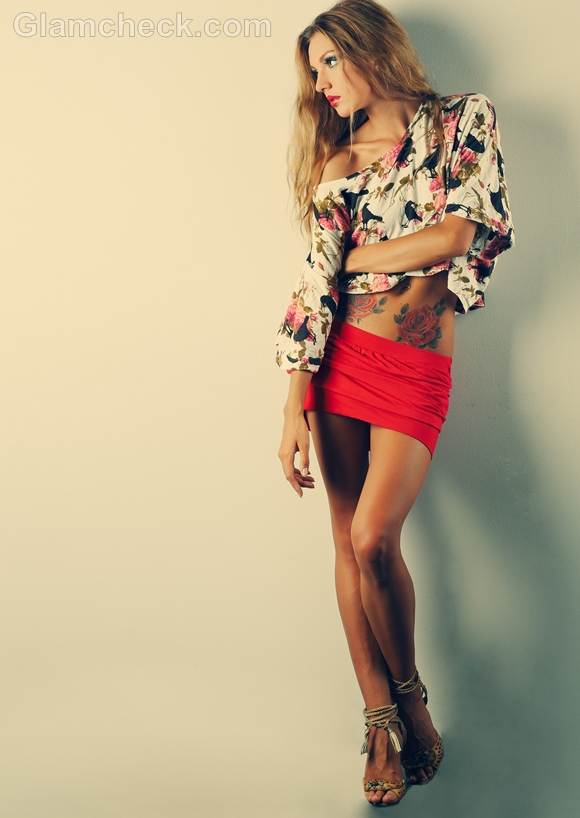 Rock the Look : Wearing Cropped Kaftan Top with Mini Skirt
The ensemble here features a very funky kaftan top with crow and floral prints on a white base. A red mini skirt completes the outfit.
There might be possibilities that you may not be able to find a kaftan top with the exact patterns. In that case, you can always opt for a floral printed one – this would be easier to find. Try to opt for vibrant floral prints. You can also try out more daring and funkier prints.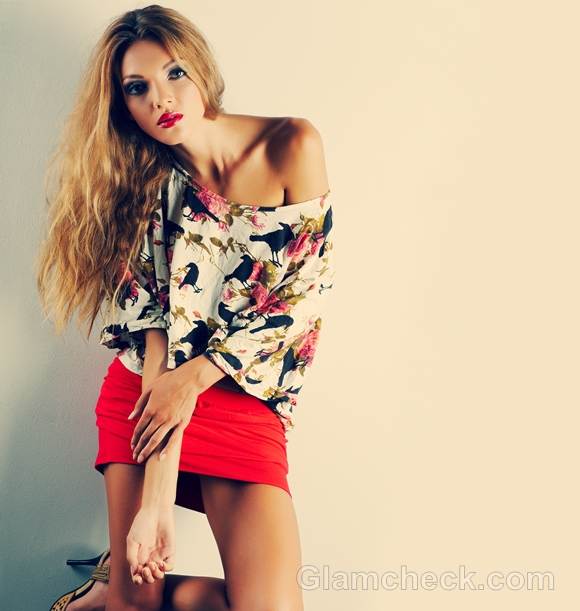 A red mini skirt won't be that difficult to come across. You can also try different colors for the skirt like pop pink or bright purple. And, if a skirt this length leaves you worried about the cellulite on your legs – then choose a skirt that is closer to the knees. In fact, a pencil cut knee length skirt will also look good.
If you are uncomfortable showing your bare tummy, then get a longer kaftan top – which covers your navel area and falls right on top of the skirt. You can also add a thin belt, in the same color as the skirt, to cinch the waist and give the attire more shape.
Rock the Beauty: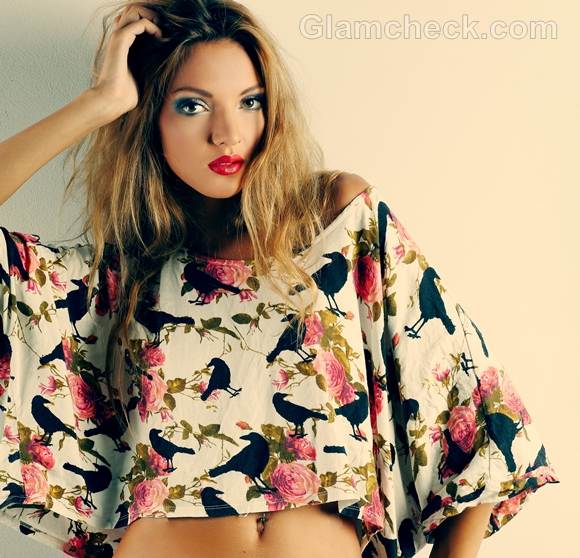 The makeup, too, has vibrant tones. Like the photo here, you can do up the upper eyelids in blue eye-shadow, and apply a hint of green eye-shadow on the lower eyelid. Use a blue eye pencil to fill up the lower rim of the eye. Finish with 2 coats of mascara. The scarlet lipstick will add the right oomph. For those of you, who think this color is too daring, try out a deeper shade of red.
The hairstyle features messy waves. This can be replicated quite easily. If you do not want to get into the elaborate ritual of using rollers and curlers, then simply apply mousse or a curling cream all over your hair. After that, gather your hair and make into a tight bun. If you have time, then keep your hair like this till you are done with the other aspects of dressing up – like applying makeup etc. If you don't have time, then use a hair dryer on the bun. Once you open your hair, bend forward and give your head a nice shake – and you will get yourself a head full of messy waves. As simple as that!
Rock the Style:
Match a snazzy pair of strappy stilettos with this attire.
Glamcheck's Rocking Tip:
You can also add big hoops to your ears. A couple of chunky bangles on one hand will also look good and will add more style.
Image: Shutterstock.com