As the name suggests, the tropical color burst look is all about being vibrant. It does not necessarily mean that you have to be holidaying in the tropics, or for that matter be present at a beach, to wear such a look.
Somehow, any outfit that has the word "tropical" associated with it gets segmented as beach/poolside wear. However, there is more to this word than simply sand and sun! So, here we are going to show you how to rock the look with tropical prints and patterns without it looking remotely "beachy".
Rock the Fashion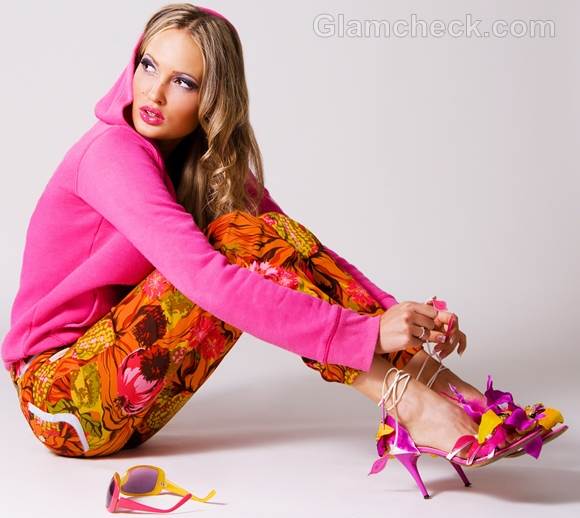 Pair a solid-shade hooded sweatshirt with bright pop-color tropical printed pants. When we say tropical printed – it means patterns that include flowers, fruits and foliage. In the photo here, we can see the model in a pop pink sweatshirt and orange lowers – with an amalgamation of tropical prints on the latter. The multicolored prints on the orange base make the pants look more vibrant. Pink and orange is a great combination. Other combinations that you could try are red and yellow or purple and green.
Ensure that you keep one part of the outfit in a solid color – devoid of prints. The combination of a printed top and a printed lower can be a bit too busy and could have vision-jarring properties! So, if you choose a single colored bright top then pair it with a multi-colored/multi-printed lower, or vice versa.
Rock the Beauty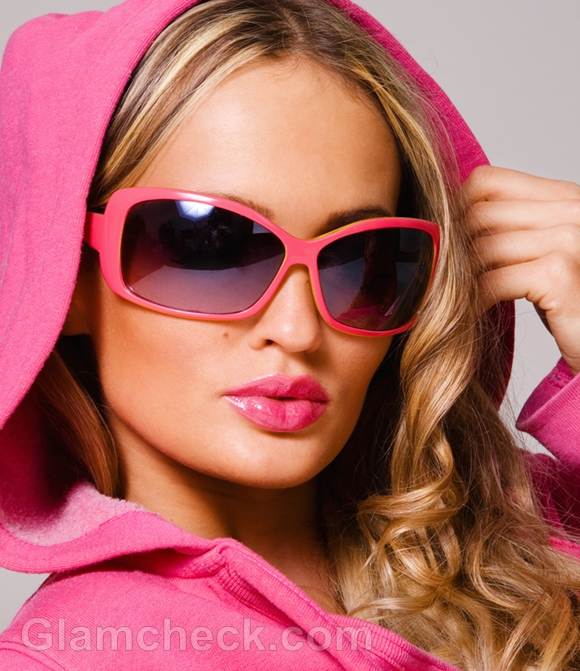 Since the theme is tropical, therefore you can play with colors even for your makeup. You can totally experiment with the bright shades in your makeup kit – especially those hues which you may not use too often. So, bring out the purple/pink/green eye-shadows. Use a pop pink glossy lipstick to add more pout to your puckers.
The hair can be done up in romantic curls or left loose in messy waves.
Rock the Style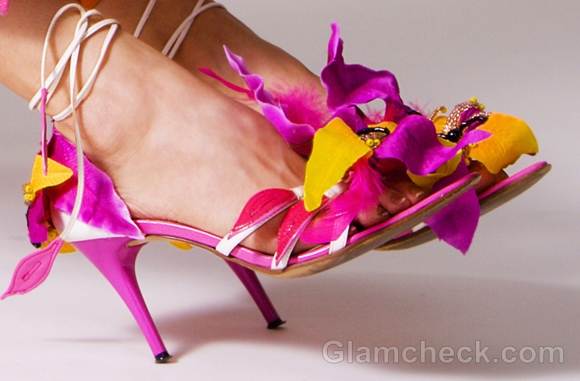 The footwear also holds prominent place in this ensemble. You can choose a pair of strappy stilettos, preferably in a shade that matches your clothes. If you cannot find a funky pair, like the one shown here, then you could simply go ahead and make one for yourself. Yes, you read right. All you have to do is get your hands on plastic flowers, for e.g. orchids, and neatly stick it on to the straps of your sandals. It would be easier to stick plastic flowers on pumps than on straps– so maybe you could try that out, if making strappy stilettos into tropical ones looks too tricky.

Add a funky pair of sunglasses and you are set to go! In case you cannot find a pair of shades in dual tones that match your outfit to the "T" – you could always make a slight compromise and settle for a pair that is closest in shade to either your top or lower outfit.
Glamcheck's Rocking Tip
You can substitute the sweatshirt with a singlet / vest / camisole /tube top / halter neck or any kind of summery top if the place where you live is closer to the tropics, in terms of temperature, instead of being a cold zone!
Image: Shutterstock.com