Trends touch every aspect of fashion and this is justified when we see some of them being manifested even in the form of nail art and decoration. The known trend of glitter nails has surfaced again however; a finding the perfect pick for your nails that suits your tastes and fancies in terms of color and visual weight is always tricky. However, this challenge can be surpassed by making one on your own. Here are ways and means of making a glitter nail polish at home:
D-I-Y Glitter Nail Polish :
Based on your idea of a glitter nail polish one can actually customize by following simple steps.
Things You Will Need: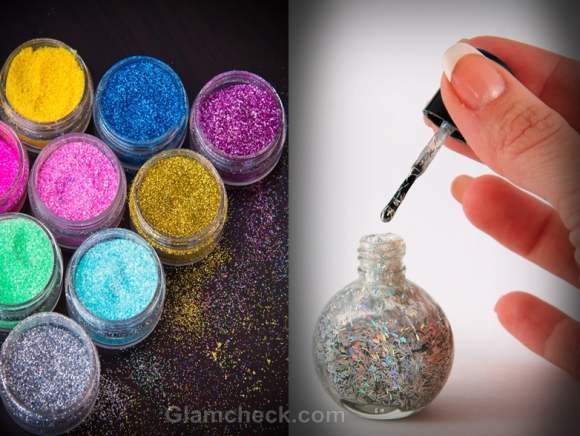 Glitter: Craft glitter is easily available and in a huge variety. Choose from the various colors. The texture can range from fine to chunky. For this season we suggest a chunky form of glitter. Pick 2-3 colors if you want a mixed effect or stick to the usual one for a statement effect.
Transparent Nail Polish: This forms the base of the nail polish that bring together the glitter particles.
Narrow Paper Funnel: A narrow paper funnel that fits in the nozzle of the bottle and will enable you to neatly transfer the glitter into the bottle.
The Steps: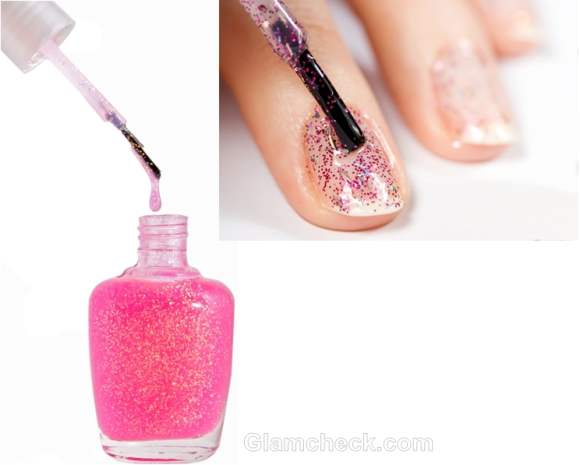 Glitter nail polish
An easy way to achieve and make for yourself a glitter nail polish of your choice is by placing the narrow funnel on the mouth of the transparent or the clear nail paint. Start pouring the shimmering glitter particles through the funnel into the bottle and shake it. If the consistency of the glitter appears to be lesser than desired then repeat the exercise again and shake well. However, do keep in mind that the transparent nail polish bottle needs to be half empty to create place for the glitter. Adding the glitter to a full bottle will just create mess.
Apply a finishing touch by applying a coat of clear nail paint over the glitter to secure the nail paint once you apply it on your nails.
Image: Shutterstock.com