A must for every girls resort wear wardrobe is the kaleidoscopic printed kaftan by Mara Hoffman. From her spring summer 2012 collection, this kaftan has been inspired by the designers visit to countries like Egypt and Mexico. No wonder then, this kaleidoscopic printed resort wear kaftan becomes our style pick of the day. 
Decoding the style of Mara Hoffman's kaleidoscopic printed kaftan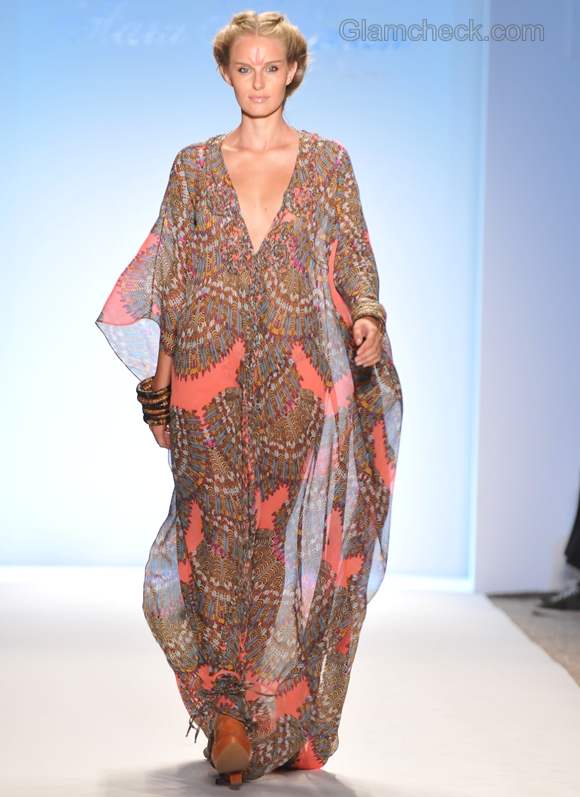 The print used by the designer on the kaftan is not only tribal and mystical in essence, it is also bold and colorful and hence fits perfectly into the spring 12 palette. Done in largely subdued colors such as earthy brown and pale coral, it also has specs of greyish blue and pale pink, making it actually a 'kaleidoscope' of myriad colors.
What works beautifully is also the floor length of the kaftan and the fabric it is made in  – soft chiffon, owing to which the drape of the kaftan is ethereal and lends an elegant grace to the wearer.  
The horn rimmed wooden bangles by the brand Mikuiti are also inspired by the beauty of the Swahili coast and landscapes of East Africa and blend perfectly well with the overall look of the resort wear.
How to adopt the style – Glamcheck's top tips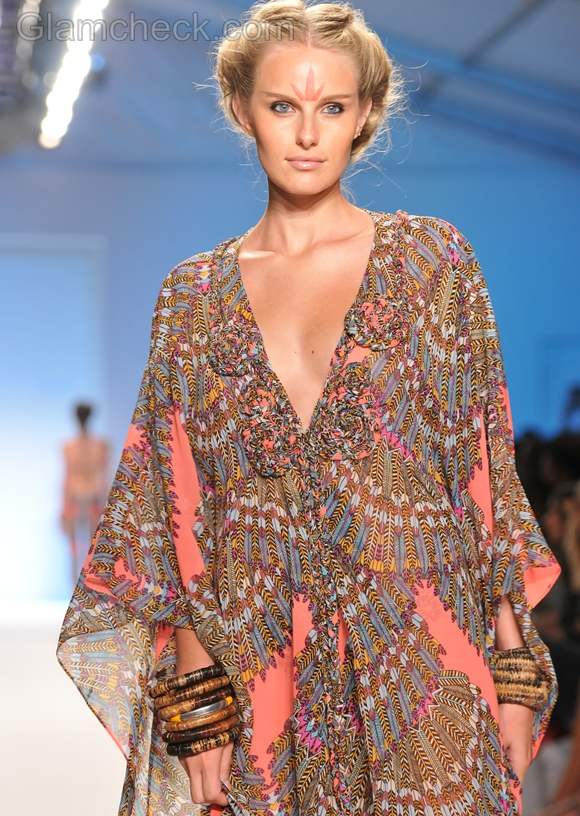 Choose a funky print – that is half the battle won. Florals, geometric and kaleidoscopic prints all work and look great too. Animal prints , if in style, can be a good choice too. Keep the color combination in mind – the colors should merge together to form a pleasing background, rather than clashing with each other. Another favorite that could work is tie and dye.
If you are not comfortable wearing a deep and a revealing V neck, a solid camisole beneath the kaftan will look cool too.
Kaftans made of soft flowy fabrics look great on any body type as they hug the body at all the right places. Look for kaftans made in georgettes, chiffons and very light weight cottons.
The floor length kaftan works well for all body types, so opt for one if you are not too happy with your vital statistics. If you have a figure, most of us would be jealous of, try donning a shorter version of the kaftan.
Keep the makeup simple too – in resorts, let your skin breathe and what better way than wearing your skin without any makeup. If you must, stick to hint of color on your lips, cheeks and eyes or the ever green nude makeup.
Any kind of hair style will look good with the kaftan – short cropped hair, loosely plaited or hair simply left open.
Accessorize right and light– if the print is busy, keep the accessories to a minimum and vice-versa.
For footwear, flip flops, flats or sandals all will work equally well. Beach inspired footwear is available aplenty – pick what works for you.
Try donning the kaleidoscopic printed kaftan during your holidays, and love the way you look!
Image: Anton Oparin / Shutterstock.com