Isn't monsoon the season of rainbows? It is so delighting to see the band of colors shine through, in the sky contrasted against rain and the sun ! And it is no secret that nature and seasons inspire fashion. So the look for the season has to be as fun, alive and colorful as rains itself.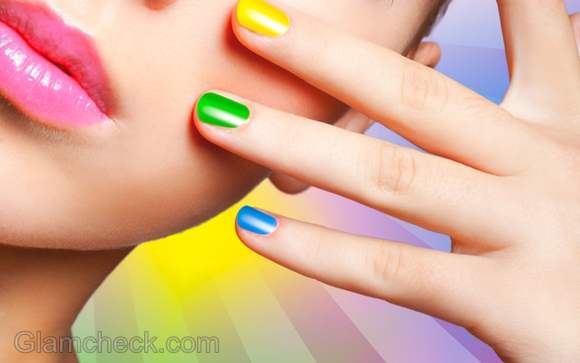 Go overboard , loose your timid streak and embrace rainbow nail art. Off to college as a fresher or re-joining for the new session? This look is perfect for you ! Works well for a pool party or a holiday too. And the best part is, it could be done at home easily and quickly. If you doubt your nail color application skills – ask a friend or head straight to your manicurist.
How
Rainbow nail art is simply about painting each of your nails in a different hue. Sounds wild at first ? Well, it is but it's also very young and exuberant. This way you could save the dilemna of choosing one favorite color over the other and instead have them all at once.
Choosing the right colors
A repeat of a school lesson , the rainbow has seven colors –VIBGYOR ( Violet , Indigo , Blue, Green, Yellow, Orange, Red in the same order ) These seven colors placed next to each other look beautiful and you can use this as a cue for selecting which colors should be painted next to each other.
It is not a rule that you have to have seven hues to rock this trend. The essentials are a blue, a green , a yellow and a choice in pink / red /orange. ( Glamcheck recommends pink for this season it being a hot color )
 Glossy nail enamels grab attention and are perfect texture for this look ( notice the picture below )
Wear with
The look you choose to sport along with the nail art is also very important.
If headed to college or a day event; glossy fuscia pink on your lips or a mellowed down pink coral will complement the look greatly.
Be sure to keep the eyes minimal here and the hair in a casual bun will be a good idea.
If an evening of merry and a night of clubbing is on your mind , then it leaves more room for experiment. Along with the pink lips above go with loud catchy eyes as well.
Start with curling your lashes and applying mascara for those defined eyes. Next choose a similar pallete of eye shadow. On your top lid apply the colors in 45 degree sections as shown in picture. Be sure to wipe your brush of the last color before moving on to the next one.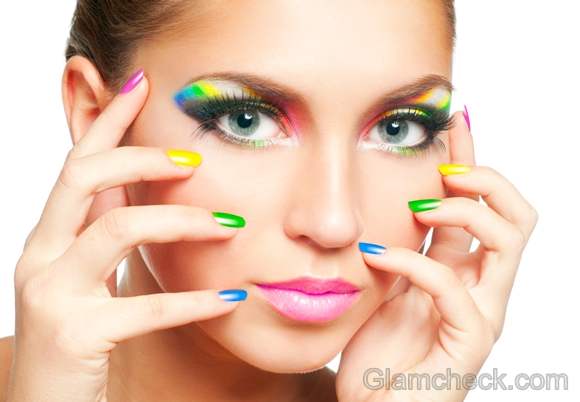 Apply a hint on lower lashes too of plack kohl, white eye shadow and green or blue.
Color application tips
For smooth application , rub the bottle of paint between your hands first for 20-30 seconds. Do not shake to prevent air bubbles.
A first coat of clear varnish , makes the application smoother and lasting.
To dry you your nail paint coat , keep your hands below a running tap of water. Be sure that the water is not going to nails directly instead postion your fingers just below the tap.
Glamcheck's twist
Wary of the bright rainbow colors? Choose sorbet pastels instead as they are all the rage at the moment ! Combine mint green with coral, lilac and aquamarine.
Image: Shutterstock.com