A lot of us missed the music, the fun and hanging out with the hippest crowd at Coachella this year. But that should not dampen the spirit and deter us from wearing the Coachella dream. Thinking indie music, staying cool in the desert heat and relaxing at the pool? This is the perfect look for you.
Rock the Fashion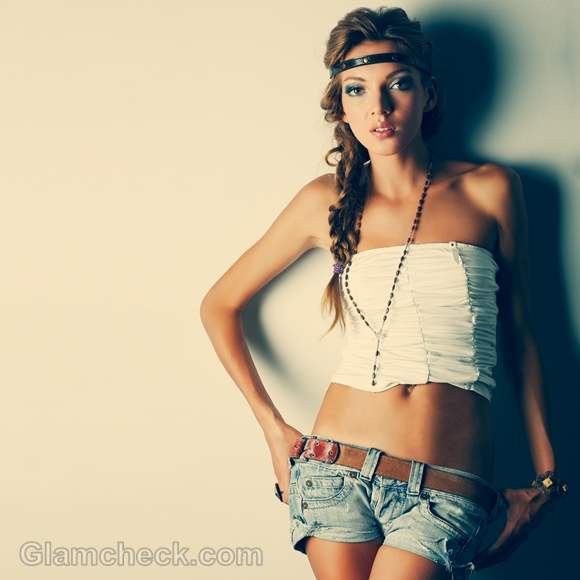 Look for a lycra camisole in white that fits snugly and has enough details in terms of ruching or gathers. We went bold with a mid-riff baring tube cami. You could alternately choose one with straps and that tucks into your hot pants.
Pair this up with a pair of blue denim hot pants. Be sure the wash is distressed or vintage. Hot pants with a frayed hem and the front pocket lining visible from the bottom are rocking fashionistas all over.
Hot pants with torn back pockets, or mismatching back pockets, or a single studded pocket can enhance this look greatly too.
Rock the Beauty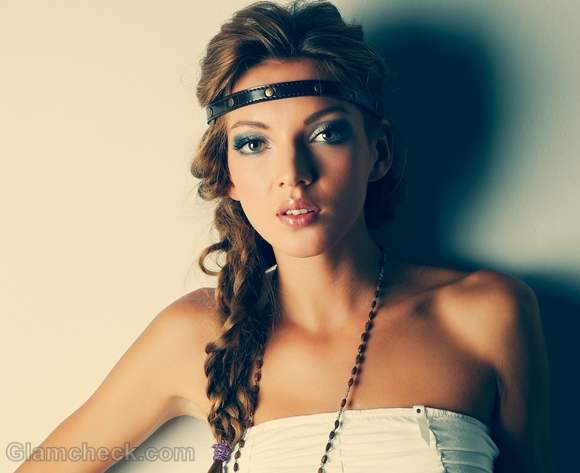 As in the case of any look, the makeup plays a very important part but in this one it is more so.
First off, consider a light bronzer on your body if you are naturally very fair. It will give the perfect sun kissed skin tone that looks fantastic for this look.
As for the eyes, define them and go over board. Start with curling your lids, then a volumizing mascara. Apply kohl on your lower eye lids. Choose asphalt grey, black and midnight green eye shadow. Dab a little on your lower lids too. Define the inner corners with a silvery grey. Also make sure that your eyebrows are plucked proper.
Choose a pink or red for the lips and apply a gloss over it if your lip color is matte originally.
Forget your flat irons completely. Unkempt and natural is the way to go for the hair. Tie a loose side braid. DO NOT worry about it being perfect. In fact add imperfections deliberately. If you would rather leave the hair open, wash them, scrunch them tightly with fingers. Set with a hair spray and you will have natural looking, wavy out-of-bed hair.
Rock the Style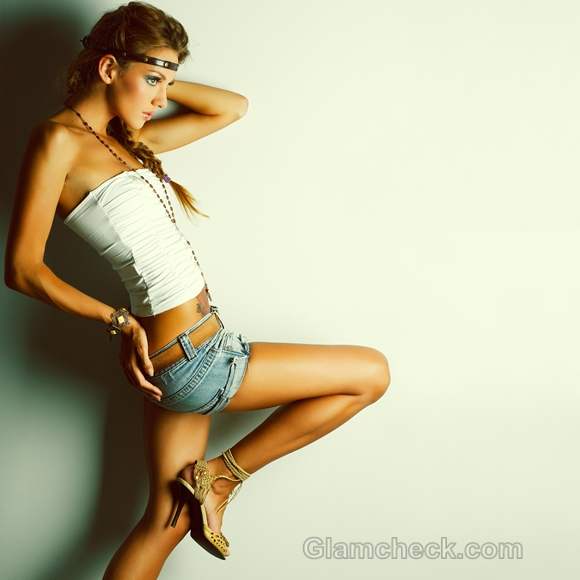 Finally, the finishing touches – the accessories! Indie hipsters, love bold accessories. So should you. Sport a head band – but not on your head; instead the forehead. We chose a faux leather black with studs. A braided one in black or tan works beautifully well too.
A beaded neck piece is definite yes. If you are feeling like it, choose two instead of one in different lengths and bead sizes.
Always remember that leathers gels very well with denim. So a tan leather belt to hold your hot pants in place as well as looking rugged is a great idea. Don't keep the buckle in the middle though, place it on either side.
Don't miss a bold ring and a boho hippie bracelet too. With this look you can never have enough accessories, as long as all follow a similar color story or aesthetic.
As for your footwear, choose a braided heels or an interesting pair of Vans if comfort is prime for you.
Glamcheck's Rocking Tip
If you do not have the necessary flat tummy for the look, choose a fringed crop tee that finishes just where your hot pants start. Or go in for a front knotted shirt.
Try a semi permanent tattoo on your shoulder for the right spirit.
Image: Shutterstock.com