This season has seen a mix of clothing in various styles, cuts, lengths and colours. The range of bottoms of a high-waist variety deserves a special mention especially since we've seen them being flaunted by celebrities at both casual and high profile events.
First we saw high-waist skirts, then pants and now high-waist shorts are in vogue.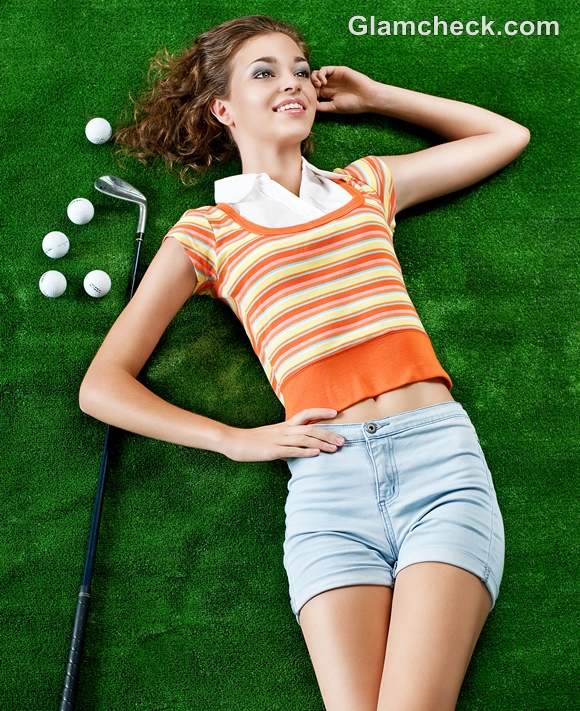 How to wear high-waist shorts
High-waist shorts are a great way to accentuate your waist and put the spotlight on your legs by making them appear longer. Her are a few ways to get it right!
Tops to Wear with High-Waist Shorts

There are various combinations of tops and high-waist shorts available, depending on the look you're aiming for. You could:
Consider teaming up a stylish, chic button down shirt with your shorts.
For a more casual look, you could wear a T-shirt or tank top with a pair of shorts. Keep the length of your shirts in mind while combining them with your shorts.
You could also wear a cropped top. This allows you to show just a tiny portion of your midriff tastefully.
For people who want to avoid too much of skin exposure, a bit of trendy layering might be another way to go. Make sure the focus remains on your shorts though.
Asymmetric blouses with ruffles, shoulder cuts & tie-ups or any other style that adds a bit of glamor to your look are also a good way to show off some skin.  
Vests teamed with cardigans or jackets are an option too.
High-Waist Shorts
High-waist shorts come in a wide range of styles and colors. There are different colored shorts in plain styles, with animal prints, graphic prints, stripes or textures available. It's all about choosing that which works best for you.
While choosing the kind of shorts you wear, make sure that whatever you decide to wear hugs your hips lovingly and lays an emphasis on your waist without having the fabric bunch-up at all the wrong places.
If you have a shorter torso, don't worry, you could opt for a style that covers your hip bones and not go for the usual styles that reach above your belly button.
For those of you who want to use this look for the beach, you could use your high waist shorts as a cover-up or simply pair your shorts with a bikini top.
Belts
Belts are a must for most high-waist shorts. You could use a thin belt to emphasize your shorts or you could use a thick one to emphasize your upper body and waist.
Another great option is to use rope belt or a scarf helping you to contrast or coordinate your clothes while adding a trendy touch.
Also read : Celeb inspired 5 cool ways to wear your High-Waist Shorts
Look-1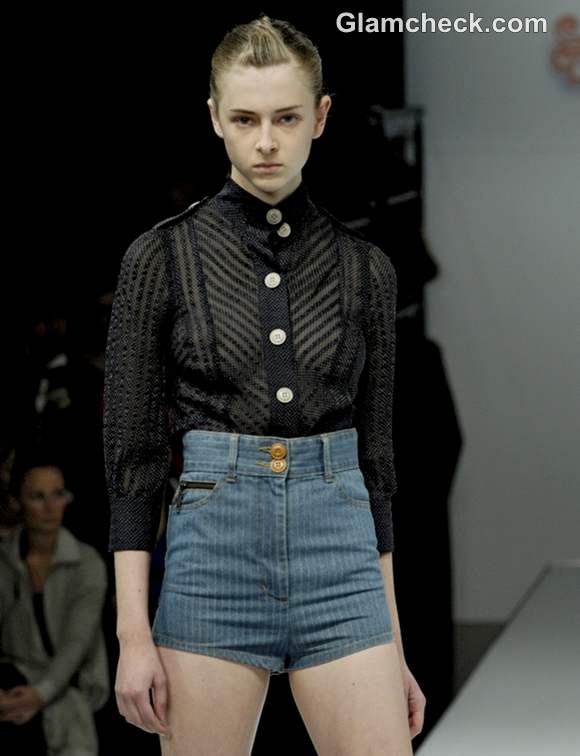 Wearing high waist shorts with shirt
You could glam up a simple styled pair of blue or grey shorts by teaming it with a bright colored top. You could add a belt in case there are no stylish buttons around the waist.
A plain black or white button down top or a short sleeved blouse is a great way to add a bit of glam to your ensemble. Chiffon blouses are also a good option for a romantic look.
Look-2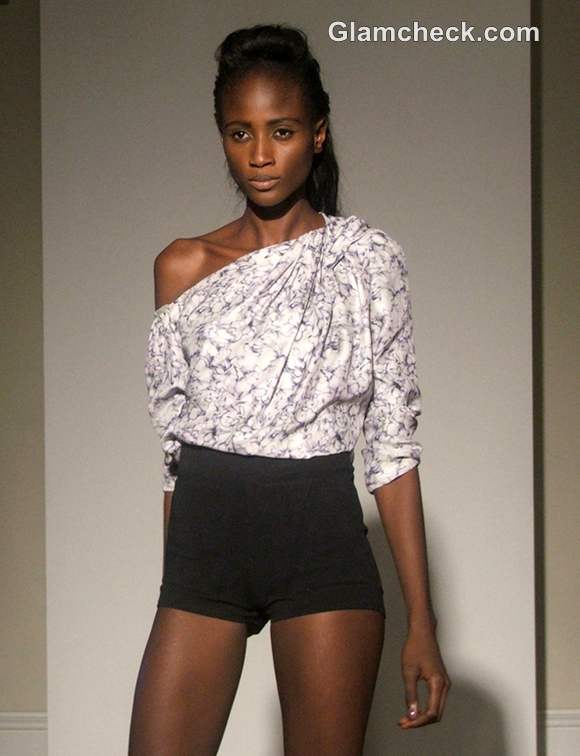 Wearing  high waist shorts with asymmetric top
Team up an asymmetrical styled printed blouse with a pair of high-waist shorts to make a statement. For plainer styles, you could add some jewellery or bangles as accessories.
Look-3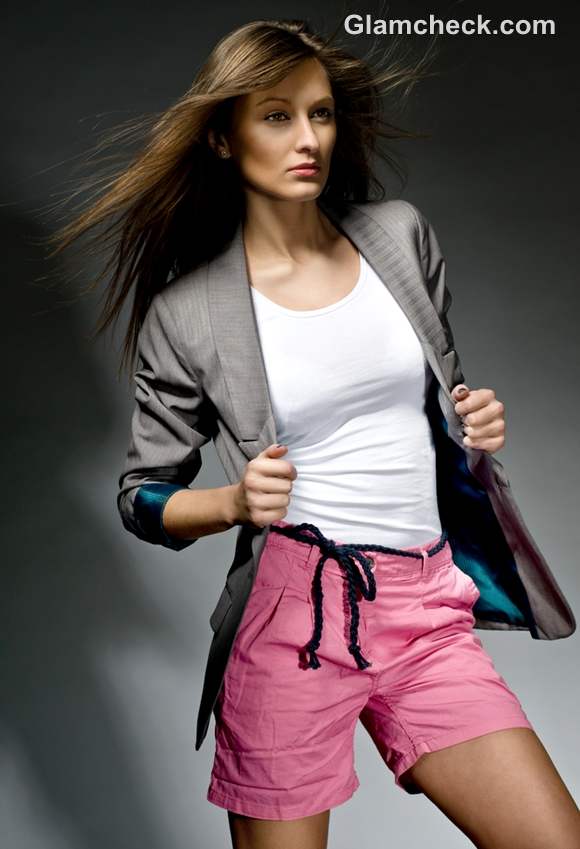 Wearing high waist shorts with blazers
For the look shown above, team a pair of shorts with a plain vest. Add a jacket / blazer and rope belt to complete the look. You could also use color blocking while choosing your clothing color combinations. For a more elegant look, keep your makeup as minimal as possible, with a hint of color around the eyes and lips, and add a pair of heels.
Tips
Make sure the length of your tops doesn't hide your shorts.
You could also wear stockings to add a bit of colour to your look.
Tucking in your shirt is a great way to show-off your shorts. Make sure not to add too much volume to your waist.
You could also fashion old high-waist pants into shorts.
And remember, all this look requires is a bit of creative styling and confidence. After all that's what you really want to flaunt!
 Shutterstock