It was that time of year again when we got to see a lot of beautiful swimwear being paraded on the ramps by some gorgeous looking models. But iconic swimwear brand, Gottex decided to take a new track this year and had a poolside presentation to showcase their 2013 collection.
Gottex has always been associated with fashionable and glamorous swimwear.  This year we got to see lots of sleek and sexy swimwear that hugged the female body in all the right places.
Amongst these figure flattering swimwear, we saw the brand's signature cut out one-piece suits, two-piece bikinis, colourful head wraps and cover-ups along with high-waist bikini bottoms and full-bottom briefs.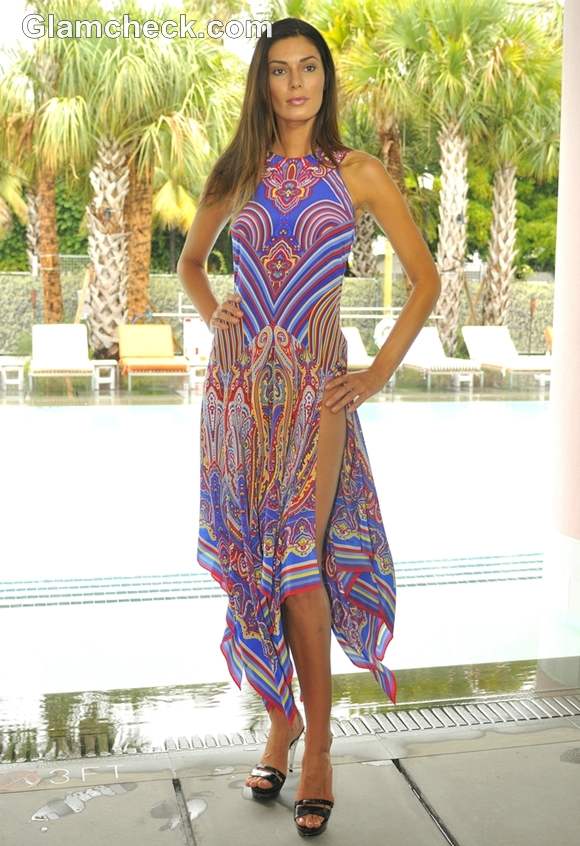 Color blocked swimwear, geometric prints and electric art deco prints were seen throughout the collection with a few sunset inspired pieces added to the mix.
The color palette was one that would complement every skin tone with its shades of intense blue, green, orange, red, purple, black and white.
This year the additions of high-waist bikini bottoms and full-bottom briefs were a pleasant surprise. In one look, a high-waist bikini bottom was teamed with a bikini top that was structured like a bra and worn by a gorgeous model in high heels.
Colorful head wraps and sheer cover-ups were seen with matching two-piece bikinis in colours of the setting sun. The kaftan above had a print of palm trees on it in shades of orange, pink and purple.
Not surprisingly, these bold, vibrant designs on matching cover-ups and suits are definitely guaranteed to make heads turn. Don't miss the matching bangles!
And while color was prominent, the brand did not forget to incorporate classical black and white into their more modern styles.
As for makeup, the models skin featured a more natural tanned glow, with straight long hair and a minimum of makeup.
 Overall, this collection was designed for a flattering fit that would make anyone look like a diva on the beach.
Anton Oparin / Shutterstock.com