Hollywood actress Lindsay Lohan has had a rough couple of years but it seems like she's back on track with her life and career. She has often mentioned over the last few months that she sees her latest movie "Liz and Dick" as her comeback. Her hard work has been evident as even the directors and her co-stars have stated that she is ever the professional with a lot of talent. Well, we'll have to wait and see if the film is what Lindsay hopes for. For now, we think she's definitely taken her life back into her hands judging by the gorgeous ensemble she sported at the Los Angeles premiere of the movie at the Beverly Hills Hotel in California on November 20.
What she wore:
Champagne evening gown by Donna Dashini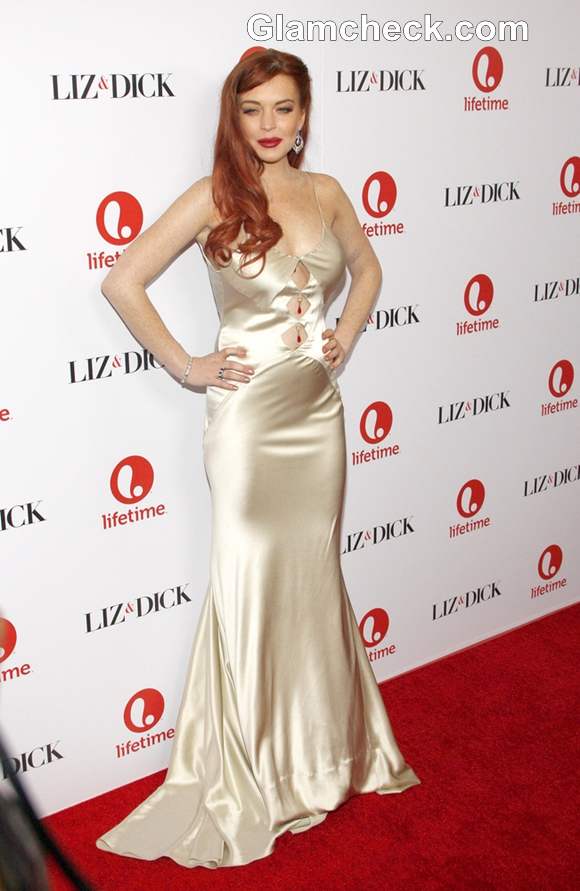 Lindsay Lohan Liz and Dick LA Premiere
Working on "Liz and Dick" must have attuned Lindsay's style sense to vintage fashions. The 26-year-old wore a slinky champagne-colored evening gown which was uber-classy. The strappy number featured cutouts on the bodice which were highlighted by a red drop jewel.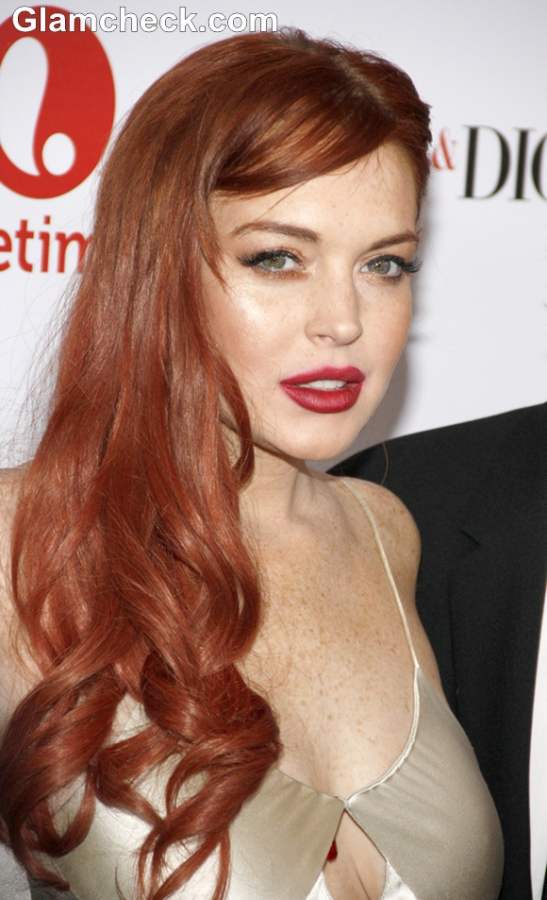 Lindsay Lohan glamorous 2012 Liz and Dick LA Premiere 
The lovely redhead also carried a fur stole which went perfectly with the silk dress, but she let that go when she got on the red carpet. Vintage dangle earrings, a bracelet and beaded peep-toes completed her stunning look.
Elizabeth Taylor would have approved!
Hair and makeup:
Curly hair; red lips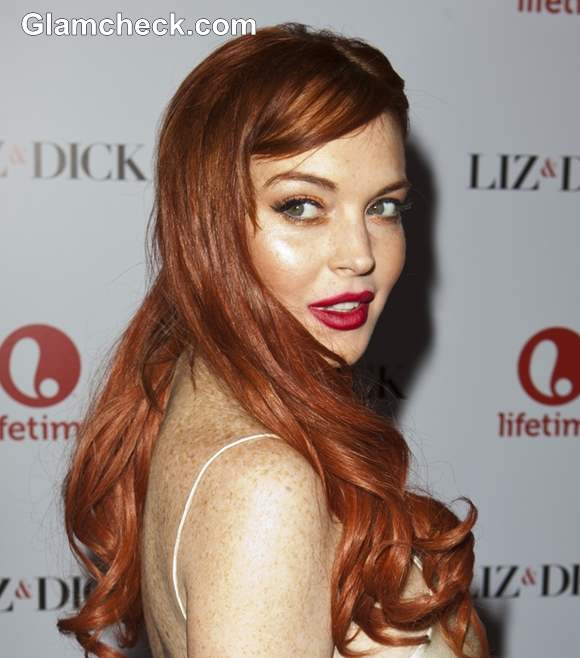 Lindsay Lohan 2012 Liz and Dick LA Premiere
While there have been different opinions on Lindsay's outfit choice, everyone unanimously agreed that her hair and makeup were flawless!
After years of coloring her hair blonde and black, she finally let her tresses return to their natural, fiery-red hue (with a little help from the bottle, of course). The color is simply dazzling against her skin. Styled in loose retro curls at the end, the majority of her locks were swept over her shoulder on one side and tucked behind the ear on the other.
Boosting the sex appeal of her outfit was her pout – filled in with a gorgeous cranberry red lippie – and coppery eye shadow which put the sparkle in her peepers.
"Liz and Dick" may or may not be a hit. But on the fashion front, Lindsay's scored big time.
P R Photos