There's a famous proverb that says, 'The more things change, the more they stay the same'. While a bit contradictory in itself, I believe this to be true especially where fashion is concerned and my belief was once again reaffirmed by Calvin Klein's spring /summer 2013 runway show during the Mercedes Benz Fashion Week on 13 September in New York City this year. While we got an eyeful of gorgeous ensembles that are bound to become a part of next seasons craze, we also got a peak at what looks to expect next season.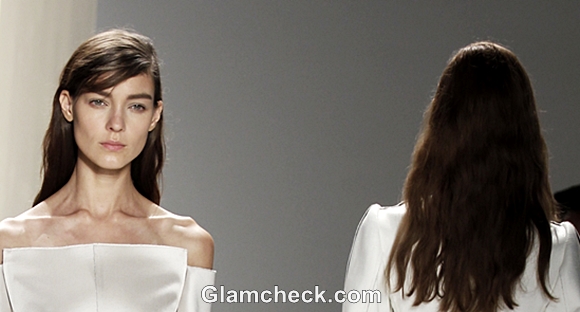 Hairstyle How To Spring Summer 2013 Side-Swept Look
Talking about hairstyles for next season, it's hard to leave out the side-swept summer look of 2013. This simple, classic hairstyle is back on the scenes. But then again, it never really went out of vogue.
That being said, hairstyles for 2013 aren't like your regular styles. They're about styles that stand out in a crowd and make a statement. Here's how Calvin Klein decided to do just that.
Casual Side Parted Look
Instead of using accessories to keep the models hair in place, Calvin Klein tucked their hair behind their ears and let it flow down their backs. Their side swept bangs added a bit of volume at the front which balanced their overall look.
In a nutshell, they stared with a side parting,  swept the hair across the hairline along the side of the head before tucking it behind the ears. The absence of too many hair products along with a messy side parting gave their hair a very natural look with a slight wave seen down the back.
Hairstyle How To: Side-Swept Look With a Messy Side Part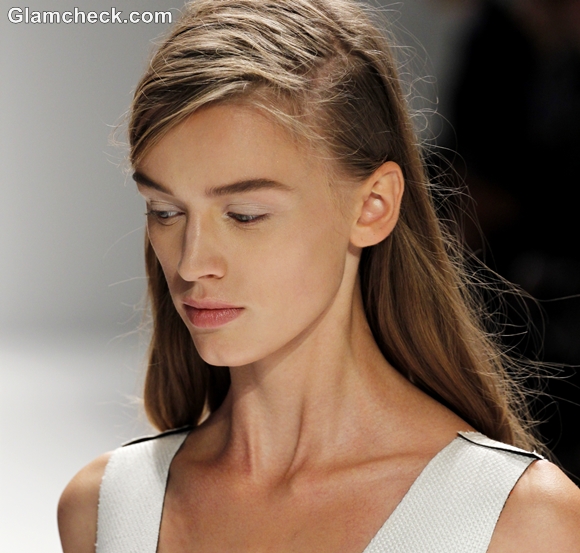 Hairstyle How To Spring Summer 2013 Side-Swept hair
It's not everyone's cup of tea to do up their hair in elaborate styles. This look not only serves the purpose for such people, it can also be done with the minimal use of hair products. Here are a few basic steps to get you started.
Wash and blow dry your hair before starting. While this look can be done using wet or dry hair, dry hair is preferred so as to avoid additional hair breakage.
Comb out your hair from root to tip.
Using a tail comb or the tip of your index finger, leave about 3 inches from your ear and part your hair along your hairline.  You don't need to have a straight parting. An uneven approximation will do just fine.
Loosely fix the lesser quantity of hair on one side of the parting using a clip and blow-dry the rest of your parted hair by leaning forward and then sweeping it to one side. This can be done without the aid of a comb.
You could sweep the larger section of your hair behind your ear and secure it with a hair pin. Cover the hairpin by pulling some of your hair forward over your ear to hide it.
The side part that covers the face should be a little textured. You could run your fingers through your hair or use a broad bristled comb for added effect.
Once the parting is done, you can also use a hair serum for added shine and brush through again to smoothen it out.
Finally, spray on some hairspray to keep your hair in place.
Tips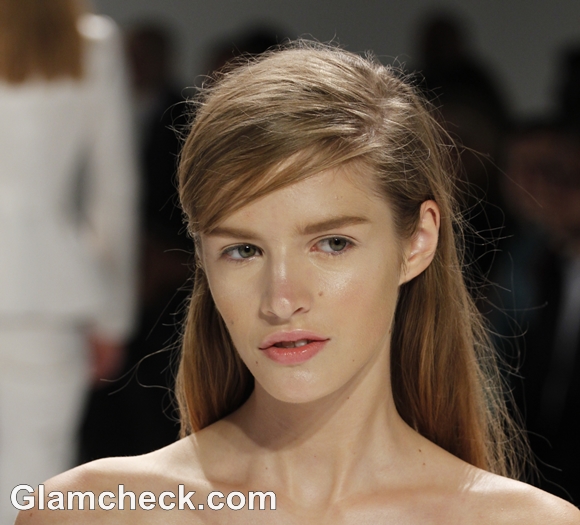 Hairstyle How To Spring Summer 2013 Side-Swept
Finish off your side parting in a ponytail or bun.
Experiment with different parting lines. Like a zigzag parting for example. Braids are a good option too.
For a natural look, try running your fingers repeatedly through your hair.
For people with long hair, this hairstyle is great to show off your earrings especially since your hair is tucked behind your ears.
Side swept bangs add more volume to your face. So make sure to let them fall across your forehead towards one side.
For people with an angular jawline, let a few layers of hair fall across your face to soften your angles.
For a natural tousled effect, twist your hair in a knot at the top of your head for a while and then release.
The best part is that you don't need to put in a lot of effort to pull off this look. Also, it works for people with both short and long hair alike. All in all, this look is great for a soft, casual look that's perfect for the summer.
Shutterstock