The Venexiana woman is luxurious, sultry and not afraid to make a bold fashion statement. The vision came across utterly in the hands of Kati Stern. Her ferocious yet elegant gowns while on The Lincoln Center Runway made many a hearts race. Rich colors, lush fabrics, a heavy dose of metallic, intricate beading and even blush color ruled the collection.
The models walked down with their high slits and low-cut back gowns and punk rock music played as a backdrop. The hair and makeup complimenting the gowns was dramatic, edgy and luxe in the hands of Philip Pelusi, who is the founder of Tela Design Studio and Tela Beauty & Mehron for the makeup looks.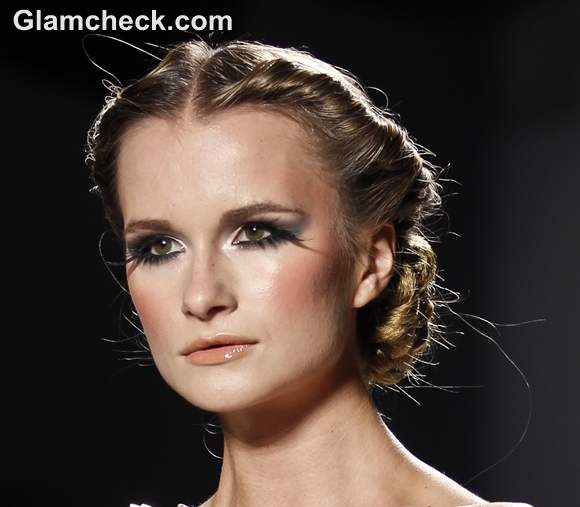 Venexiana Spring-Summer 2013 High Impact lashes with Opulent hair
Philip along with their Creative Director Jeffrey Reitz designed this look and named it Rockin' Royally. In his own words "It is elegant, regal and it rocks the house!" The hair could be best described as couture like and artistic.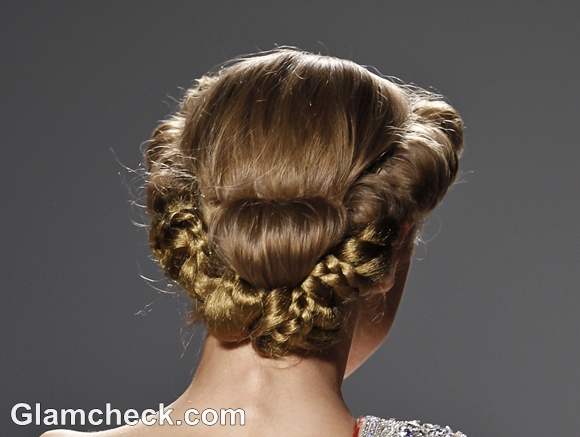 Venexiana Spring-Summer 2013 hairstyle
Rolls of hair in symmetry were spun into a twist and around the sides of the models head, and then braided and pinned in the back to form a v shape, which emphasized the long necks and gave a great profile. And with braids in all their forms emerging as a major Spring 2013 trend, the look could not the more relevant.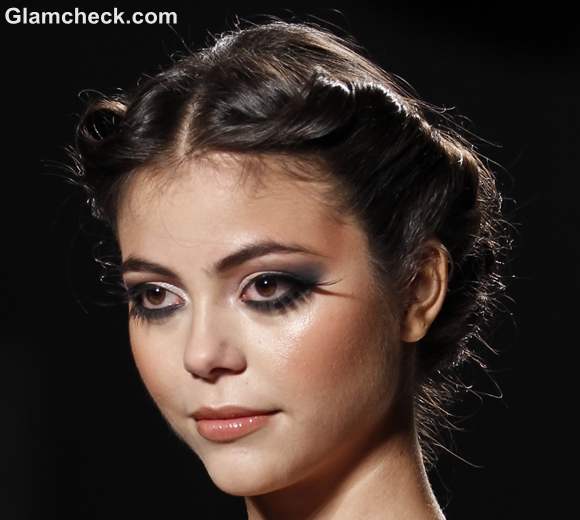 Beauty look Venexiana Spring-Summer 2013
The team started by using Tela Beauty Organics 'Dri shampoo' which was sprayed on and combed in. The 'Composer' followed which lets the hair be twisted, rolled up braided and pinned with ease while maintaining a soft and supple texture. The look was finished with 'Hair Gloss' for a liquid shine. All this though was not possible without synthetic hair being waived into the real hair, for dimension and volume.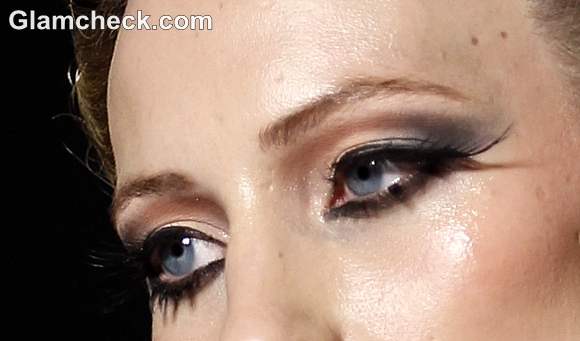 Venexiana Spring-Summer 2013 eye makeup
The intricacy of the makeup lied in dreamy and long wispy eye lashes. Courtesy of Mehron, the bold yet versatile look of the high impact eye lashes worked very well with the opulent and edgy creations of Kati. As Mehron's key artist Dani Fonseca puts it "It was really exciting to work with a designer who loves color and makeup"
The Skin texture and complexion was enhanced with Celebre Pro-HD Foundation., followed by the cheeks being contoured in Fawn eye shadow and highlighted with Tawny Pink Blush.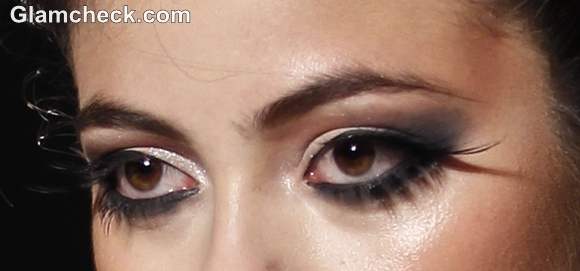 Venexiana Spring-Summer 2013 High Impact lashes
Black kohl and eyeliner teamed up with feather eyelashes was used for the eyes. The eye shadow color ranged from graphite, carbon to hurricane blue applied on the outer corners of the eye. The lips were left neutral with only some foundation and clear lip gloss covering them.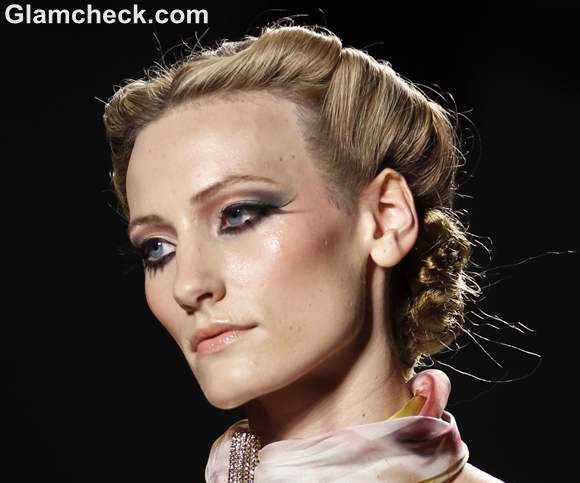 Venexiana Spring-Summer 2013 makeup hairstyle
The collection surely made its presence felt and so did the dramatic hair and makeup. The lavish and glamorous vision of Kati with edgy undertones greatly worked for us and we applaud this feat.
Shutterstock