Models walked the runway in Anna Sui's S/S 2013 creations during the Mercedes-Benz Fashion Week on 12 September in New York this year. While most designers usually prefer to play with colors on the garments they create, Anna Sui decided to interpret next season's neon rage in her own unique style.
This collection was definitely a visual treat with fun ensembles inspired by 1970s punk looks and a bit of French history. A special mention must be made of the works of French Interior designer Madeline Castaigne, who loves the color blue, leopard print carpets and everything from the Second French Empire, especially since she inspired several pieces that this collection had to offer.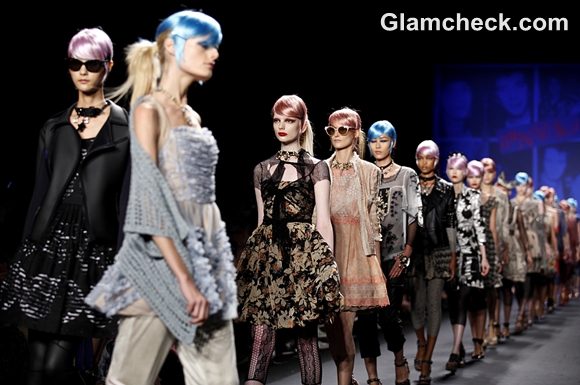 Anna Sui Spring Summer 2013 Technicolor Hairstyles 
The range of styles in this collection included chambray and denim crinoline dresses,rompers, plaid dresses, chiffon tops and biker jackets. Each garment was teamed with shorts, pants or leggings. She made sure that her collection had something for everybody with a variety of styles on offer that ranged from floral dresses to clothes that you'd probably see at a punk concert.
While the garments were in shades of black, khaki, green, blue and red, the models sported hair pieces that were equally eye catching. The front of their hair had bold, punk hair pieces in neon shades of pink, blue and  lilac, while the rest of their hair was tied up in high ponytails with bangs falling across their foreheads.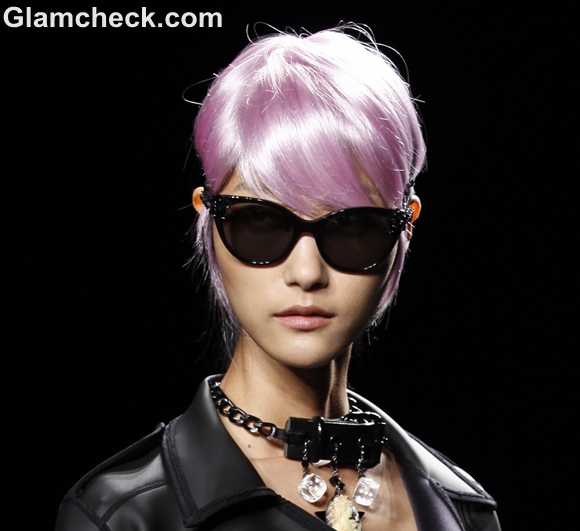 Neon hair color trend spring 2013 Anna Sui
Besides the neon hairstyles, each of the models eyes were done to match their hair pieces using a 'cat eye' makeup look. The rest of their face makeup was kept bare and natural with some models wearing a pink or red lip color. And since this collection spoke of attitude, it was but natural to see some of them wearing sunglasses and jackets. After all, in Anna Sui's books, even bad girls must look good.
So for all you people out there who were wondering what to try-out next season, Technicolor hair dyeing might just be the answer you were looking for. Since it's going to be the rage of next season, don't be afraid to experiment with your look!
Shutterstock