Karen Walker – the famous and much talked about New Zealand bred label, among the likes of Rihanna and Florence Welch, put up a great show at New York Fashion Week Spring Summer 2013. The collection was named 'Fantastique Magnifique' and rightly so, as the references to 50s optimism and Galactic inspiration was clearly evident.
KW has a reputation for being chic and unpretentiously cool. The mixing of extremes, feminine with masculine, luxury with streets etc. is her forte. The effortless look that swept us from our feet, by scoring high on the style and wearable quotient forms the 'Get The Look' for today.
Why we love it?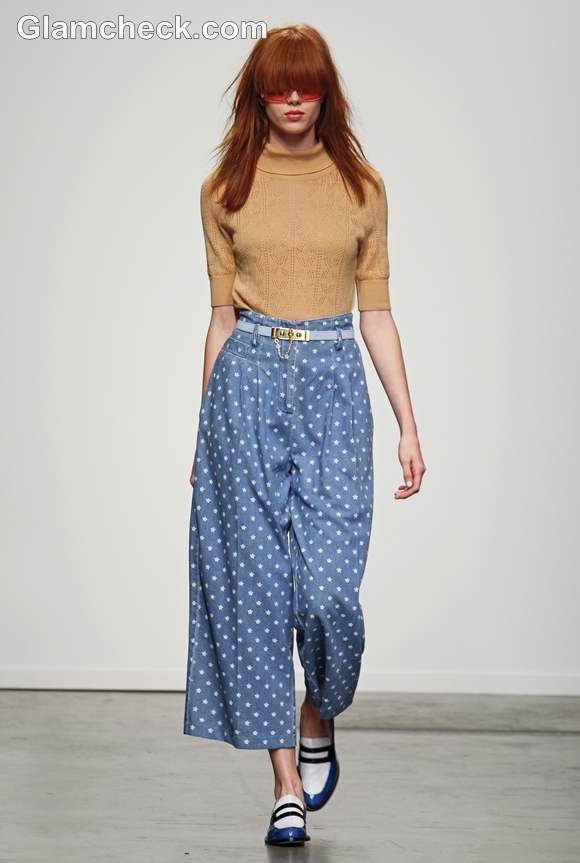 Get The Look – Effortlessly Peppy chic with Karen Walker
This look, if done right, can always make you look fashionable without trying too hard. And who doesn't want that right? Mixing beige knit with printed wide legged denims in periwinkle blue is a rarity. But with the perfect accessories and the right silhouettes to match, Karen Walker surely maintains her spot in our style good books.
Wear it where?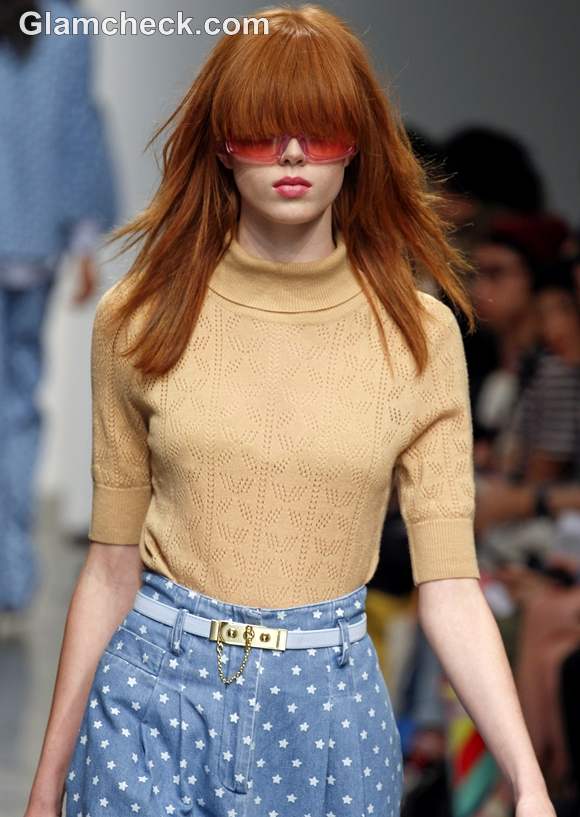 Get The Look wearing beige knit top with blue wide legged pants
Be seen in this look, at a luncheon with your girl besties.
A casual conversation over a cup of coffee? This look is just the right amount of sugar you need!
This relaxed ensemble could be perfect when you are headed out for your book club meet. Intellectual meets the fashionable is a hard to beat combination.
Get it Right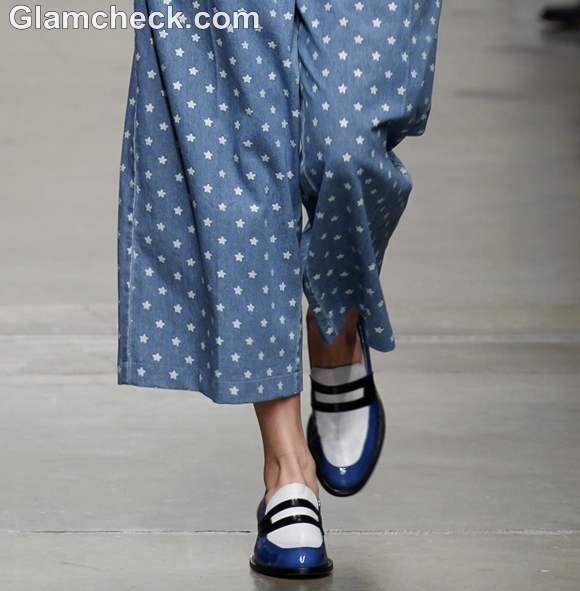 Get The Look peppy chic in blue wide legged pants
Start putting the look together by picking a soft and neutral knitted sweater / blouse. Preferably for its vintage appeal an oversized turtle neck and sleeves hitting the elbows work best. Alternately opt for a scoop neck and gather up the full sleeves casually to make them reveal the arms.
Next look for a wide legged high waist pair of cropped denims or chambray pants. Karen Walker gets it right with the stars print in white. You could work with a polka too. If not denims find a wide legged printed trousers in periwinkle blue instead. Make sure that your ankles are visible.
Belt up with a sleek piece, in a shade close to/ in the family of your trousers. The chain link design of the belt as featured on the Karen Walker show is a hot accessory that you would love to get hands on!
With a feminine look on top, androgynous shoes will work the best. Go for a well designed pair of oxfords or even your favorite loafers. Pay attention to detail and color here, skip the plain and simple. Even a pair in glitter or sequins can add that edge to the look.
Wear your hair unkempt, just combing them with the fingers and adding volume. If you already have fringes or bangs on either side, this should come easily.
An oversized tinted sunnies matching the shade of your neon pink lips, should put you on the high road to happy chic.
A tan leather bag and a gold charm bracelet with a watch on the same wrist should be able to close this look for you on the right note.
Tip: If you are petite and are afraid the ankle baring act will leave you looking shorter, remember to wear a little less flare and the waist strictly high.
Shutterstock