Watch out Victoria's Secret! Etam is giving stiff competition to the number one lingerie brand with a highly versatile, fun and celeb-filled fashion show that could rival VS' own extravaganzas.
The Etam Live Show Lingerie 2013 held at the Bourse du Commerce in Paris, France on February 26 saw singers Lily Cooper, M.I.A. and Rita Ora perform, Russian supermodel Natalia Vodianova in the front row, and a bevy of gorgeous models parading sassy, sexy, adventurous lingerie before a cheering crowd.
The line incorporated a multitude of fabrics and colors from basic lace and leather to silk and cotton, from basic whites and blacks to exotic prints and textures.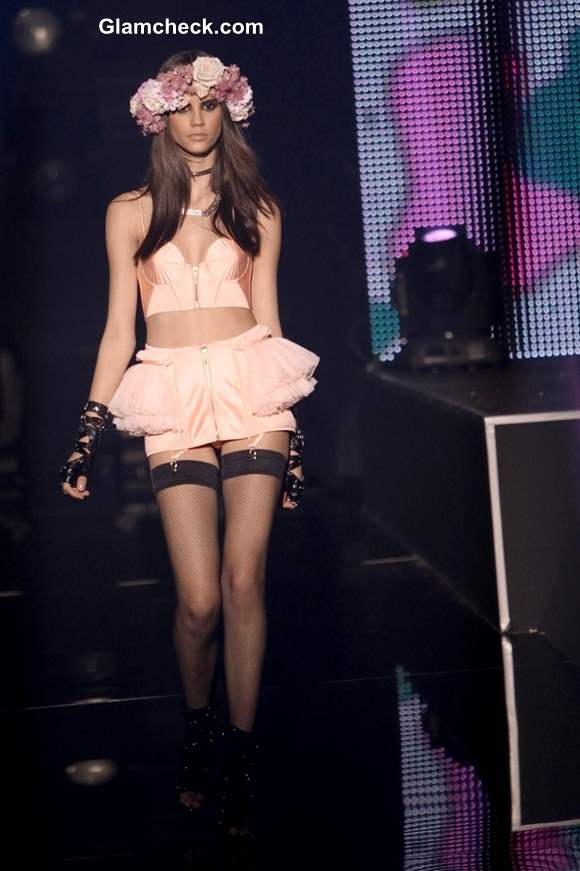 Etam Lingerie 2013 collection
The models strutted their stuff in mostly strappy high heels, many of them donning neon-colored stockings and either white or black gloves. The latter lent a slightly vintage feel to the line which made it all the naughtier.
We saw last year's neon trend carry forward strongly with neon lippies making an appearance on the runway.
Another dominant aspect was the use of very bold statement jewellery to spruce up the ensembles, well, what little of them there was anyway.
Flowery head pieces, ornate head gear, nose rings, statement bracelets, heavily embellished necklaces – all borrowing Egyptian or Indian elements – ensured that each model created a striking visual on the ramp.
P R Photos