The Couture Fashion week in New York is a melting pot for designers from various parts of the world. The interesting mix brings forth fresh aesthetic ideas for both red carpets and bridal wear.
Isabel Zapardiez' Spring Summer 2013 Couture collection was one such example, wherein the Spanish designer left the audience impressed. Celebrating 10 years in Bridal wear, she referenced her many inspirations in her pieces while also showing bridal wear mixed with party dresses, a first for her.
Theme
This season Isabel on a reflective level imagined her bride in a duality – both delicate and strong. Inspiration wise, she drew from a lot of her favorite stimuli. The fashion world of the 50s overlapped with ancient Egyptian and Greek aesthetics. But the translation was very modern and dreamy.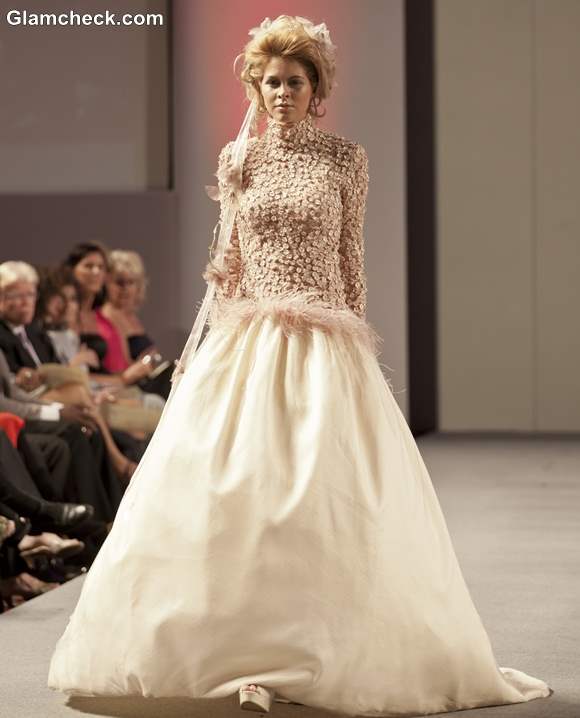 Isabel Zaperdiez Bridal couture Spring Summer 2013
The models were full fledged goddesses, full of femininity with a cosmopolitan vibe. Vintage and oriental influences inter mingled to form pieces, each of which had a unique personality and character of its own just like the projected wearer.
Details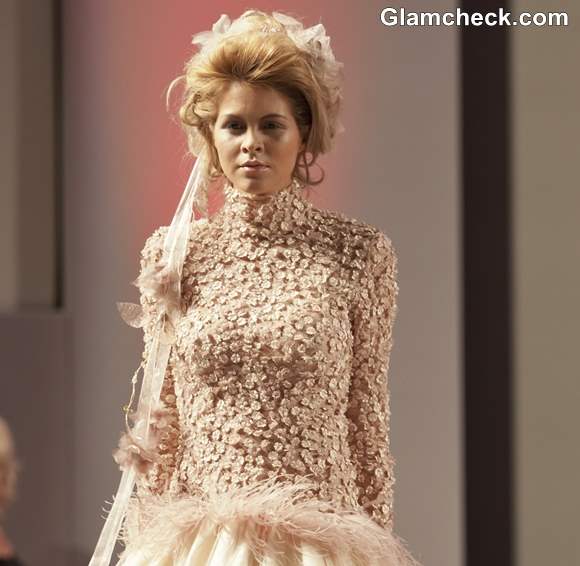 Isabel Zaperdiez couture Spring Summer 2013
Silk was a fabric of choice, while it went hand in hand with tulle, muslin and satin. Chantily lace and pearls lent a stronger luxe essence. With an impeccable construction, fall and pleating, the silhouettes promised to bring out the best in the sensual woman figure.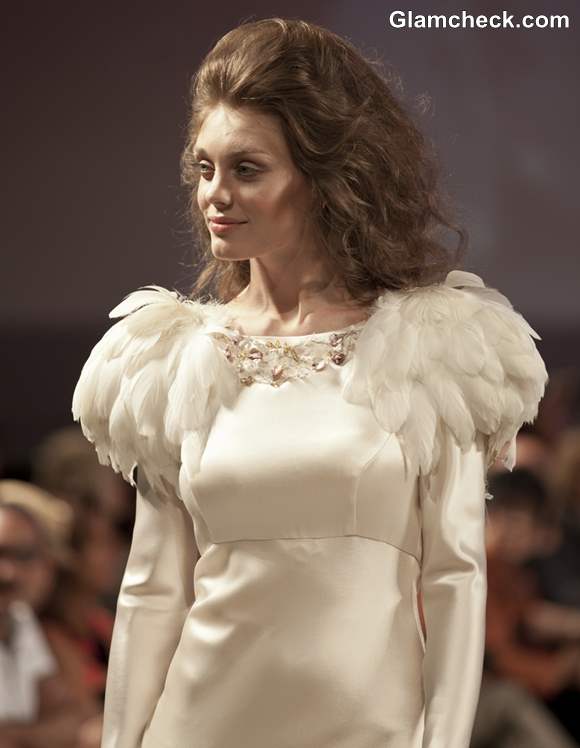 Isabel Zaperdiez couture Spring Summer 2013 collection
Feather accents, crystal settings and corsage embroideries were the dazzling details that could make a bride wearing Isabel Zapardiez shine.
Garments and accessories
The collection comprised of regal gowns and playful flirty dresses too, all connected well with a palette of subtle beiges, greys, white and blush pinks. A continuing silhouette interpreted in more ways than one had a form enhancing front and a more voluminous and fluid back. There were frilled hems, lace inserts and of course the mandatory beautiful trains.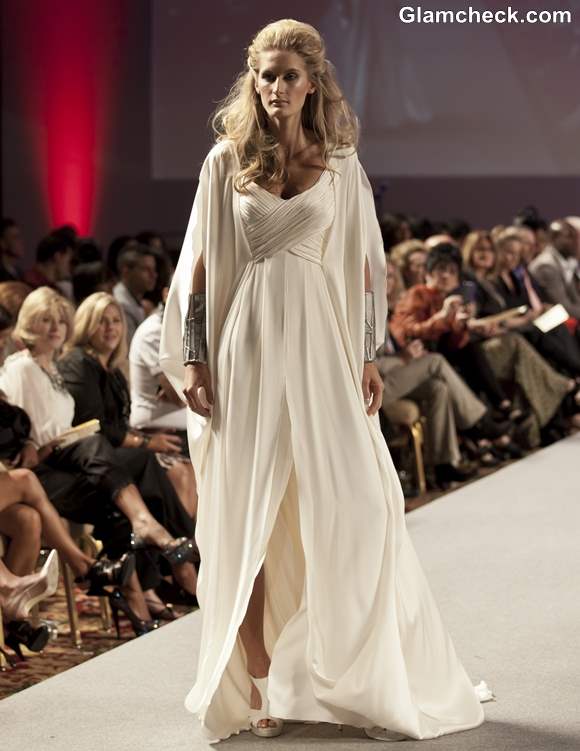 Spring Summer 2013 Isabel Zaperdiez Bridal Couture
Clearly indicative of duality were a mix of fluid and tailored pieces. Our favorite remains the closing piece with a cowl back and chantily lace used at the neckline and waist, making the gown even more distinctive.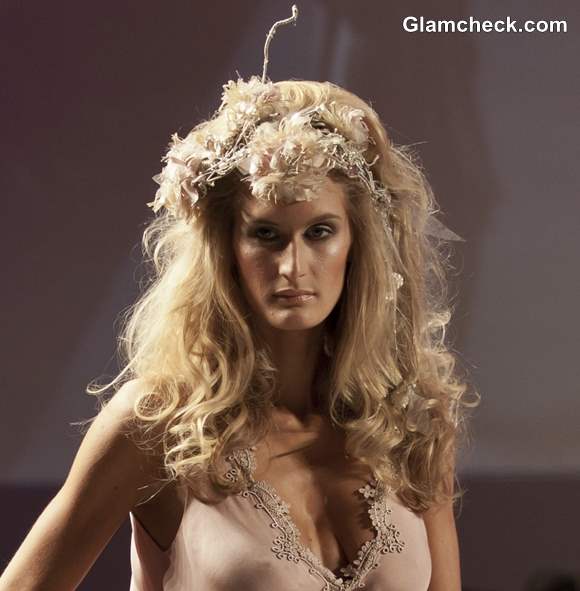 Spring Summer 2013 Isabel Zaperdiez Couture
Corsage head gears hinted at an innocent natural bride. A use of satin ribbons and tulle was also seen for the hair. But there were bold accessories too in the form of silver cuffs in both wrists. The strappy ankle heels were just the right match with the garments.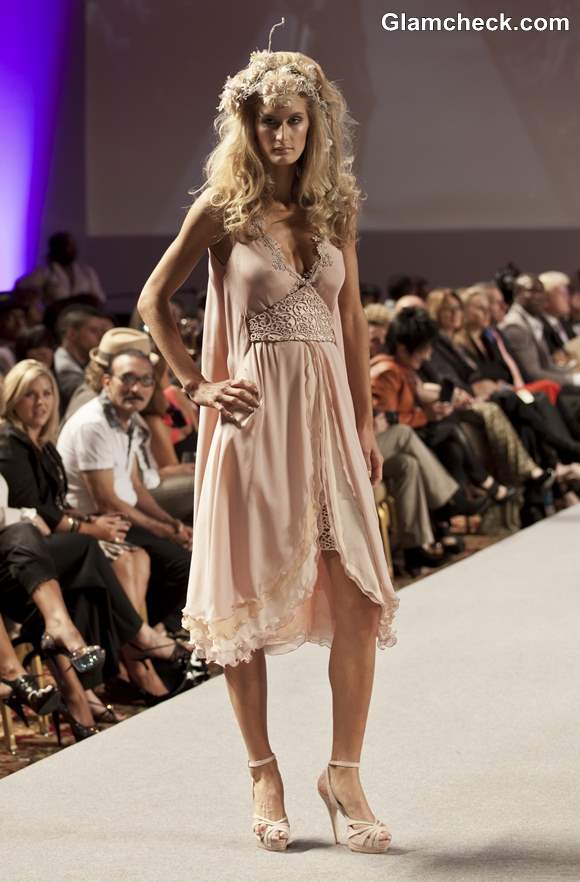 Spring Summer 2013 Isabel Zaperdiez Couture collection
Beauty
For the garments and their intricacies to take center stage the makeup was kept natural. Though that is not to mean the models were not glowing, it was a flushed bride look with nude lips and gloss a slightly darker eye shadow for the lids. The hair was teasedand usually held half up and half down. The volume, waves and fly-aways, only added to a more believable modern day goddess.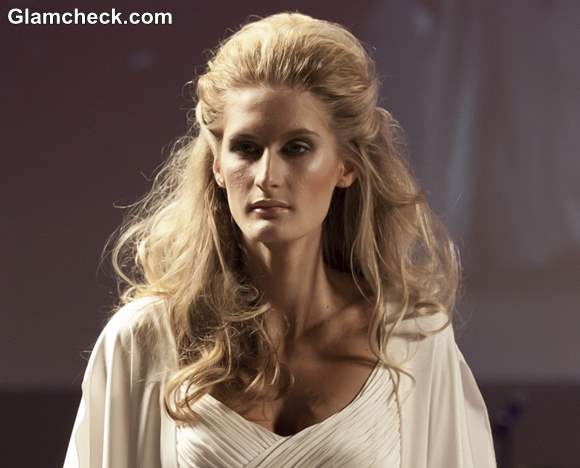 Isabel Zaperdiez Couture Spring Summer 2013 hair and makeup
The show was highly anticipated and it delivered too. Isabela's work was charming and sophisticated indeed, perfect for the dreamy ethereal bride.
Isabel Zaperdiez Couture Spring Summer 2013 bridal collection
Shutterstock