Young Zendaya Coleman sported a very fashion-forward ensemble as she attended Nickelodeon's 26th Annual Kids' Choice Awards at the USC Galen Center in Los Angeles, California on March 23.
What she wore:
Flared mini skirt with jersey top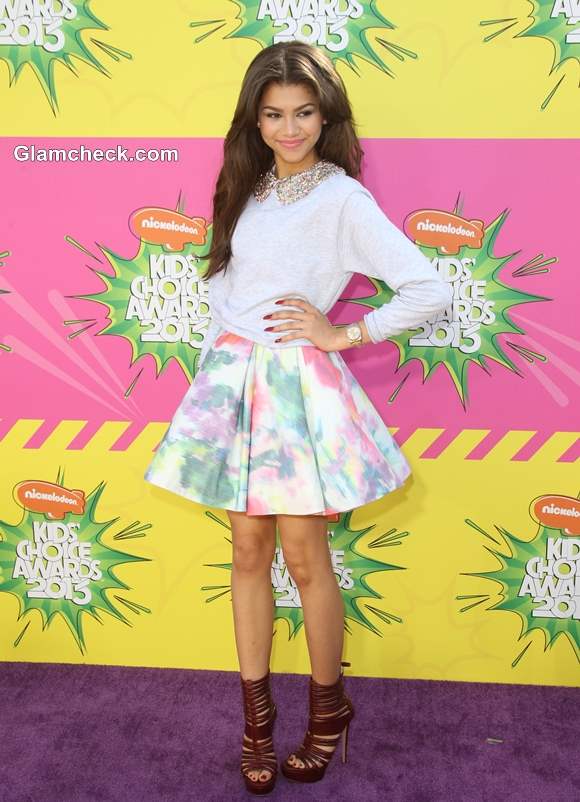 Zendaya Coleman Summer Chic Look at Kids Choice Awards 2013
The ensemble was very 'in' with current trends incorporated into the flavours and mood of the season. Zendaya paired a plain grey jersey top with a rainbow-hued short flared skirt. The top was spiced up with a glamorous gem-studded statement clip-on collar.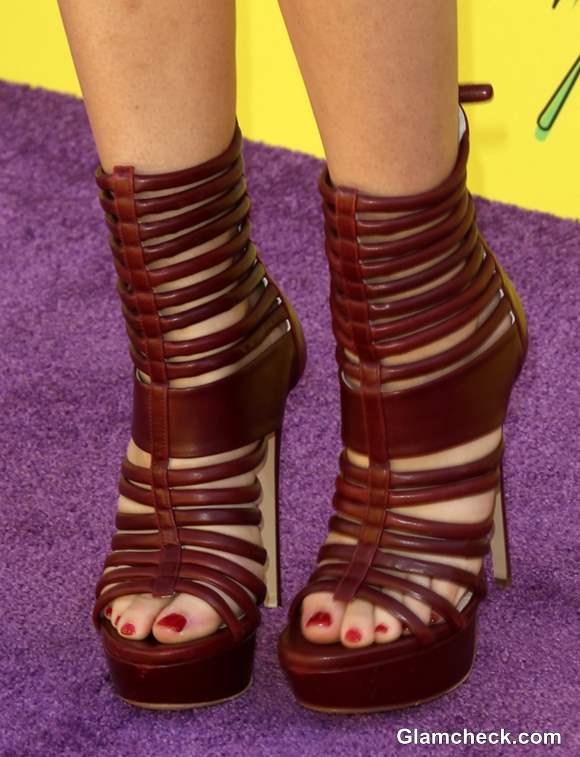 Gladiator heels 2013
She accessorized with brown open-toed heels that had a gladiator feel to them, gold pointed frames with shaded pink lenses, a silver watch, and a pink and gold clutch purse.
The ensemble is vibrant without being loud, comfortable without being dowdy, and fashionable without being over-the-top. What's more, it's unmistakably summery!
Hair and makeup:
Natural waves; pink lips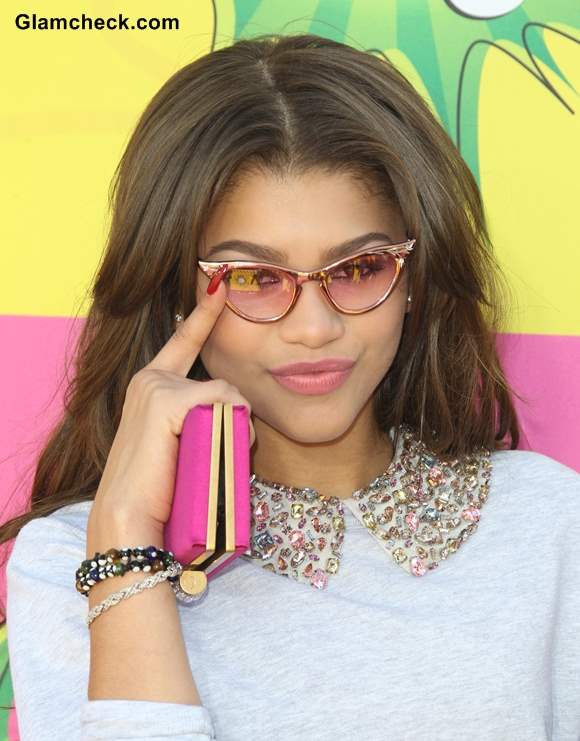 Zendaya Coleman Rocks Summer Chic Look at Kids Choice Awards 2013
The petite beauty styled her brown locks in summery beach waves which were swept over one shoulder. Her elfin eyes were lined and mascarraed just enough to define their natural cut while her pout was lit up by a delicious light pink lippie. The overall summery look was infused with a bit of an edge thanks to her maroon manicure.
Get the Look
Grey sleeved jersey tops are everywhere, so even if you don't have one, you won't be hard-pressed to find this essential piece of clothing for your wardrobe. A white tee will do fine for this look too. Just make sure that it's a plain top without a print so that the statement collar – which is the focus of the upper half of this look – can stand out effectively.
Next comes the flirty, fun-filled skirt! Make sure it's a colorful affair with either an abstract pattern or a quirky print if that's something you're in the mood for.
The accessories are the next most important part of this look. Keep it simple. Go with statement heels – something open-toed and strappy is preferable. While you can opt for flats for comfort, the heels will add a bit of oomph to your ensemble. Say no to jewellery unless it really goes well with the rest of the outfit.
Don't forget a summery manicure with a crazy color. Try nail art or simply painting each nail a different color for a look that will keep people guessing.
Shutterstock