Brit actress and TV presenter Amanda Holden went with an androgynous look as she attended a press conference for "Merrily We Roll Along" at the Harold Pinter Theatre in London, UK on May 1. However, it differed in that she added quite a few touches of 70s fashion, thus giving her a quasi-retro vibe. Check it out.
What she wore:
White pantsuit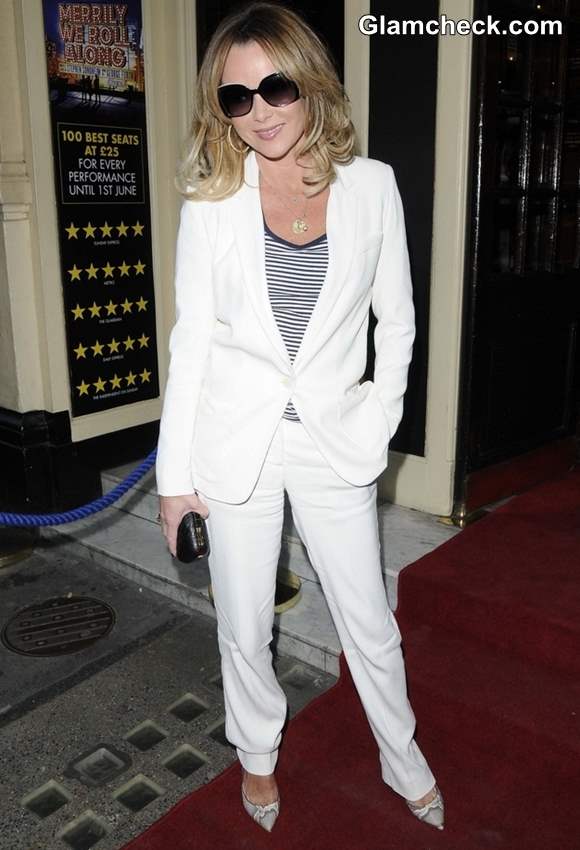 Amanda Holden Androgynous at 'Merrily We Roll Along' 2013
The main outfit consisted of a pure white pantsuit paired with a striped nautical tee, the latter kinda cutesy but also a fitting combination for the all-white suit.
The retro touches came in the way of her accessories – chic white-framed sun glasses, large gold hoop earrings, a gold chain with multiple pendants and Aspinal's Cleopatra black clutch. Her shoes were the only accessories that had a more contemporary vibe – snakeskin white heels by Christian Louboutin.
Now although the overall ensemble did indeed have a 70s touch, her accessories are actually timeless and pretty much must-haves in any contemporary wardrobe. Just goes to show how some items are indispensable in creating multiple looks.
Hair and makeup:
Relaxed bob; natural makeup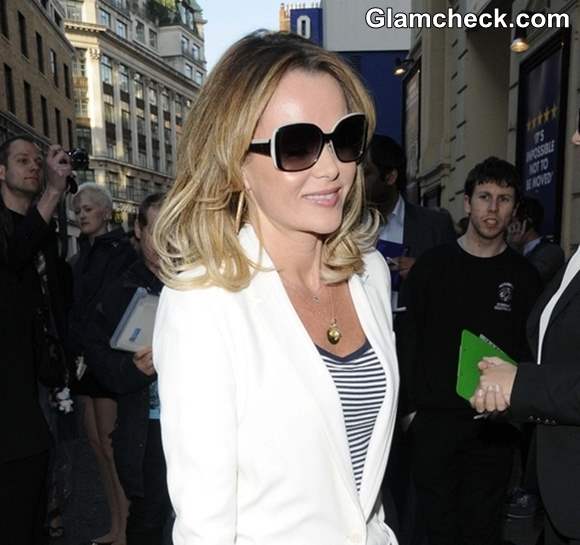 Amanda Holden at 'Merrily We Roll Along' Press Meet
We're not sure what she did with her eyes since she chose to wear the sun glasses the whole time she was in view of shutterbugs, but if her natural lippie and glowing cheeks were anything to go by, we're sure it was beautiful.
Her hairdo mimicked the curly bobs that were popular in the 90s but with less volume and a more relaxed feel. 
P R Photos