We spotted actress Zoe Saldana in a lovely hairdo as she arrived for the Los Angeles premiere of her latest movie "Star Trek Into Darkness" at the Dolby Theater on May 14.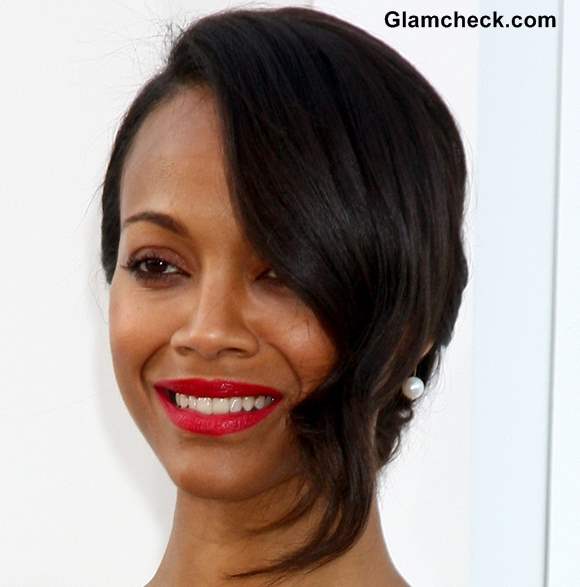 Hairstyle DIY : Zoe Saldana Twisted Low Bun
Zoe's dark tresses were swept to the back and done up in a twisted bun that sat low on her head. On the front, her grown-out bangs which extended inches below her chin hung down the side of her face, slightly wavy, partially covering one eye.
A bun is a timeless do. Period. You can wear it to work, when you're headed out for a casual meeting and also for super-formal evening wear. It's a practical do because it keeps your hair out of your face and out of your way, it's easy to create – the simplest one taking just 5 minutes, and it holds well over a longer duration than some other hairstyles.
Hairstyle How To:
Here's how you go about getting Zoe's look.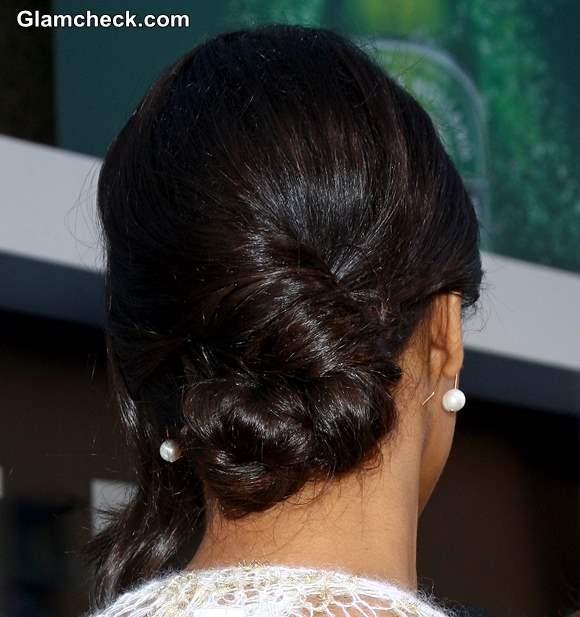 Hairstyle How To Twisted Low Bun – Zoe Saldana
Wash and dry your hair. Apply a smoothening lotion.
If you have grown-out bangs, bring that portion to the front so it doesn't get in the way when you're making your bun.
Make a side parting.
Sweep your hair back so that you are holding it in one hand like you are about to make a ponytail.
Continue to hold it in that position and use your other hand to twist the ponytail section round and round.
As you do so, twist the twisted ponytail and start using bobby pins to secure it to the back of your head.
Continue the last two steps until you come to the end of your hair length.
Tuck away any stray strands from the ends if you want a neat bun or leave them jutting out if you want a messy look.
As for those grown-out bangs which some of you may have pinned to the front, style it in waves and comb it over your forehead and to the side.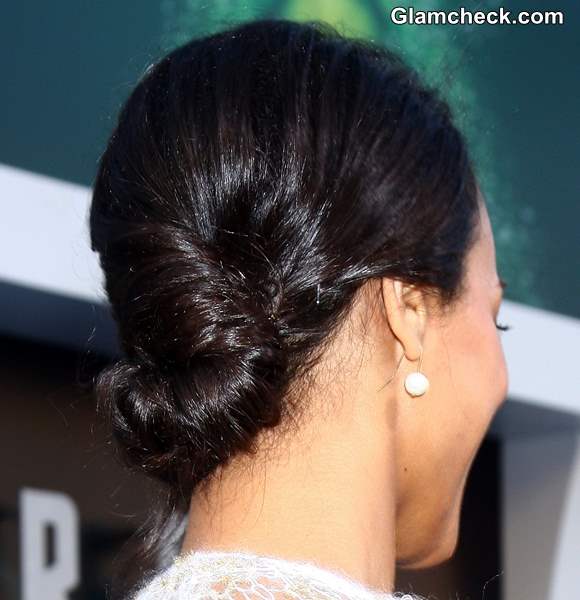 Hairstyle How To Zoe Saldana Twisted Low Bun
Shutterstock