Gone are the days when wearing socks with your footwear would be considered as plain cute. Karen Walker defied the idea establishing another trend for Fall 2013.
Trends can often lack practicality however, Karen Walker's hint for the season is something that makes complete sense for the Fall season and is a surely a trend that will receive a warm welcome. Who minds a pair of socks during the chilly days and if the very piece of clothing is what makes you trendy then it surely is going to be a loved winter trend.
The Collection:
Karen Walker's ready-to-wear for Fall 2013 was more serious and polished than before and it was well received for the very reason! Stylish separates came together to form well layered outfits and the colour palette was of Black, Ivory, Grey , Olive Green with a pop of Reds. Very winter & high on wearability and a relatable collection.
The Trend: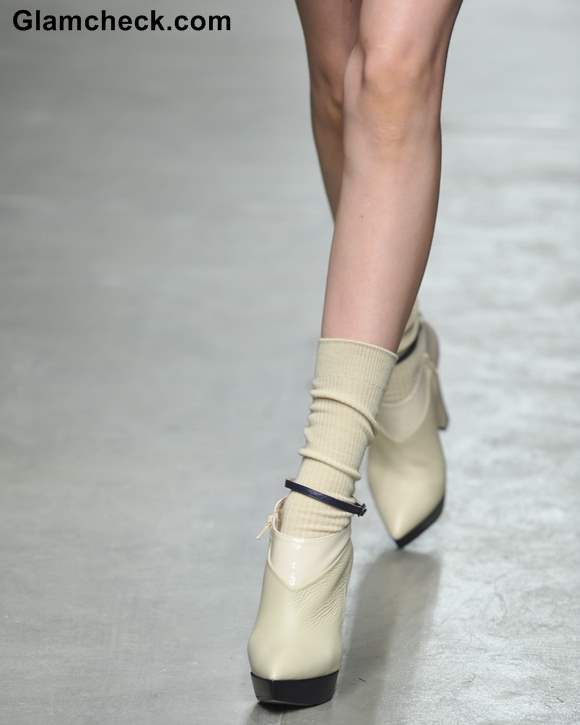 Footwear Trend Fall 2013 Ankle Boots with Socks Karen Walker
Karen Walker's show will definitely direct people to bring out their socks and in solid colours of the winter shades if we may add!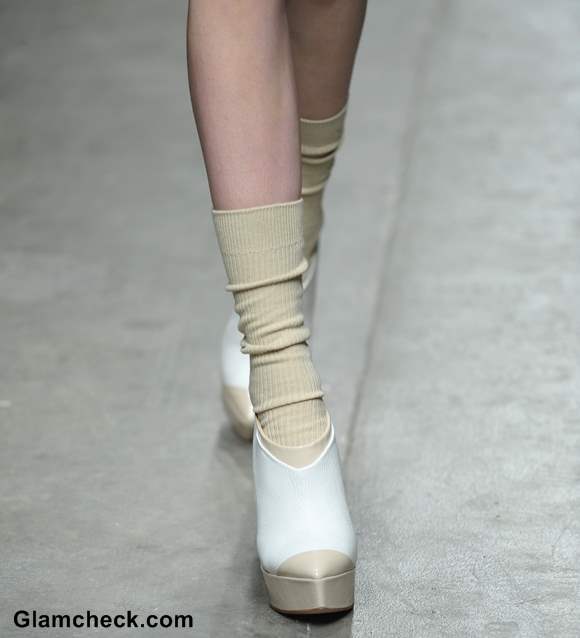 Footwear Trend Fall 2013 Ankle Boots Socks Karen Walker
Ivory socks were teamed with fierce shaped ivory ankle boots, which was a favoured look! The socks added a certain amount of playfulness to the collection balancing the otherwise serious approach.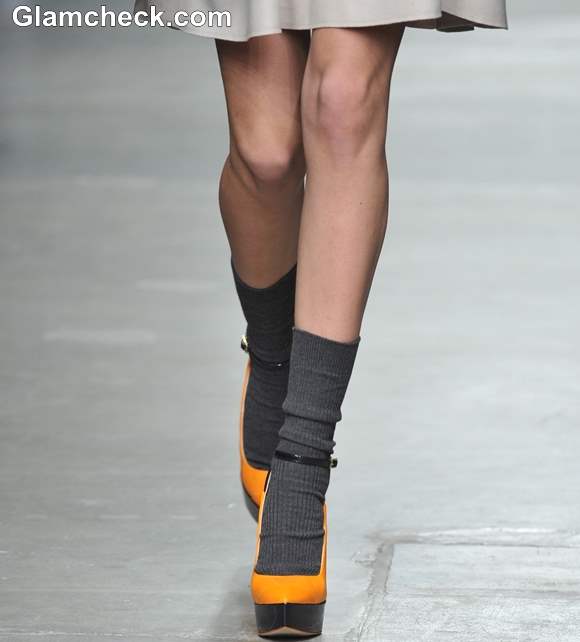 Footwear Trend Fall 2013 Karen Walker Ankle Boots with Socks 
Another look  was by clashing the grey with a pop of tangerine in the form of a pointy platform shoes! A good way to liven up the monotones is with a lighter bright and the shoes did exactly that!
Minimal, neat and contemporary define the footwear trends for the coming season. There are straight lines, structured forms and dull shades with hints of contrast. A similar pair in a neutral shade is a classic and may be carried on to the next season as well so going for this trend will be a wise thing to do. In short, this is layering for the feet and a must-do for fall winter. 
Overall the collection spoke of wearability and the sheer comfort factor of the idea of socks with shoes is one trend we hope that stays!
 Shutterstock