When it comes to fashion, no one wants to stay behind. This holds true not only for adults but kids as well. And, if the kids are too young to understand fashion then their style conscious mommies ensure that their son or daughter should also present a fashionable foot forward. This phenomenon has been well recognized by the leading fashion houses and fashion designers of the world. They have understood that there lies a good market in luxury wear for children. Hence, there is an emergence of a ready to wear line for kids launched by big designers and fashion giants. And, there is no dearth of buyers splurging big bucks on them.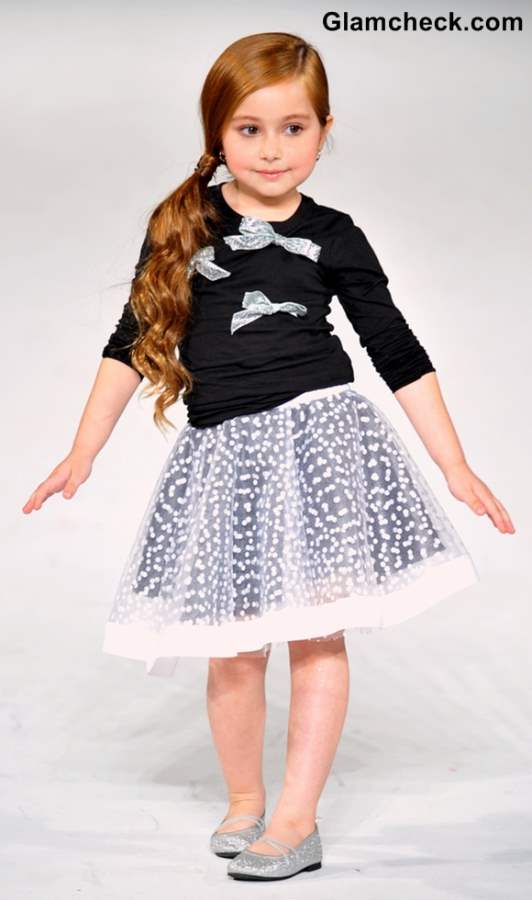 International Designers and Brands for Kids
This article is a comprehensive compilation of primarily high end fashion designer labels – as well as a mention of some high street brands which we couldn't help but include due to the benchmark they have set in fashion, that have a well etched line for newborns, toddlers and children.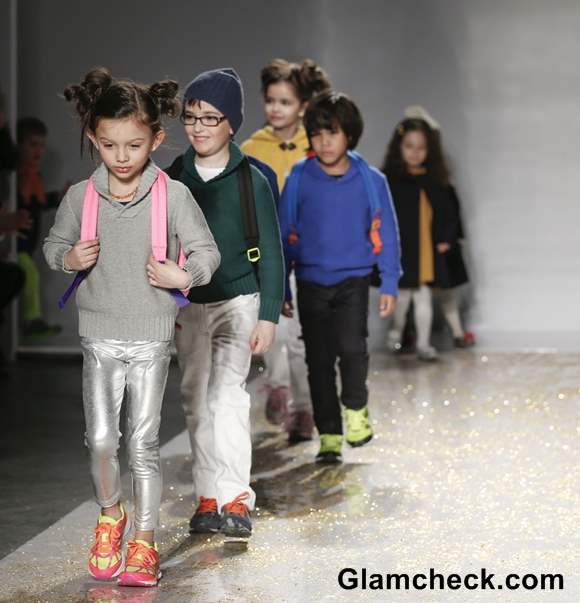 International Designer – Brands for Kids
Here are the luxury brands in an alphabetical order.
Armani Junior
The junior line by Armani takes its inspiration from the clothesline for adults. Jumpers, polo shirts, denims, dresses and shoes are presented in classic lines. One can also find branded Armani bibs, hooded towels and wash mit sets. Now that is style!
Burberry
This iconic British luxury brand has reinvented their signature style for kids wear, making dressing up for babies a fashion play. Seeing toddlers waddling around in taffeta trench coats or the Burberry Haymarket and Nova check prints can be a moment of joy.
Calvin Klein
CK has been known for single handedly revolutionizing the casual clothing market. This is more high street than high end, however due to its contribution to everyday fashion; the brand makes an entry into this list. Though, mostly associated with an underwear line, CK's collection for kids makes it a big name in everyday wear. The suits for boys are totally eye catching and show off really good cuts and fits. One cannot miss the cute playsuits and bodysuits for absolute infants or the ties that allow little boys to play grown up.
Carolina Herrera
The label has introduced both a boyswear as well as a girlswear line for children. Summer dresses, winter wear, casual clothes as well as "princessy" frocks are intricate part of the label. The girl's line follows the sensibilities of the woman's line.
Chloe
Luxury house Chloe launched its kids wear line in 2007. If one can capture children's line in terms of chic, elegant and timeless collections, it would be Chloe.
Dior
Fashion giant Dior caters to newborns, little girls and boys through its Baby Dior line. This line is crafted with the same level of workmanship as the original Dior pieces. One can find a wide range of chic and classic clothes, footwear and accessories for children up to 13 years.
Dolce & Gabbana
Fashion biggie D&G's kid's line takes direct reference from the main collection, helping the juniors to transform into fashionistas too. Evening dresses for little girls and formal shirts for the boys help the kids live their own glamorous life where they want to copy mommy and daddy. Funky eyewear for the baby brigade is another fascinating feature. A not to be missed feature is their branded bottles for infants.
DKNY
Designer Donna Karan from New York has a quirky and colourful line for children. The relaxed statements made by the clothes help one to envision children in them. The fuss free clothes are high on trend.
Escada
Escada branched into children's wear in 2006. Since then it has been producing the same levels of luxurious fashion for kids as it does for adults. However, they manufacture outfits only for little girls and not young boys.
Fendi
Fendi presents a trendy and cool line for children. A creative collection of accessories and footwear, which speaks of the highest form of luxury, makes Fendi for kids a sensation. After all, with Karl Lagerfield at the helm, can we expect anything less for the tiny tots? The iconic Zucca print clothesline is a big hit.
Gap Kids
Gap Kids has recently brought Diane Von Furstenberg on board to design for the tiny tots. And since, she is such a big name we couldn't but help include Gap Kids in this article. One can find the influence of an African Safari on the clothes. Stella McCartney has also been a part of Gap Kids in the past. Gap Kids goes on reinventing itself from time to time, bringing in known names from the fashion industry.
Gaultier
Jean Paul Gaultier has a ready to wear line for juniors which was launched in 2009. Featuring contemporary and urban designs, one can go gaga over the cute dresses and playsuits found at Junior Gaultier. Also, eye catching are their trendy hat and body sets.
Gucci
An authority in fashion, Gucci is renowned for its masterpieces and this holds true for its children's wear line too. Shorts, jackets, shoes, babygrows featuring the iconic Gucci symbol and signature stripes ensure that whether 3 months or 7 years, a child can rock style too. The bibs for newborns definitely hold their own court.
Guess
This brand may be more high street than high end, but we couldn't help but include it in this list due to its distinct in your face style. Guess Kids line follows the same principle. With its collection of smart denims, children till the age of 12 can definitely show off their spunky jeans!
Issa
Designer Daniella Issa Helayel, whose engagement dress for Kate Middleton had created ripples throughout the world, has an exclusive collection for bambinos and bambinas aged 0-12. It has one of the hottest outfits for kids and a total value for the money spent. The clothes make everyday dressing so much more fun. Little girls can look resplendent in their own tea dresses.
John Galliano
Denims, romper sets, hooded jackets, raincoats and quirky dresses, the Galliano kids line is one that borders on fun. You can practically visualize the kids creating a riot in their Galliano outfits.
Juicy Couture
Another non high end brand that we have included in this list is Juicy Couture because of the niche it has created for itself. Featuring contemporary casual wear, the funky tracksuits in velour have become a trendsetter in the past few years and accumulated a loyal clientele. It is no surprise that the baby and kids collection by the brand is a hit when it comes to children's wear as well. Cute accessories are also in the offering.
Kenzo
Prints that are absolutely delightful for babies and children, and a plethora of candy colors make Kenzo's collection something that kids themselves would pick up. Vibrant T-shirts, swimsuits or sun hats, they are all available at Kenzo's junior line.
Lanvin
Lanvin made an entry into children's wear quite recently in 2011. The kid's line is designed by Alber Elbaz. The collection aims primarily at little girls ages 4-10. One can shop for coats, separates and dresses. The children's collection lives up to Lanvin's penchant for exquisiteness.  
Little Marc Jacobs
Marc Jacobs got into kids wear by introducing Little Marc Jacobs for both girl and boys. Apart from clothes, flip flops, rain boots and ballerinas, the line for children also includes teddy bears and backpacks! The collection has some cute T-shirts, skirts and outfits in clean cuts – which gel totally with Marc Jacobs's distinct style.
Missoni
Missoni for kids features their intricate knits and iconic prints such as the zig zag stripes, which makes it possible to identify the brand just by looking at the clothesline for children. Fun, playful and bright with a splash of colors is the mainstay of the junior line.  
Moschino
Moschino, another high street brand, for children has a wide range of T-Shirts, denims, skirts, shoes among others. It has one of the most varied lines of separates for kids.
Oscar de la Renta
Designer Oscar de la Renta has an elaborate clothing line for children, right from newborns to 12 year olds. Also featured in the collection are accessories like shoes and hair bands. Swimwear for children is also available at Oscar de la Renta.
Paul Smith
The Paul Smith Junior collection is targeted at little boys and girls. It follows Paul Smith's tradition of providing immaculate cuts, which will make boys look dapper and girls look stylish. The cute pre-walkers for newborns are delightful, and one cannot but be taken aback in awe at the line of formal shirts for boys.
Ralph Lauren
Designer Ralph Lauren has a collection devoted to babies, boys and girls. The Polo Sport Tees by the brand are iconic and one can see miniature versions of it in the kid's line. Maybe, a lot of people will contest it being in a list meant for high end fashion, but one cannot but agree how Polo Tees have revolutionized every day style for men. The array of outfits emanates a sporty feel and is a great choice for budding outdoor sport enthusiasts.
Roberto Cavalli
Italian designer Roberto Cavalli has two distinct lines for kids – Roberto Cavalli New Born and Roberto Cavalli Junior. Cavalli has always been famous for the use of animal prints – and one can see the same used in the kid's line, however rendered in a more innocent manner as befits children. The range does not shy away from using bling and sequins for its young line – making it quite fashion savvy for little ones.
Rocksanda Ilincic
Young designer Rocksanda Ilinic made a foray into children's wear in 2012. The little girl's line carries forward the tradition of using solid and block colors, and have a princess feel to them. The fabrics used are only those that feel gentle on the skin and don't irritate the soft skin of the little ones.
Rykiel Enfant
Sonia Rykiel has often been referred to as the Queen of Knits and this particular craft of hers can be well seen in her line for juniors. The signature stripes and quirky designs are present in the kid's line too, making them instantly recognizable as a Rykiel outfit.
Stella McCartney
Stella McCartney had previously designed for kids under the Gap Kids label, now she retails an impressive line of outfits for children under her own name. The style sensibilities of the designer have always been high and it shows through in the label for kids that display clothes as well as shoes.
Tommy Hilfiger
The American designer's collection would fall more in the high street category if one were to go by pricing. The range defines preppy style at its best, and this comes across in the kid's section too. The label is a perfect example of true blue American fashion that little ones can sport too. Take a pick from the multitude of jumpers, chinos or t-shirts on offer.
Versace
Launched quite recently the young Versace collection lives up to the name of the fashion giant's trademark style! Who wouldn't want to show off the instantly recognizable Medusa icon and Greek Key motif, and these iconic symbols make their presence felt in plenty on the wide range of kiddie clothes. Children will definitely make their own statement with bags, shoes and clothes by Versace.
Shutterstock