We love actress Linsey Godfrey's hairdo as she arrived for the Bold and Beautiful 25th Anniversary Party at the Perch Resturant in Los Angeles, California on March 10. She styled her short locks into a simple updo, but what was most appealing was how she had braided her bangs.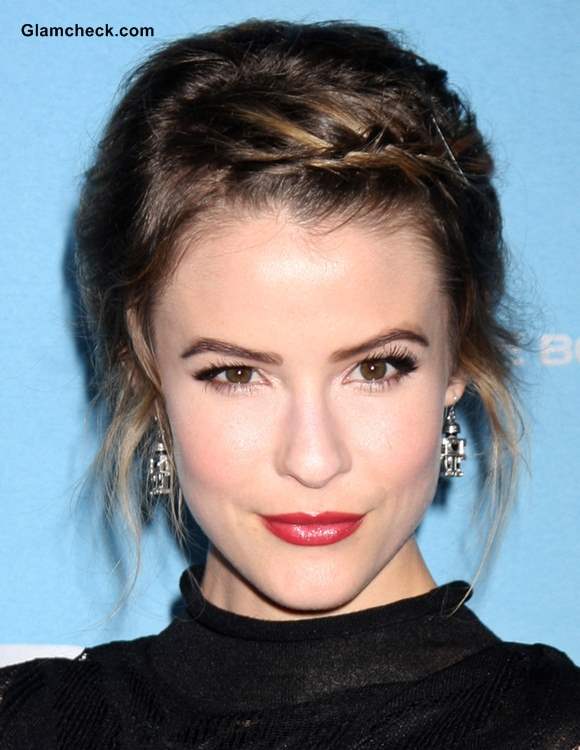 Hairstyle How To – Linsey Godfrey Braided Bangs for Short Hair
The braided bangs look is chic and sexy. It will add pizzazz to your evening wear, style to your work clothes, and an element of fun to your everyday ensembles. It's true that those of us with short hair have less to work with, but we can surely make that little go a long way in rounding off our ensembles. Here's a really simple way to braid your bangs.
What you will need
How to Braid Bangs for Short Hair
The method to make braided bangs for short hair really is no different than making braided bangs for medium-length or long hair. Your bangs need to be grown out a little bit, but not all that much either.
Start by taking back all your hair (except your bangs) into a ponytail. How you make the ponytail is of no consequence since its only purpose is to keep the rest of your hair out of the way while you braid your bangs. If you plan on parting your hair, do so now before you make the ponytail.
As for the bangs themselves, use your brush to sweep them to the side.
Fashion the bangs into a braid.
Use a bobby pin to secure the end of the braid to the side of your head.
If you have really thin hair and are afraid that the hair from your bangs will not be enough to get you a thick braid, then comb forward some strands of hair from the front of your head before you tie up the rest of it in a ponytail. This will give you extra stands to work into the plait. If you do this, then you have the option for a longer braid which you can just tuck behind your ears. 
Image: Shutterstock