She has mastered the tough worlds of acting and singing, and Hollywood is acknowledging the fact in the most lasting way possible. Jennifer Lopez was awarded a star – the 2500th – on the Hollywood Walk of Fame on Hollywood Boulevard in Los Angeles, California on June 20.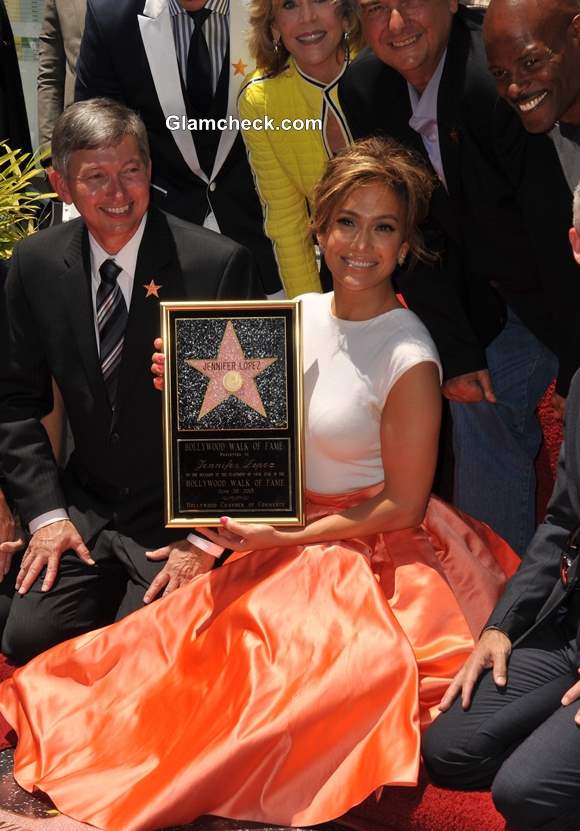 Jennifer Lopez awarded 2500th star at the Hollywood Walk of Fame
At hand to celebrate the accomplishment with her were her boyfriend Casper Smart, her two children, and quite a few members of her family.
Several speakers got on the podium to praise Jennifer's work and applaud her contribution to music and film since 1986 including rapper Pitbull, director Gregory Nava, TV star Keenan Ivory Wyans, veteran actress Jane Fonda, and Jennifer's long-time manager Benny Medina.
The lady of the hour was in high spirits, her gaiety apparent in her out-of-this-world couture ensemble.
Her Outfit
Jennifer Lopez in Dior at the Hollywood Walk of Fame
Jennifer went with Dior's off-white silk cashmere top and an effusive coral skirt with an asymmetrical hemline. The skirt was a thing of beauty – tied high at the waist with a coral ribbon and spreading out in pleats around her hips, leading into a train at the back while hanging several inches off the ground on the front. The latter allowed her gorgeous black ankle-strap pumps to take center stage at that level.
How She Styled It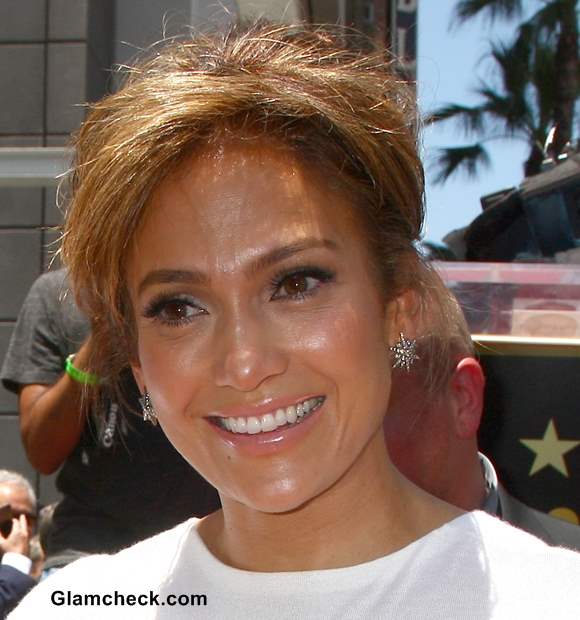 Jennifer Lopez awarded 2500th star at Hollywood Walk of Fame
Apart from diamond stud earrings in the shape of a snowflake, she steered clear of any bling, letting the ensemble do all the talking. Her hair was swept up into a wispy updo, relaxed and effortless. Her makeup was immaculate – natural, glowy, minimal. A nude glossy lippie and mascara were all she resorted to. Her lashes were rather striking, matching the daintiness and sharpness of the snowflake earrings.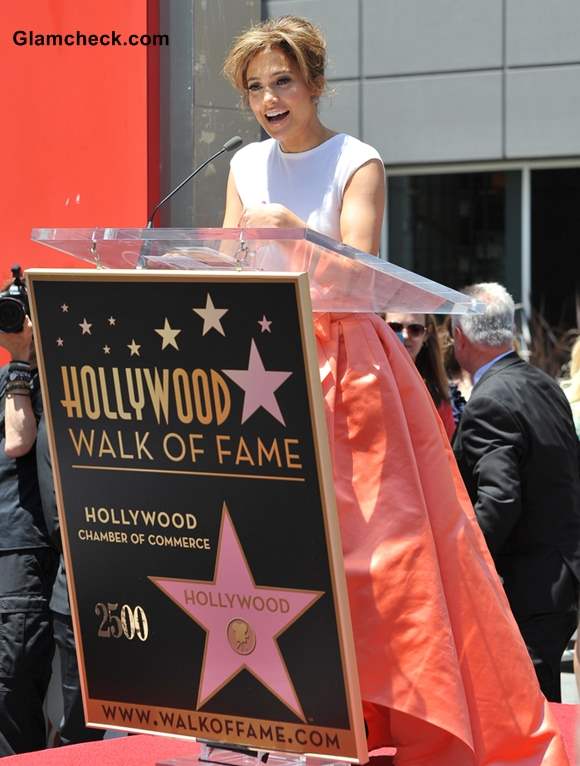 Jennifer Lopez awarded 2500th star at Hollywood Walk of Fame
A million words of praise couldn't do justice to how incredible she looked!
Shutterstock