If your hair falls to below shoulder length (and probably even if it doesn't) then you have very likely give the popular side-swept braid a try, even more likely that the do is your go-to which you have by now sported on a gazillion occasions.
Well and good! The side-swept braid is timeless, feminine and ever-so-slightly like a chameleon in that it takes on the vibe that you want to bring with your ensemble. Now how many hairstyles can boast that, we ask you?
That quality of the side-swept braid allows you to style a plethora of outfits with it whether you want a feminine work look, a classy do to go with your evening gown, something easy to create for your day indoors, or a fun vibe for a brunch with friends. You decide the look you want and the side-swept braid will automatically blend right in.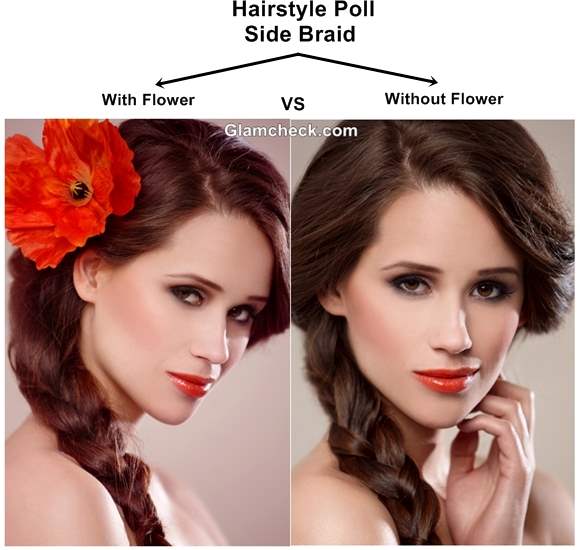 Hairstyle Poll – Side Braid with or without Flower
A simple side braid will indeed go with everything. But you can add spice, flavour, glam, elan and what-have-you with some well-chosen hair accessories. We love the over-sized flower in the hair with a plain Jane side braid. That one element makes the look fresh, summery and also rather seductive since it brings to mind sultry flamenco dancers. Imagine the ease with which you can switch the look – wear your sturdy but womanly side-swept braid at the office and just pin on that floral hair accessory when you're done for the day. Voila! Your day to night look is accomplished in a flash.
But enough of what we love. Which look would you favour above the other? Would you be flamboyant and sport the floral accessory in your side braid at work or school? Or would you rather reserve it for when you really want to get your sexy on? 
Shutterstock