Agua Bendita for 2014 collection during Mercedes-Benz Fashion Week Swim in Miami showcased a very interesting lion face print kaftan on the ramp – which is our style pick for the day.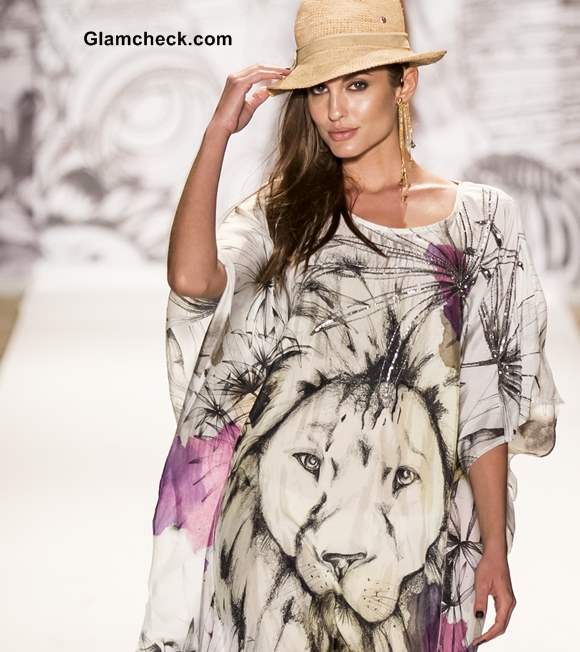 Style Pick of the Day – Lion Face Print Kaftan
We see a lot of tiger prints and tiger faces, but the face of a lion on the kaftan is what adds the unique quotient. What is also interesting are the additional floral prints on the kaftan, making it the perfect mix of the tropics and the savanna. An interesting pair of loafers, fedora an exquisite pair of multi tiered long earrings in gold add extra oomph to the ensemble.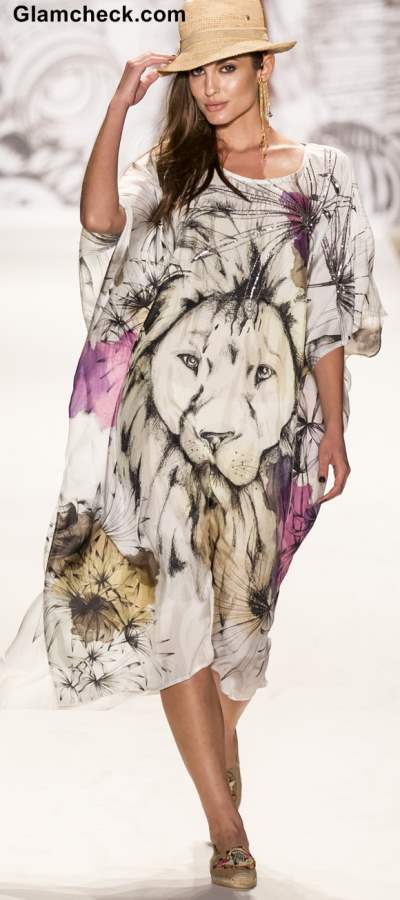 Kaftan Lion Face Print – Style Pick of the Day
For those of you who have fallen in love with our style pick of the day but do not know how to get their hands on this Agua Bendita number – fear not, because we bring you tips and alternatives so that you can sport this look yourself. Also, with alternative styles – by changing the accessories and maybe adding more items of clothing, you can make the look more varied than one which is just suited for beach wear.
Alternative Style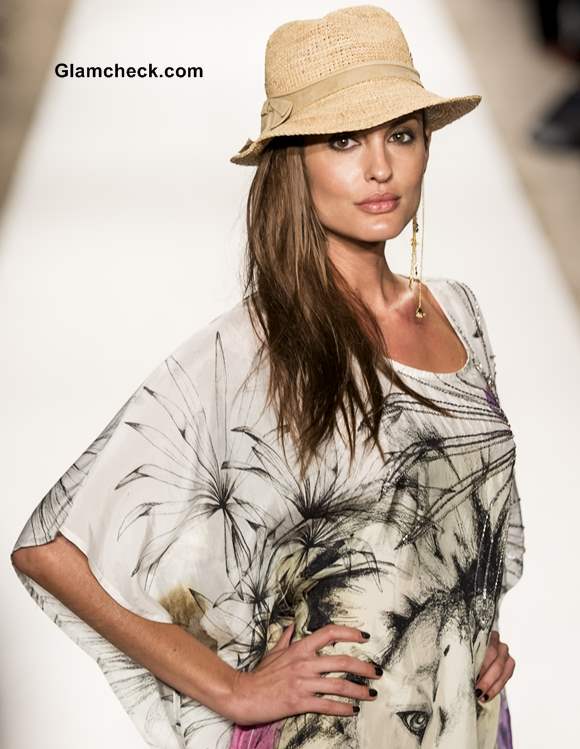 Lion Face Print Kaftan by Agua Bendita 2014
You can always opt for a kaftan with big floral prints or those that have any sort of a face print – it could be an animal, man, woman or for that matter a car or a building. As long as there is a big print right in the middle of the outfit that captures instant attention. A similar fedora and long golden earrings will be more easily available. You can opt for thongs or strappy sandals if you cannot find loafers similar to the ones seen on the ramp.
More Stylization Tips 
A thin belt casually added around the waistline can add more shape to a kaftan – making it ideal for those who want to show off their curves. You can opt for thin chin belts or those that have a dangling pendant.
The kaftan can be worn with a pair of jeggings, tights or tight fit jeans if you do not want to wear the kaftan alone, for example when you are not heading to a beach or the pool. You can add an interesting Indian touch to it by pairing it with a churidar and dupatta. The dupatta can be carried like a scarf – or tied loosely around the neck.
Instead of a fedora, you can try out brim hats.  You could also use a head scarf or a bandana to give yourself a more bohemian look.
Strings of beady necklaces and chunky bracelets can heighten the spice quotient of the overall look.
Instead of leaving your hair open you can do it up in a side fishtail braid, and add some flowers to it to look more exotic.
Well, you may have your own take on how to wear a kaftan like this – however, we would love to see how you stylize it. So, keep the pictures coming when you do so!
Image: Shutterstock