The red carpet of the 2013 Teen Choice Awards at the Gibson Amphitheatre in Universal City, Hollywood on August 11 was teeming with good taste from contemporary to timeless to downright experimental.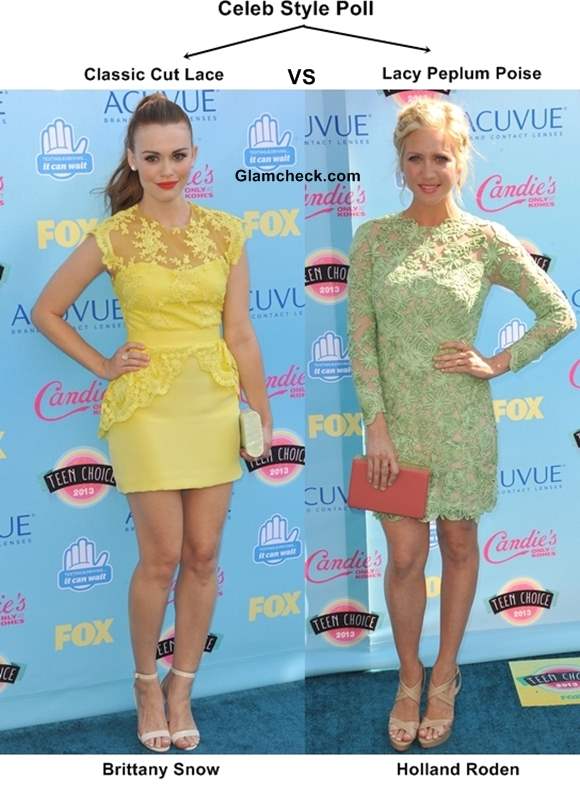 Celeb Style Poll – Lacy Peplum Poise vs Classic Cut Lace
Two beauties in particular caught our eye not for their style sense (which was a given, of course) but because they both chose lace as their fabrics for the big evening.
The first head-turner was actress Brittany Snow in a beautiful mint green dress. Featuring floral lace, the full-sleeve number by Oliver Tolentino had a crew neckline, full sleeves and a close-fitting skirt that reached almost to her knees.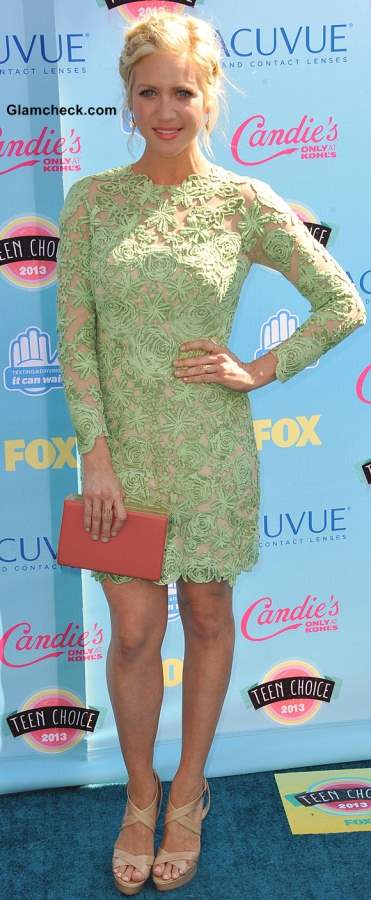 Green Lace Dress – Brittany Snow
She accessorized with strappy nude heels, a coral clutch by Oroton and gold earrings by Jennifer Fisher.
Britanny's lace dress has a classic feel to it. With its clean lines, soothing color and sexy finish, the frock plays on her inherent femininity while at the same time reflecting the glamour of the red carpet.
Fellow actress Holland Roden, on the other hand, had us turning green with envy on beholding her yellow Marchesa Notte frock. A short yellow strapless dress was overlaid with yellow floral lace which ended in a subtle peplum silhouette around her hips. Pearl jewellery, a classy clutch by Edie Parker and delicate Manolo Blahnik ankle-straps completed her look.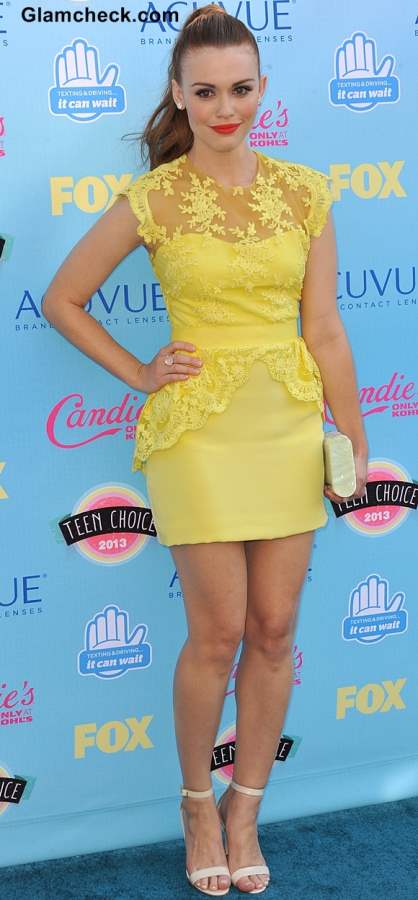 Yellow Lace Dress – Holland Roden
The Marchesa is a dream! The overlay is inspired, bringing a playfully sexy and wholly contemporary vibe to the ensemble.
Lace is a truly astonishing fabric and can convey a number of themes from Gothic to girly, from sultry siren to elegant. Both Holland and Brittany have fashioned their looks on their own personalities, which is why each ensemble looks made for the wearer.
So how do you pick a winner from two such perfectly well-put-together ensembles? We suppose it all comes down to your mood and what you're looking for at the moment. Brittany's minty outfit trumps Holland's when it comes to sophistication, but the yellow one has a vibrant spirit and passion that outmatches any other elements hands down. That's why the brunette beauty wins our vote.
What about you? Which lace dress catches your fancy today?
Image: Shutterstock