This season the attention has moved to the mid-riff. It is almost like the new cleavage, only so much better. Get fit and be ready to flaunt it in style in a crop top. Crop tops and blazers are a rage world over and the trend is defining the new chic. But the question in your head is the question we will answer today… how to don the crop top and blazers?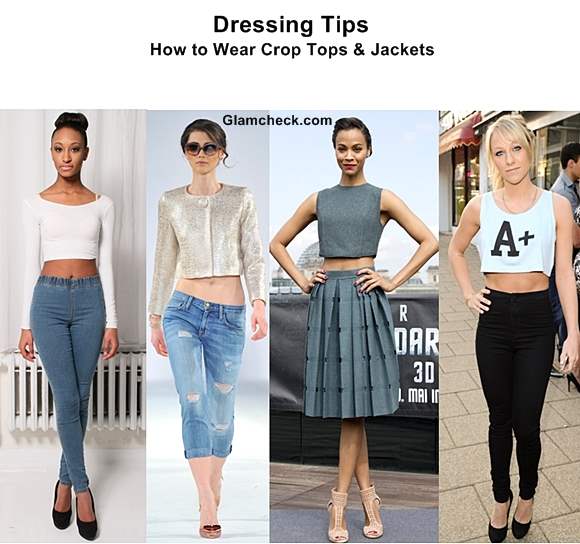 How To Wear Crop Tops and Jackets
Wear Crop top with Jeans
For beginners, this is the easiest way to start and still look cool.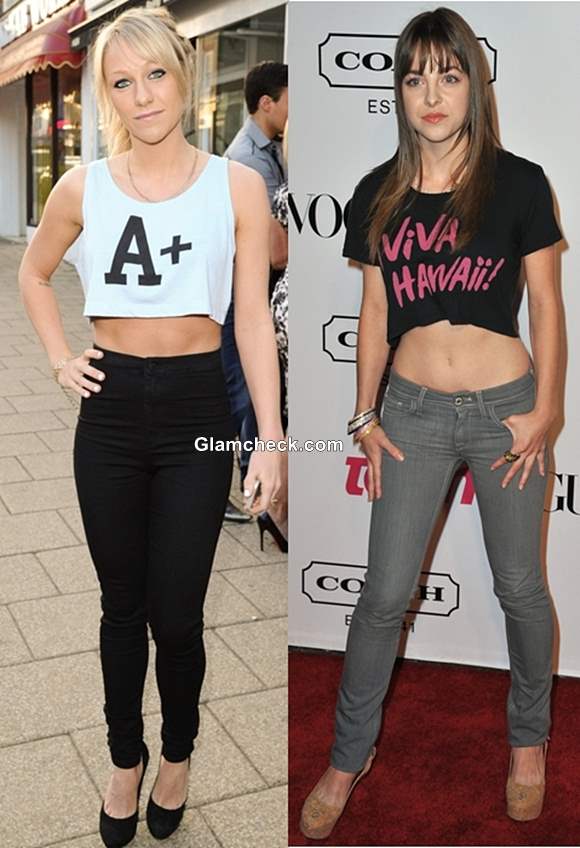 How to Wear Crop top with Jeans
Since, it is denim that you will be pairing your crop top with, think casual-chic. But that said, there are hardly any rules, a jersey crop top works great with jeans and so does a silk crop top or white crop shirt.
Celebrities have worn this look with both high waist jeans and medium waist. Take a pick according to the amount you want to bare. But as a caution stay away from pairing it up with low-rise jeans.
Wear Crop top with Short Skirts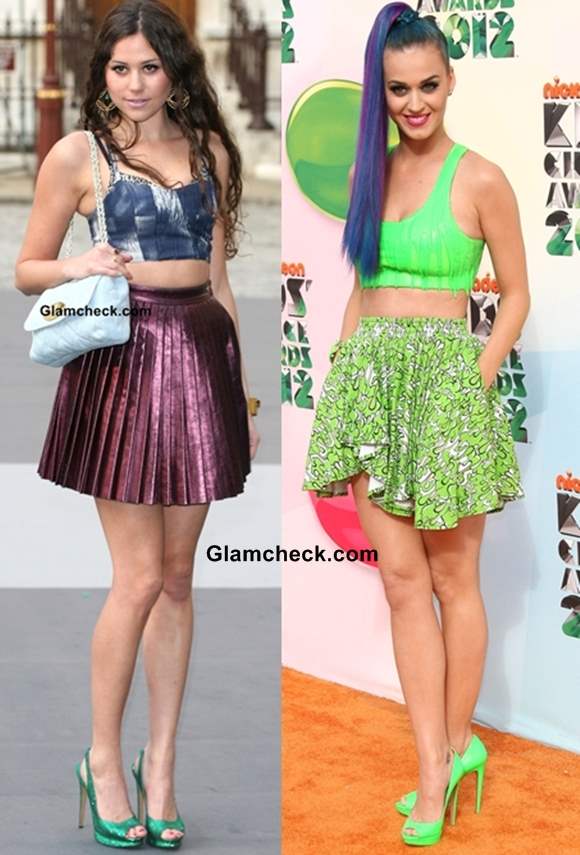 How to Wear Crop top with Short Skirts
Feel fun flirty and confident in a crop top with short skirts.
Show off your mid-riff as well as your miles of legs in this look.
For maximum impact, wear a fitted crop top and an A-line, skater or full circle short skirt.
If fitted crop-top is not your thing, go for a fitted skirt and loose jersey crop top.
Wear Crop Top with Long Skirts
A short skirt may not be the answer for everyone, but a crop top looks equally good with longer skirts.
You have so many lengths to choose from according to your body-type and height. The midi length is tricky but very trendy at the moment; or else go for the above the knee or just below-the-knee versions.
The range of skirts is endless, choose from mono chromatic black and white pints like stripes or checks, take a solid color or have some sheer details.
Make sure the mood of the crop top should match your skirt. If it is a tailored looking skirt then tailored crop top it is.
Wear Crop Tops with Maxi Skirts
No, the crop top is not only for dressy occasions.
We all know how comfortable the maxi skirt is for running errands or simply a luncheon. This time don't tuck in a blouse, wear a crop top.
Add a long necklace with this look and carry a sling bag on the side and you are ready to go.
Wear peek-a-boo crop tops
Now this one is for the bold and the beautiful so tread with caution –faint hearted not allowed.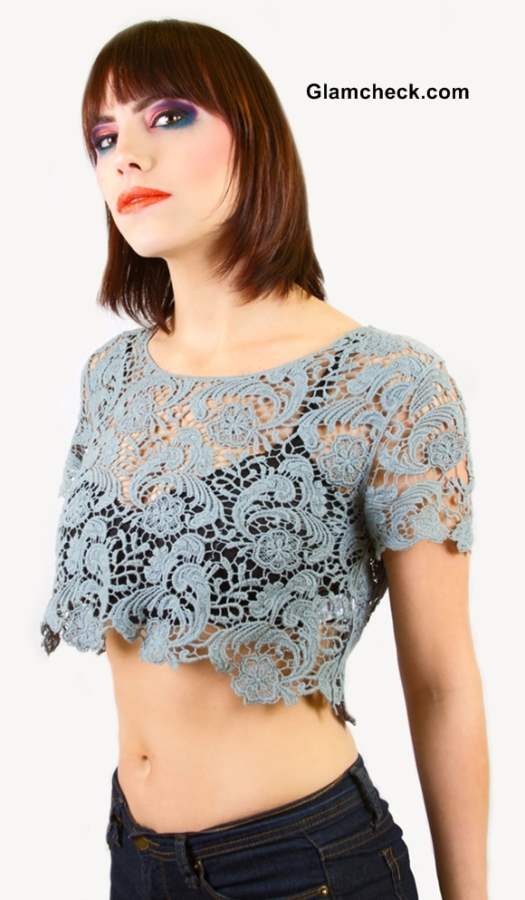 How to Wear peek-a-boo crop tops
Wear an intricate lace crop top and let your bra or bralet be visible through it. Match the undergarments with your pants.
For a slightly more subtle take on the same idea, wear a georgette or chiffon crop top with a neon or printed bra underneath.
Wear Crop Top with Shorts
One more option to dress up your crop top is to wear it with shorts.
Choose from distressed shorts, ombe, embellished, cut-off or tailored shorts.
Depending on the type of shorts and crop top, anything from your high-tops to le smoking slippers can look good with this combination.
Wear Crop Top with Jeggings
How to Wear Crop Top with Jeggings
Of course we no longer sport jeggings and tops, but if the jeggings fit well at the crotch and do not have a transparent stocking like fabric, it is good to be worn with a crop top.
Denim jeggings are a classic but to stay on trend opt for printed jeggings or faux leather ones instead.
Wear Crop Blazers with Crop Pants or rolled up pants/jeans

This styling option is fresh off the runway, just stay aware that if you are tall or average height, then only carry off this style. That is so, as the look will cut your body in several parts visually.
But either sport a crop top with cropped pants or roll up your regular length jeans or pants to a achieve the same, even slightly more chic, look.
Wear Crop Jackets with Jeans

Finally wear a cropped jacket with your jeans or pants. Instead of the neutral ones, you can also go for bright and printed.
Layer with a crop top underneath or wear a long shirt and wear the blazer open instead of closed.
This brings us to the end of out all inclusive guide to wear crops tops and blazers this season. The only other thing that you would need besides the crop top and blazer is a gorgeous abdomen. Feeling inspired and motivated? Well you won't regret it !
Image: Shutterstock