If bohemian, eclectic and hippy fashion is what you love then you should give the braid and flower forehead band a try. It is easy to make and spells b-o-h-o with the minimum effort.
Braid and Flower Forehead Band DIY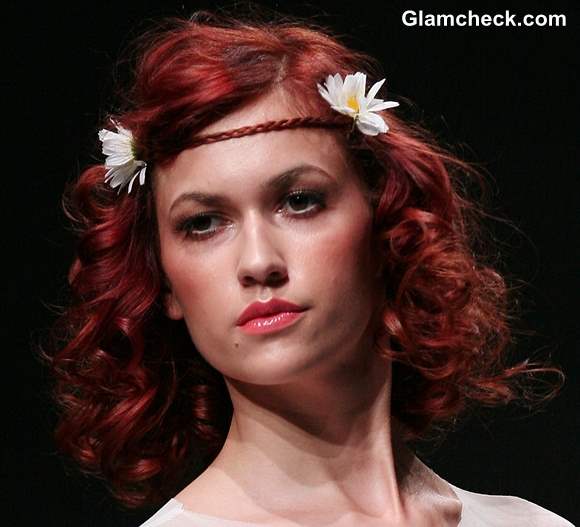 Boho Hairstyle DIY – Braid and Flower Forehead Band
Start by deciding whether you want a parting or back brushed style because this hairstyle can be sported with both. In this particular photo, the model has side parted hair. For this, you need to take a thin section of hair from the side of the parting that has more strands. Make a thin braid out of this section.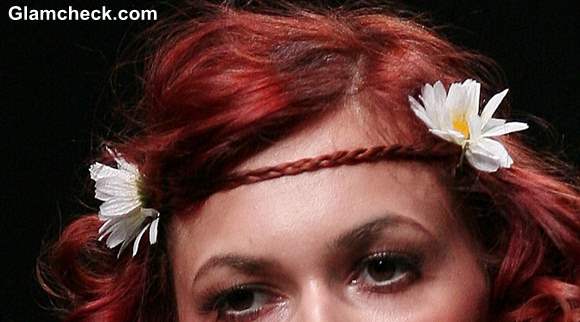 Boho Hairstyle – Braid and Flower Forehead Band
Take the thin braid and put it across your forehead to the other side of the hair and pin it in place.
Add two flowers on both ends of the braid. This will also hide its start and end point. You can also choose to skip this step and simply go ahead without the flowers.
If you want to make this hairstyle on back brushed hair, then simple leave out a section from the extreme corner of one side of the head – and make a braid from this.
If you do not want to go through the hassle of making the braid then you can always opt for a thin artificial braid or make an artificial braid on a lock of false hair. Place this artificial braid on your forehead and pin on both sides. However, you have to ensure that the color of the artificial hair/braid is the same color as your own. Of course you can choose a different color if you want to give a more bohemian and funky touch to the braid and flower forehead band hairstyle.
Show the world your boho chic side with this quick to make hairdo. You can sport it with tied hair, open hair, beach waves or romantic curls – the option is yours.
Image: Shutterstock