Summer cannot be fun without bringing out the shorts, and by shorts we don't mean simply denim ones but also the very trendy colored shorts. Nothing can spell summertime fun more than colored shorts in vibrant hues. You can play with various combinations, so let us see how to wear colored shorts in the most fashionable ways.
Where to Wear Colored Shorts – Places, Occasions and Events
You do not really need an occasion for wearing colored shorts; they can be worn on a daily basis! However, to make it more specific – colored shorts can be worn for any occasion and event that is informal. So, if you are looking at a laid back get together with friends, a movie date, a stroll in the mall or relaxing by the pool – then colored shorts can be your companion for the day.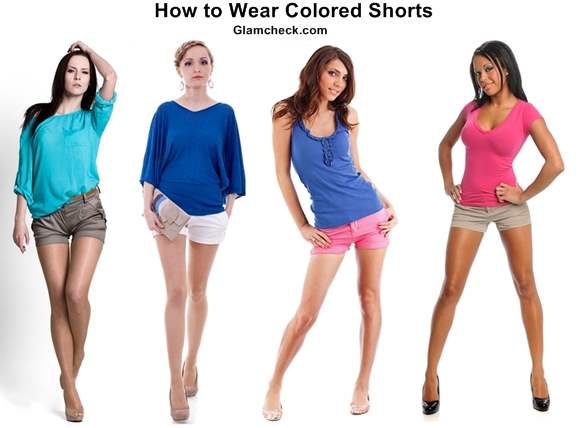 How to Wear Colored Shorts
Colored shorts are also a good option when you are going for a beach holiday. What a better way to celebrate time splashing in the water than wearing vibrant colors. Shorts, as such, will also ensure that your clothes do not get wet, as long as you don't want them to.
Apart from these, there are various other times when you can flaunt your trendy colored shorts. As long as the occasion or event doesn't call for formal wear, you can be cool with your colored shorts.
Cool Color Combinations for Wearing Colored Shorts and Tops
Some very interesting color combinations, as far as shorts and tops are concerned, include purple and yellow, blue and white, purple and white, pink and grey, pink and blue, white and red, turquoise and gray, blue and orange and white and black among others. Play mix and match with the colors of the rainbows – go for striking contrasts like yellow and red or for a more subtle, nearly monochromatic touch like, indigo and blue. Pick a color and a combination that you feel most comfortable in. For example, if you do not like loud colors then there is no point picking up yellow or pink shorts – opt for a grey or a muted blue.
Of course you can work on your own vibrant combinations. It is not necessary to wear only solid colored tops with your shorts. You can experiment with the prints like floral, geometric patterns, funky designs, stripes, checks, dual tones, animal print, multicolored tops etc.
Styling Tips for Wearing Colored Shorts

Styling Tips for Wearing Colored Shorts
Upper Wear: T-shirts, blouses, camisoles, shirts, halter necks, bustiers, singlets, spaghettis, one shoulder straps tops, peasant blouses and even peplum tops will look great with colored shorts. You can also wear your colored shorts on top of a swimsuit, if you plan to visit the pool or the beach.
Shoes: Nearly every kind of footwear will go with your colored shorts including thongs, wedges, flip-flops, pumps, sling backs, stilettos, peep toes, kitten heels, sandals, sneakers or sketchers. It all depends on the occasion. So, if it is a date night with your partner then choose a sexy pair of sling backs. If you are planning to go hiking in your colored shorts then choose a pair of cute sneakers. However, whatever shoes you are planning to wear, do ensure they have a casual feel to them– this goes for stiletto pumps too.
Bags: if you are planning to carry a bag, then carry one that goes with the shoes you are wearing. So, if you are wearing a strappy sandal with your colored shorts then carry a laidback hobo.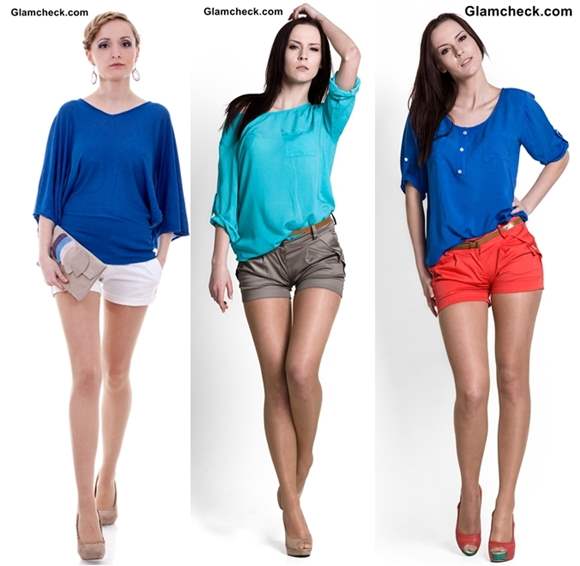 How to Wear Colored Shorts with dressier tops
Since colored shorts have a casual and trendy air about them, therefore keep your hairstyle and makeup playful. Don't go overboard by styling anything "more" than necessary. Add fun bangles or eye catching pendants or tuck a flower behind your hair – it all about feeling like a carefree girl.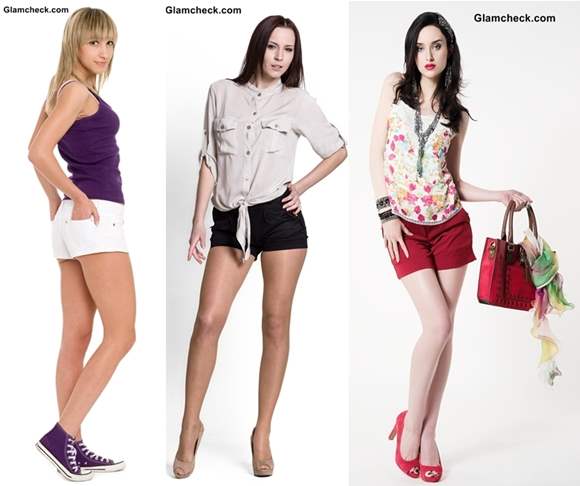 Colored Shorts for every occasion
Choose a pair of colored shorts that complements you the best and show the world your happy and youthful side. 
Image: Shutterstock