Hollywood actress Jessica Alba looked even more astonishingly lovely than usual as she made her way to the 2013 ALMA Awards at the Pasadena Civic Auditorium in Pasadena, California on September 27, 2013.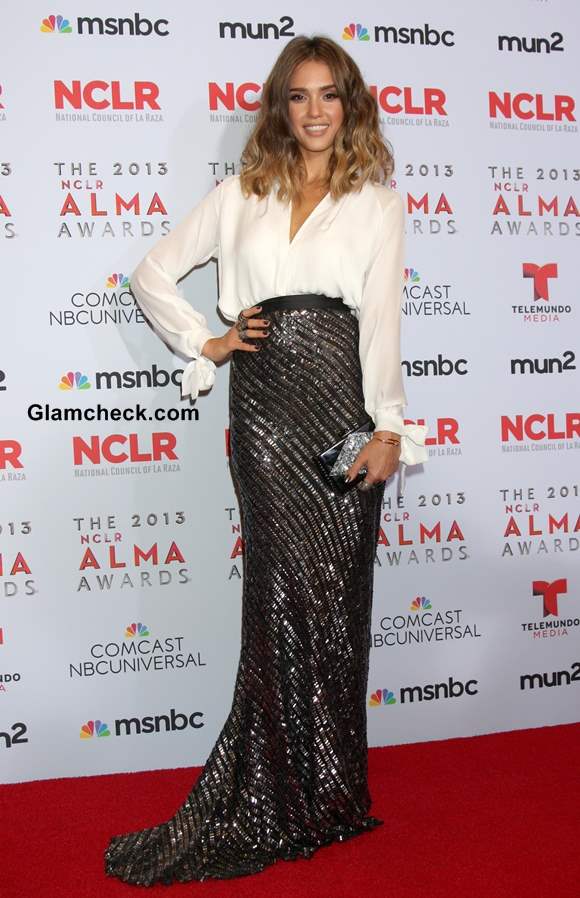 How to wear a Sequinned Skirt with a Plain White Top like Jessica Alba
The ombre-haired beauty sported a stunning skirt and blouse from Juan Carlos Obando's Fall 2013 Collection. The maxi skirt was high-waist, sequinned in diagonal black and silver stripes, had a short train, and also a satin band at the waist cutting the top off from the super glamour of the festive bottoms. The blouse was a white shirt with bow detailing on the cuffs.
The simplicity and elegance of the top served to highlight the rockstar diva vibe of the skirt. It's such an easy and no-effort way to throw together an outfit that's right for the red carpet or a classy evening affair. The maxi skirt is, of course, the focus of the look, and just one more excellent reason to bring maxi skirts back into your wardrobe. Pairing it with the plain top is simply inspiring and is exactly what makes her look like a high-end celebrity.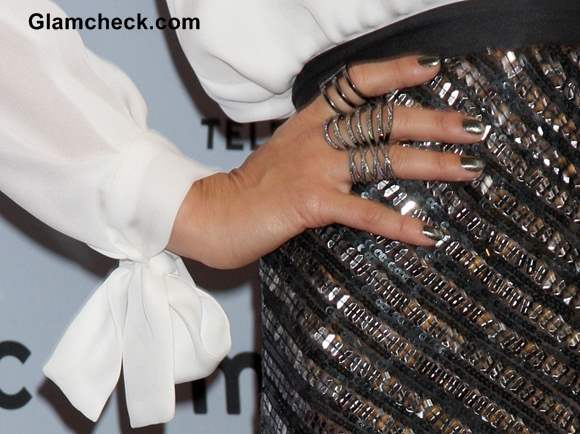 Multiple finger rings Jessica Alba
Her accessories are nothing to scoff at either – a clutch by Edie Parker and 3D vintage earrings and matching silver knuckle rings by ELAHN. The jewellery in particular has a razzle-dazzle quality about it which gels well with the glam chic feel of her look. And don't miss those fantabulous metallic gold nails.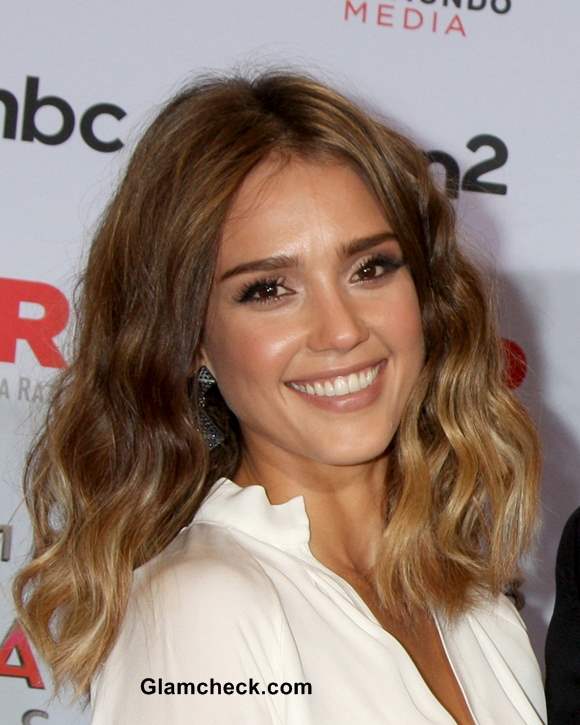 Jessica Alba 2013
She completed her look with bronze eye shadow, nude makeup and curly hair brushing her shoulders imparting a soft femininity to the ensemble. From top to toe, this look is just chockfull of star power!
How to wear a Sequinned Skirt with a Plain White Top like Jessica Alba 
You don't have to go designer to get the look. The main thing you have to get your hands on is a sequinned maxi skirt. Once you have that, finding a top to go with it will be much easier. In fact, it's a good idea to have a white shirt or a plain white satin blouse on hand anyway as they are versatile pieces that will go with many of your other looks too. But for this one, the formula is simple on top, over-the-top on the bottom.
Also keep an eye out for vintage jewellery to go with this look. If you can't lay your hands on vintage then go classic with simple diamond jewellery. 
Image: Shutterstock